When carrying out business process improvement, it's essential to start by documenting and analyzing the As-Is business process. This helps you gain the insight you need on the inner workings of a process, allowing you to come up with potential improvement ideas.
How to Document an As-Is Business Process
By definition, an "as-is business process" is the current state of the business process. Documenting it is essential for understanding how the process works and what the inefficiencies are so that you can later make improvements or even redesign the process entirely.
It's usually used for 3 reasons…
Important note
You're probably wondering who we are. Tallyfy is a product that simplifies and automates your business processes. It's the secret to running smooth operations. Instead of creating process diagrams (which nobody looks at), documentation (which you can only read and never action), emails, chats and chaos - you can create and run any process in your company within seconds.
Settling for basic and cheap project or task management tools is the biggest mistake you can ever make. You get what you pay for. If you try to save a cent - you will lose a dollar. Wasted time (at $40/hour) is far more expensive than the cost of software. There's a huge difference between process management and project or task management. Processes relieve stress, make things predictable - and help you grow and become efficient. Projects and tasks are just ad-hoc, unpredictable chaos.
It's important to understand that context before you carry on reading. Successful people are smart enough to fundamentally change the way they work "right now" and amaze themselves and everyone else with new ideas. You can stop fighting uphill battles every day immediately - and drive more personal success in your career by introducing the modern way of creating, tracking and even enjoying tasks with your coworkers.
Anyway ... sorry for the interruption! Let's resume the rest of the article.
Process Improvement – Understanding what's wrong with the as-is process and figuring out how to improve it
Process Documentation – Your new employees won't know how any of the processes work. Rather than having to explain it over and over again, you can just show them the documented process.
Process Standardization – Everyone in the organization is carrying out the process in a different way. You'd want to document the best way to do it make everyone aware of it
Are you looking to document and run your processes?
Don't use MS Word or Google Docs, and don't use flowcharts.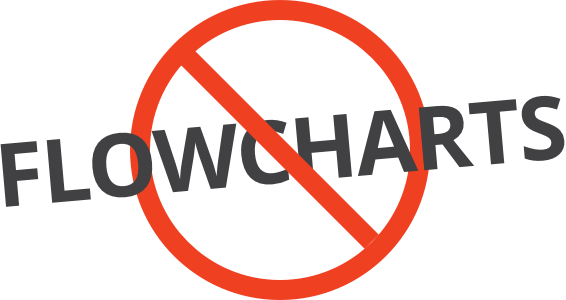 Documenting your processes using flowcharts might look pretty and nice – but you can't run them. Even worse – nobody looks at flowcharts.
SEE WHY HERE
Before you can actually analyze the as-is process, though, you should create a process map.
The first step there is to actually understand the process. The most common mistake managers make here is assuming they're the expert on any process.
In reality, though, process improvement ideas rarely come from the C-suite. It's from the people who really understand the ins and outs of the process: your employees. So let's say there's a problem with employee onboarding. To get a good idea on how to improve the process, you'd need to talk to everyone involved in the process: the HR, office manager, and the department supervisor.
Then, once you've established who's involved, you need to get the right information. This is usually done by either observing the process or interviewing the key employees.
When you've gathered all the information, you can actually start with the process map.
Side note
Are you interested in truly useful analysis of the latest trends in business tech and ops? Talking from the Trenches is published once every 2 weeks by Tallyfy and it's unmissable. You'll be smarter and better informed automatically. So - don't leave this page without subscribing to it.
Anyway ... we'll continue from where we left off above.
The simplest way to do this is with a flowchart – simply putting down the steps of a process as they are. So for example…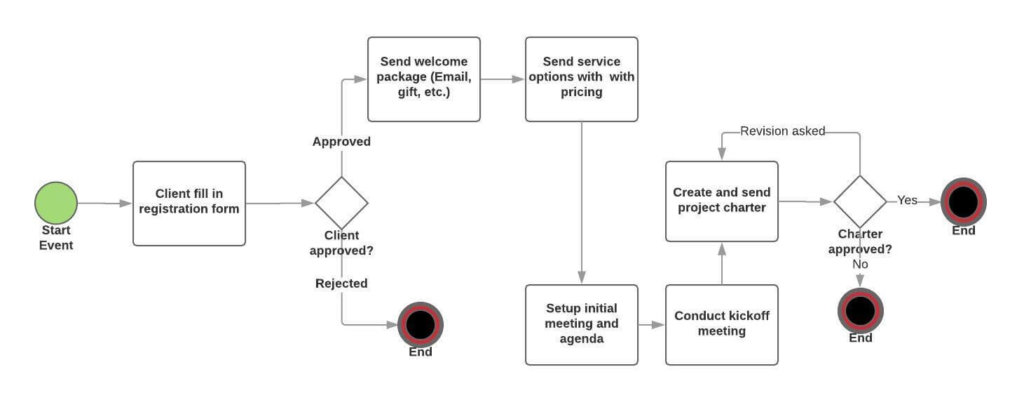 In other cases, if you're trying to do a specific type of analysis, there's the value stream map, SIPOC diagram, etc.
There are different ways to map a process…
Pen & Paper – The most straightforward approach. Grab a pen and a piece of paper and draw the process as a flowchart.
Flowchart Software – Tools dedicated to creating process flowcharts. These are more useful if you're planning on sharing the documented process with your employees digitally.
Workflow Software – Works pretty much the same as a flowchart software. The main difference is that it also allows you to digitize and track the process. This tends to help with process standardization (no one can deviate from the best practice), as well as automation (the software reminds you whenever it's your turn to do something in a process, as well as enforcing deadlines)
If standardization or documentation is your main goal, you've already done your job once you have the process map. If, on the other hand, you're going for process improvement, then you need to analyze the as-is process.
  Want to start using workflow software, but not sure which provider to pick? Check out our guide on how to pick the best
workflow management system
for your business.
How to Analyse the As-Is Business Process
Since every process is completely different, there's no one-size fits all formula for analyzing it. You can try asking yourself the following questions, however, for gaining insights.
Are there missed deadlines for the process? Why?
Which steps have the highest impact on process output? Think, product quality, price, etc. Is there any way to automate them? Make them more efficient?
Are some of the steps taking longer than it's reasonable? Are they costing you more than what would be reasonable? Why?
Other than that, you can also use several process analysis techniques such as the 5 Whys to gain more insight into potential improvements. The gist of it is, whatever issues you have with a process, you keep asking "why" until you find the root cause of the problem.
From As-Is to To-Be
Once you have a good idea on how to improve the process, you need to create a to-be process map. That's the future step of the to-be process – how the process will be after you make changes and improvements to it.
The to-be business process will help you put the changes you want to make down on a map and finally implement them.