With the surge of SaaS platforms and smartphone applications, it's become increasingly easy for employers to track people both in the workplace and in the field when on the clock. The same technology advancements have brought about a necessity for tracking for some organizations as the lines between work and personal life become blurred.
A famous study in Psychology referred to as the Hawthorne effect denotes that people change their behavior, such as working harder and performing better, since they know that they are being observed.Allan Smith
More socialization, especially on channels like Facebook, along with streaming media and smartphone adoption, have brought to question the impact this has on productivity in the workplace. On one side, distractions can limit productivity. On the other side, too strict of controls in the workplace – like shutting down web access and limiting social use – can lead to problems with employee happiness.
This presents a challenge to employers who want to track people and productivity without necessarily limiting or inhibiting the freedoms they try to provide when investing in their employees.
Here are some methods you can use to measure productivity, keep tabs on your team, and track people both in the field and at your locations.
Important note
You're probably wondering who we are. Tallyfy is a product that simplifies and automates your business processes. It's the secret to running smooth operations. Instead of creating process diagrams (which nobody looks at), documentation (which you can only read and never action), emails, chats and chaos - you can create and run any process in your company within seconds.
Settling for basic and cheap project or task management tools is the biggest mistake you can ever make. You get what you pay for. If you try to save a cent - you will lose a dollar. Wasted time (at $40/hour) is far more expensive than the cost of software. There's a huge difference between process management and project or task management. Processes relieve stress, make things predictable - and help you grow and become efficient. Projects and tasks are just ad-hoc, unpredictable chaos.
It's important to understand that context before you carry on reading. Successful people are smart enough to fundamentally change the way they work "right now" and amaze themselves and everyone else with new ideas. You can stop fighting uphill battles every day immediately - and drive more personal success in your career by introducing the modern way of creating, tracking and even enjoying tasks with your coworkers.
Anyway ... sorry for the interruption! Let's resume the rest of the article.
Are you looking to document and run your processes?
Don't use MS Word or Google Docs, and don't use flowcharts.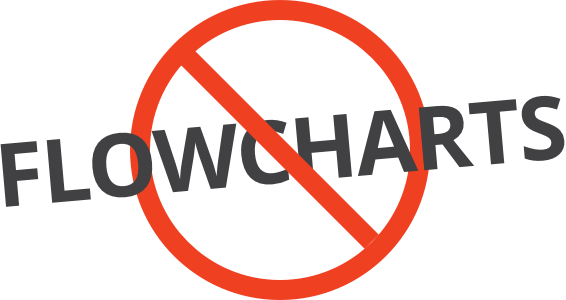 Documenting your processes using flowcharts might look pretty and nice – but you can't run them. Even worse – nobody looks at flowcharts.
SEE WHY HERE
Stop Measuring Time
Time is a poor measurement tool when it comes to employees. Two of your employees could have identical skill sets, and achieve the same quality of work, but one takes a bit longer to complete a task. Not because they're slacking, but perhaps they're just more thorough. Pushing one to speed up over the other could impact their quality.
Instead of trying to track people and their productivity by time, hours, or days, measure them by the tasks they complete and the quality of their work. Task completion should always be one of the metrics that matter most. This also works well when you're breaking down larger projects into processes for the purpose of automation. You can more easily delegate task components, and measure the productivity of the individuals against assigned tasks.
Trust In Your Data
Unless you have each phase of process and customer interactions tracked and documented, it can sometimes be difficult to know which employees played a part in something like landing a major client or sale. For situations like this, trust in your data and collect as much information as possible about the customer. This includes how they heard about you, what made them decide to buy, who helped them, etc. Work backward from the customer sale, back through your sales funnel, and analyze the data to track people and find out which employees are your shining stars.
Emphasize Communication and Documentation
For many customers, everything has a budget. That makes customer expectations a key thing to consider. They're spending X dollars and likely some of their time on your product or service.  It's extremely important to make sure you're meeting and exceeding their expectations.
Do this by emphasizing communication and documentation among your people. Open communication keeps everyone accountable, gives you time to tackle problems in advance, and allows you to better plan for future tasks. It's also much easier to track people when they're providing regular updates rather than having to track them down.
Side note
Are you interested in truly useful analysis of the latest trends in business tech and ops? Talking from the Trenches is published once every 2 weeks by Tallyfy and it's unmissable. You'll be smarter and better informed automatically. So - don't leave this page without subscribing to it.
Anyway ... we'll continue from where we left off above.
Becoming friends with employees on social media may give you more access to their personal lives than you want or need, but it makes it easier to track people who work for you if you're ultimately concerned about productivity and use of social media during work hours.
Keep one thing in mind; if the work is getting done and they're completing tasks, then you shouldn't stress too much about social media use as long as confidentiality and media policies aren't being breached.
Embrace Technology
Rather than trying to control employee productivity by limiting the use of things like smartphones, let your employees bring their own devices and work from them. Treat it as an opportunity to invest in employees. Letting them use their own tech to access things like project management systems or process automation apps can help you improve productivity.
Expand Your Toolbox
Since the output is what counts the most, start by communicating your mission, goals, and vision for your team. Make sure they understand the direction you're headed in. From there you need to find the right tools to manage processes and track them. Tallyfy is a great tool for setting approval workflows and managing processes, and it can pay to have other tools like Asana to help you keep track of individual tasks while also planning ahead.
Get Updates From Your Team
People suffer from procrastination by human nature. It's an unavoidable attribute, and no employee is going to provide you 100% output all day, every day. Giving people some freedom to manage their time gives them opportunities for brain breaks, but you still want to track people and make sure the work is getting done.
Rather than hovering, just have them turn in regular updates at the end of each day. If you use process tracking software, you can even set it up to trigger alerts as progress happens or when approvals are needed between stages in projects. This can minimize the need for manual updates and keeps you in the loop to easily track people throughout the day.
A great companion app to use in addition to a process tracker is iDoneThis. It's a simple tool that sends a reminder to each of your team members near the end of the day. They reply to the email with their completed or ongoing tasks, and everyone received a compiled team digest the next morning. This is a terrific automated way to improve transparency and reinforce accountability without the micromanagement.
Speaking of Micromanagement
Don't get so deep into your data that you're trying to manage every single activity and campaign in order to drive the numbers in the right direction. The reality is that if you stop trying so hard to track people and instead just keep an eye on your bottom line, segmenting only high-level business functions, you can still keep tabs on productivity while giving your team the creative freedom they need to help drive growth.
Giving your team autonomy can go a long way toward improving productivity and making your team feel valued as they drive toward your vision and mission.
Get Loose with Work Location
This might seem counterproductive to boosting productivity and efficiency, but if you have the ability to give some employees the option to work remotely, then do it. An employee that can work in the environment of their choosing can often focus better and is more likely to contribute their best work. For most employees, it's a perk they aren't likely to abuse because they want to protect that freedom. One survey, cited in Forbes, showed the benefits of allowing employees to work remotely. This included:
Remote workers feeling happier at work
Remote employees feeling more valued
Remote workers felt closer to management and leadership with increased productivity
You can still use all the same tools, like those mentioned above, to track your people and ensure accountability. Being able to choose how and where you work is a very strong motivational force and one that will ramp up productivity.
Conclusion
If you absolutely must track people by the time they work, there are a number of apps that allow time stamps on activities. Project management systems, like Basecamp, also offer the ability see the time an employee checks items off their list as well as the time when items are added to project. With applications and platforms like that, your time can track people to make sure the appropriate amount of time is spent on tasks, and that your team is steadily working throughout the day.