A Quick Summary on Product Documentation Software
"Documentation exists to explain product functionality "
The need for strong product documentation is obvious – making customers successful and enabling you to update people about new features.
Having well-designed documentation helps cut down on support costs.
Product documentation software emables you to provide correct and accurate documentation, and it's supposed to make that job easy and intuitive.
Beware of platforms that look easy and "free" but actually lock you in. On Notion for example – if you spend 30 hours typing in content, it's pretty difficult to move it to another platform. You own your content – and your time is much more valuable than the price of the tool itself.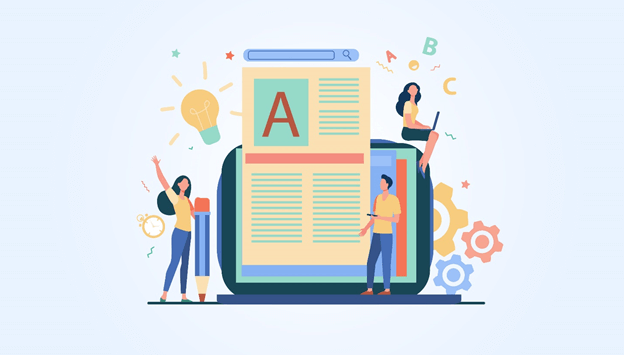 Do you remember printed software manuals?
It used to be that you'd go into a store, buy a CD with a jewel case, and as you installed it on your computer, you'd thumb through the printed manual included with whatever you were buying.
A lot of software hasn't gotten that much more complex since those days, but documentation is longer and more intricate than ever.
A bit about Tallyfy
Are you looking to automate tasks between co-workers or clients? You've found the right app for that! With Tallyfy - you can automate tasks and business processes - within minutes.
Let's resume the rest of this article!
This is because users are now able to turn to any corner of the internet for help, at the same time that the costs of live tech support are rising throughout the world. It's simply much more cost-effective to direct your users to your official Web site to solve their own problems.
In this article, we'll do a deep dive into what makes product documentation important, as well as a comparison of the features found in the best product documentation software solutions (this was in late 2020).
What is Product Documentation?
Product documentation software is a custom solution designed to make writing documentation easier. That's simple enough to figure out, but the key is that it's also designed to make maintaining documentation easier.
When you're shipping physical products like furniture or tools, you can get away with reusing the same instructions over and over. You probably build the 2020 design of your bookcase much like you build the 1990 design, for instance.
With software as a service, fast-paced changes are the norm. Users are constantly demanding new updates, and hackers are doing their best to stay ahead of every security patch you put out.
And with those changes comes a desperate need for strong product documentation.
Over the past five years with the rise of content blogging, people aren't just turning to one place for software help anymore. One prime example is Excel – if you search the web for Excel help, in all likelihood you're going to land on pages selling add-ons and online courses before you actually see the official Microsoft documentation.
By having a strong, centralized location on your official website for the best-written, best-maintained help pages and tutorials, you create a powerful pull of legitimacy for your own product. You show that you care about the user experience beyond just designing the interface – you want people to know how to use it with ease.
Having well-designed documentation also helps cut down on support costs, as users who find their own answers to their problems are more satisfied and more likely to continue using your website for years to come.
Of course, you can't get this kind of documentation just anywhere. Like everything else in business, you need a specific tool and a specific process in order to make sure your end process is reached as smooth as can be.
What Are the Benefits of Product Documentation Software?
Many people think they can just get away with writing up documentation any old way, and of course nothing's stopping them from doing so. However, not paying attention to documentation ends up hurting everyone in the long run.
Product documentation software is specifically designed to make writing correct and accurate documentation easy and intuitive.
For example, let's look at the process of updating old posts when a new product update rolls out to your users.
Without any kind of information management system, you'd have to manually search through everything you've written and look up all the keywords related to everything the update changed.
Then, after finding and re-doing all of those pages, you'd have to publish them into whatever format your front-end uses, whether that be a static FAQ page or a downloadable PDF document.
As you can probably see, this leaves a ton of room open for mistakes. Searching through even with a find-and-replace guru is going to be spotty at best – and the consequences for omitting important information or keeping outdated information are unhappy users confused yet again by labyrinthine help docs.
Specialty software for product documentation avoids this by including powerful fuzzy search tools that help you instantly find all the mentions made of any feature or description. You can also tag each page and inter-link them to build up a useful and complete directory of help documentation topics.
And as you write your docs, you're no longer limited to just a word processing interface. Power users can take advantages of Markdown layouts, and it's easy to add multimedia like graphics, videos and even downloadable files to your documentation pages.
The Best Product Documentation Software
Although there are a ton of different product documentation software popping up all the time, we've cut through the clutter to find you the products with the best features at the best prices.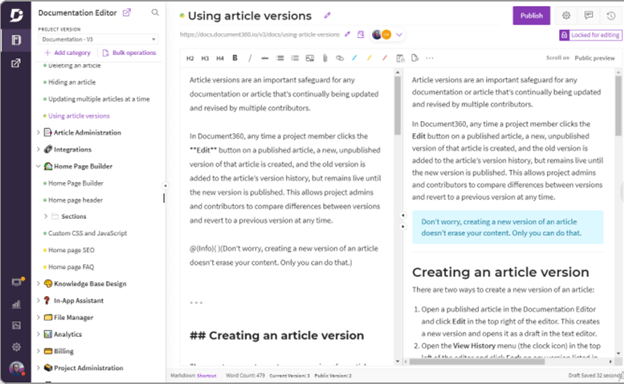 The first name in product documentation software is Document360, a knowledge base designed for small, medium and large businesses.
It offers a complete set of editing and organization features to the end user.
Power users will appreciate the inclusion of markdown editing, which lets people easily arrange their posts into sections with headers, bulleted lists, bolding and italicizing and more without having to take their hands off the keyboard.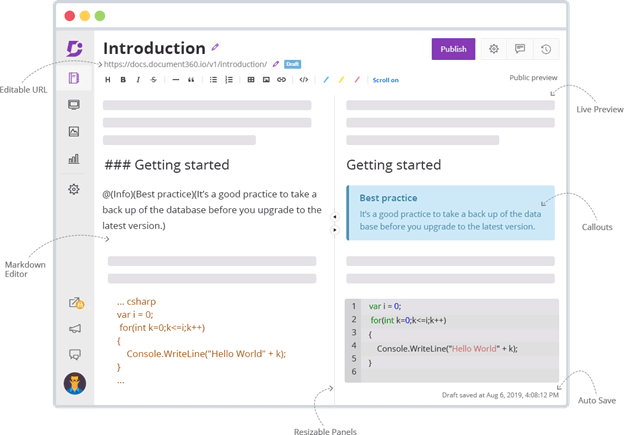 You can also easily add files and other multimedia to the Document360 knowledge base pages. Be warned, though, that once you add a screenshot or short video snippet, you'll have to make sure that you update it to reflect any changes in your actual product design. It's a major giveaway of poor knowledge-base design when there's a screenshot that only reflects what the UI used to look like. Fortunately, knowledge base editors can quickly see which pages haven't been updated for a while and make their editing choices based on that.
As you probably know, a major advantage of the knowledge base format is the search function. The Document360 search bar looks through post titles, tags, full-text, and even alt-text to serve you up the most relevant articles for any query. It's virtually instant, too, scaling impeccably from knowledge bases with a few dozen to a few thousand articles.
Document360 has even been designed to work as a high-functioning internal or external knowledge base – that is, working as a resource for your employees as well as for your customers. Users can even be slotted into organized groups, with access to pages or even to entire knowledge bases granted or revoked based on what's absolutely necessary for them to know.
Document360 is available for free with a 14-day free trial, during which you'll be assigned a specific sales agent to help you decide whether it's right for you. After that trial is up, pricing starts at $49 per project per month, with two user accounts included.
Pros:
Robust backup and version control features
Easy design tools
Levels of user access
Cons:
Free trial only lasts 14 days
Automated knowledge base migration not as developed as others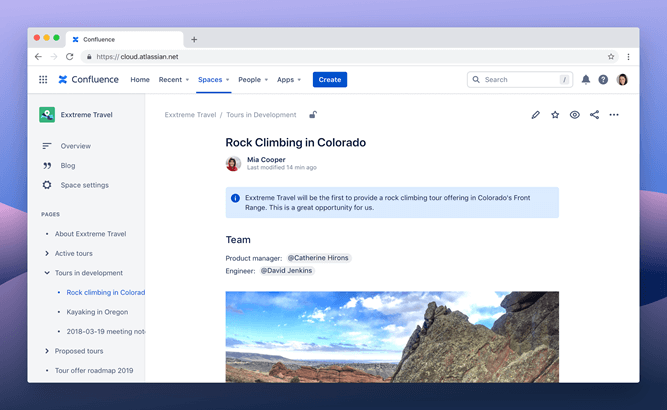 Confluence is a collaboration and documentation tool from Atlassian, makers of Jira and Trello. It's designed to be exactly like a word processor, but with tweaks and upgrades that perfectly mesh with the needs of power users creating documentation.
Two of the biggest features available with Confluence are templates and macros.
When you're starting out with any project, a blank page can be extremely daunting. Just looking at the blinking cursor in a sea of white can start activating writer's block. With the templates, though, you can get a sense of how to lay out your ideas, and you can start focusing on just one section of your page instead of trying to conceptualize the whole thing at once.
For instance, you could have a template designed for section introductions, and simply modify it to apply to each section that you come up with in turn.
Macros work much like you'd expect them to in Word or Excel. They're mini-scripts you can use to automate repetitive processes.
But the best part is, you don't have to edit them yourself. Confluence comes with a small yet powerful library of macros that can save you time in your editing process.
Take the "table of contents" macro, for instance. It automatically takes all the headings you've written on the page so far and turns it into a table of contents at the top with links to each section.
Confluence is free up to ten users (with unlimited pages), but after that you'll have to pay $5 per user per month for the Standard version.
Pros:
Generous free tier
Supports advanced automation features
Libraries and user guides to get you used to the platform
Cons:
Can be hard to grasp for people not in the Atlassian ecosystem
User interface is rather busy with lots of text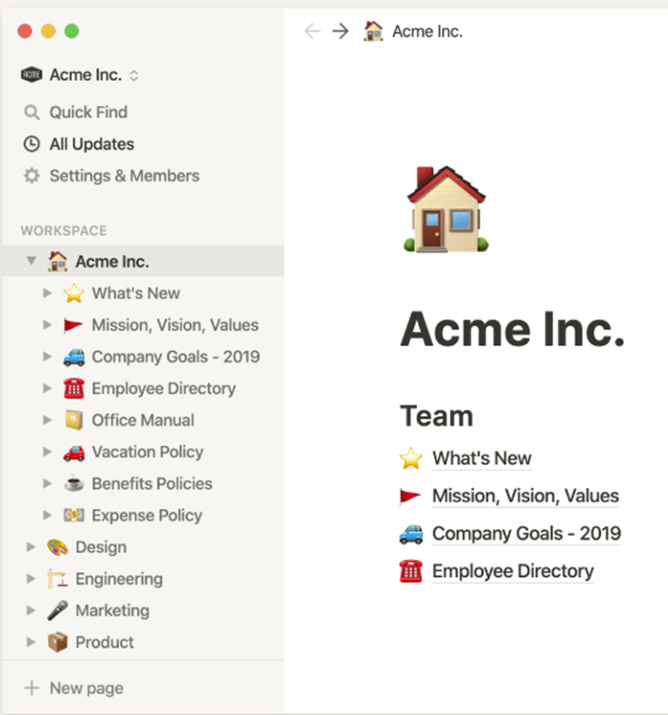 Notion has three major functions, each helping your team with a different important part of their overall productivity picture.
Those are the notes, the task list, and the team wiki.
As soon as you look at the website, you'll see how Notion's designers place great value on minimalism and organization. The whole thing looks like a blank notebook ready for your inspiration.
For the purposes of this article, we'll just be looking at the way you can write documentation with Notion, not how you can keep track of your team's tasks with kanban boards.
Notion is built around blocks. The company actively encourages the comparison to LEGO blocks, where each one has a specific function. You can think of the blocks like a page in a wiki, and organize them spatially into sections.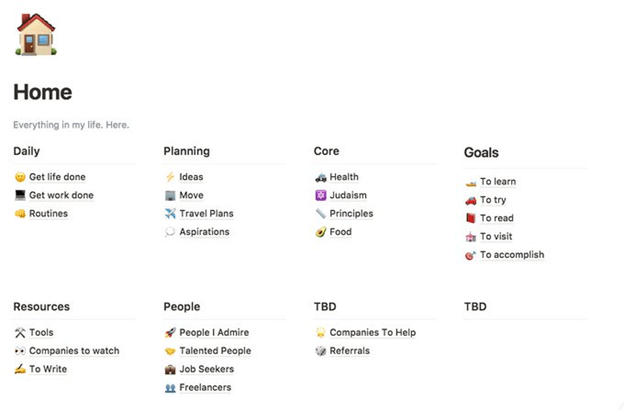 When you write something like a team wiki for your product documentation, it's extremely intuitive to rearrange your articles into categories on the fly.
A lot of people are visual thinkers, and this ability to organize information can really help them out.
This is perfect if you end up inheriting messy documentation from somebody else and have to rework it into something more coherent, or if your product development team is energetic about adding new features on a rapid basis.
Plus, Notion has a dark mode! No more burning your retinas on those late-night documentation binges.
Notion is completely free for up to 1000 blocks (remember, one block would be one article in a wiki-style way of thinking), but you're limited to five megabytes per file uploaded. That's plenty of text, but you'll hit a wall fast when you want to include GIFs or videos.
Pros:
Beautifully minimalist user interface
Easy to use and good technical support
Cons:
Limited integration with other platforms
Poor mobile support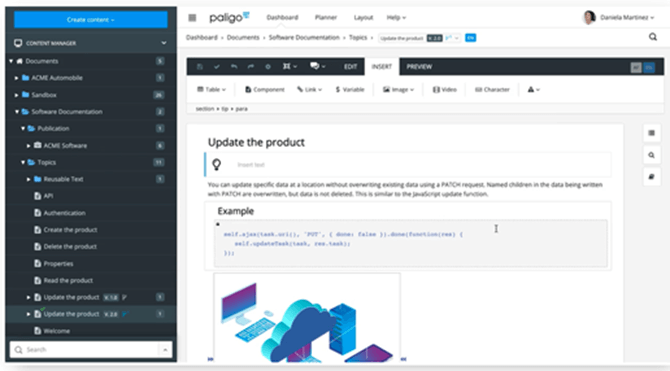 Paligo is a high-level documentation and content management tool designed from the ground up to be an efficient way for companies to write excellent technical documentation.
When you write documentation for complicated software, you'll find yourself re-using the same wording over and over. Paligo sees that coming, and includes a smart "component reuse" feature as part of its core functionality.
It's similar to the concept of a template or macro, in fact. Including these reused components in your workflow can dramatically speed up documentation writing for large projects, such as if you acquire another company who never wrote any docs for their own product.
It also supports interactive code blocks for different languages, which is absolutely perfect for documenting APIs. You can have PHP, Javascript, and Ruby right next to each other in one window – and your users will thank you from the bottom of their hearts for such a considerate layout.
And speaking of languages, a translation editor is built in so you can translate your documentation to different user languages and reach users around the globe.
As is expected with a collaborative documentation tool, Paligo is entirely cloud-based and your users can work on the same articles at the same time seamlessly. It kind of looks like Google Docs in that regard, where you can watch as others make changes and they appear on your screen.
Like Document360, Paligo supports versioning as well so you can easily compare different versions of each article. Did one of your writers go on vacation for a week? They can get caught up in seconds by comparing the last version they were familiar with to the current live version of each page.
Pricing for Paligo starts at $119 per author per month, making it far and away more expensive than other solutions. You're also limited to 500 MB disk space in total, though this jumps up to ten gigabytes per author at the $179 tier.
Pros:
Rapid development cycle and good support
Salesforce integration
Re-use able to scale to a high level
Cons:
Customization requires payment
Steep learning curve makes design unintuitive for some learners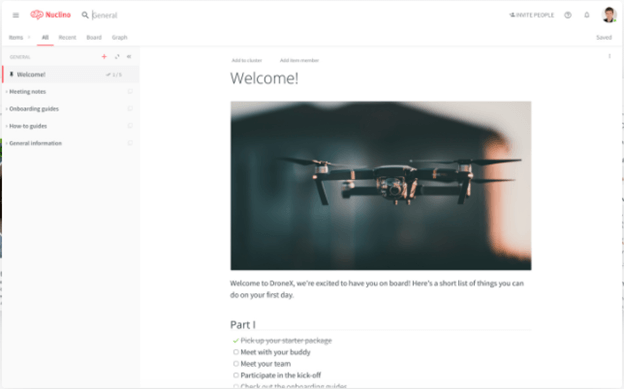 While other solutions on this list have so far focused on external documentation or both internal and external, Nuclino has been designed for internal use first and foremost.
This means that it's part kanban board, part mind map, and part wiki – in other words, a customizable display for organizing your team's documents however they need to be organized.
Nuclino positions themselves as a clear alternative to Google Docs, which they paint as bloated, cluttered, and hopelessly unorganized. With that in mind, they've taken the initiative to add several features they wish collaboration tools had by default.
Some of the features will be familiar to G Suite users, such as real-time live editing and updating that allows you to see who's typing as they edit the document.
It also includes classic knowledge base features shared by others in the field like Document360, such as a Markdown editor and an instant search bar.
With Nuclino, it's simple to add links to different pages or even to specific users, since your users are all internal. You can choose who has access to which pages (though all group and privacy features are limited to the paid tier).
The free tier has no user limitations, but you're limited to 50 total pages (known as items) and five gigabytes of storage. After that, the price is $5 per user per month.
Pros:
Good free trial and low price compared to other platforms
Well-integrated search interface
Good collaboration functions for multiple users
Cons:
Extremely limited formatting options for text design and layout
No PDF integration
Pricing slanted toward small businesses, quickly expensive with many users
You've documented your product, what next?
As you can tell, the vast range of solutions offered for streamlining your product documentation experience can be overwhelming.
The best way to make sure that you've chosen correctly is to simply make a list of must-have features for your particular problem set, and then take advantage of a sales consultation or a free trial period to make sure you're fully aware of how your problems can be solved with the new system.
After that, since most of the underlying functionality of different knowledge base systems is relatively similar, it'll be a cinch to get accustomed to the individual quirks of each one. Rest assured that no matter which one you choose, your documentation will be supercharged and more attractive than ever to every user in your audience.
The journey doesn't end after you've finalized your product documentation. You also need to document how internal operations work and run to get the most out of your investment in a product documentation software. These internal operations, sometimes referred to as workflows, are a series of tasks you need to complete in order to reach some repeatable business goal.
Take a client onboarding scenario for example. The process is pretty straightforward: assess your client's current needs. Then, outline the client's desired outcomes and goals. Be sure your team is briefed on your client. Have a kickoff call and after finalizing all the logistics, remember to check-in after 30 days. However, your employees may still carry out the process with some variation.
Tallyfy can help you document your workflow in various ways to help your business by teaching your employees how to carry out your workflows as shown in the GIF below…
What's the order of steps?
What are the tasks that make up the workflow?
Who owns what task?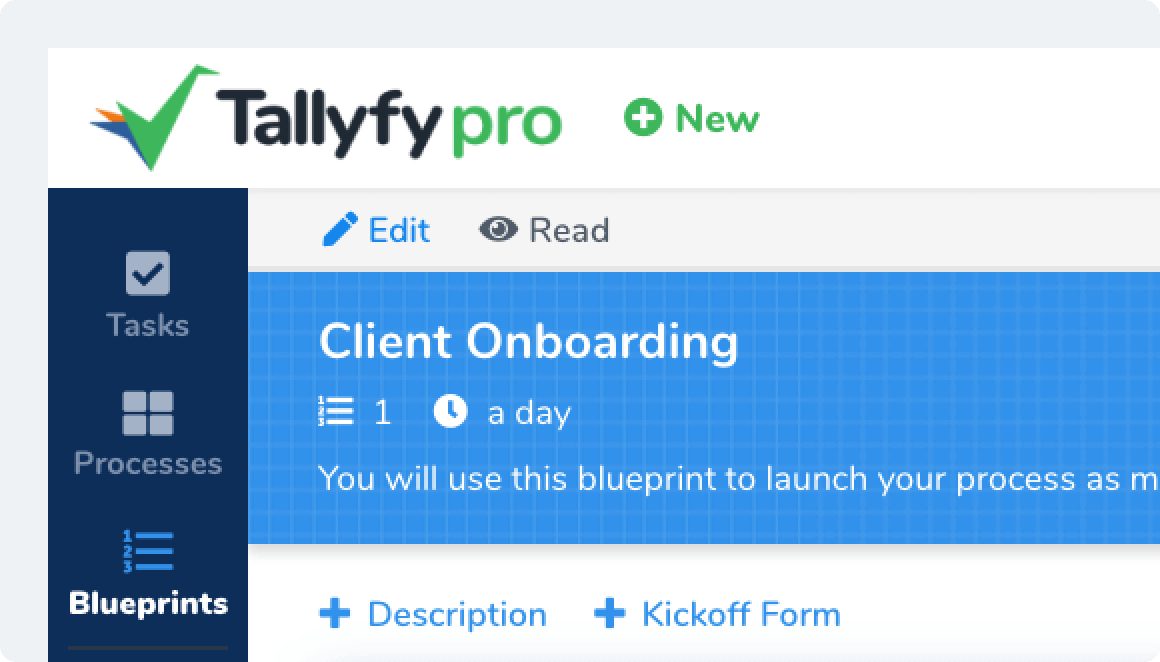 Having a documented workflow establishes the best practice for carrying out the process, ensuring that the process is completed with maximum efficiency.
Alexandria Transit Company is a great example of a real life team that used Tallyfy to document processes such as purchase requisition, receiving report & invoice payment, PO change order etc. Before Tallyfy, all of these processes required paper forms for directors to sign. There was a fair amount of scanning and emailing these forms. Additionally, the processes were not well documented or understood. As a result, they were not consistently followed.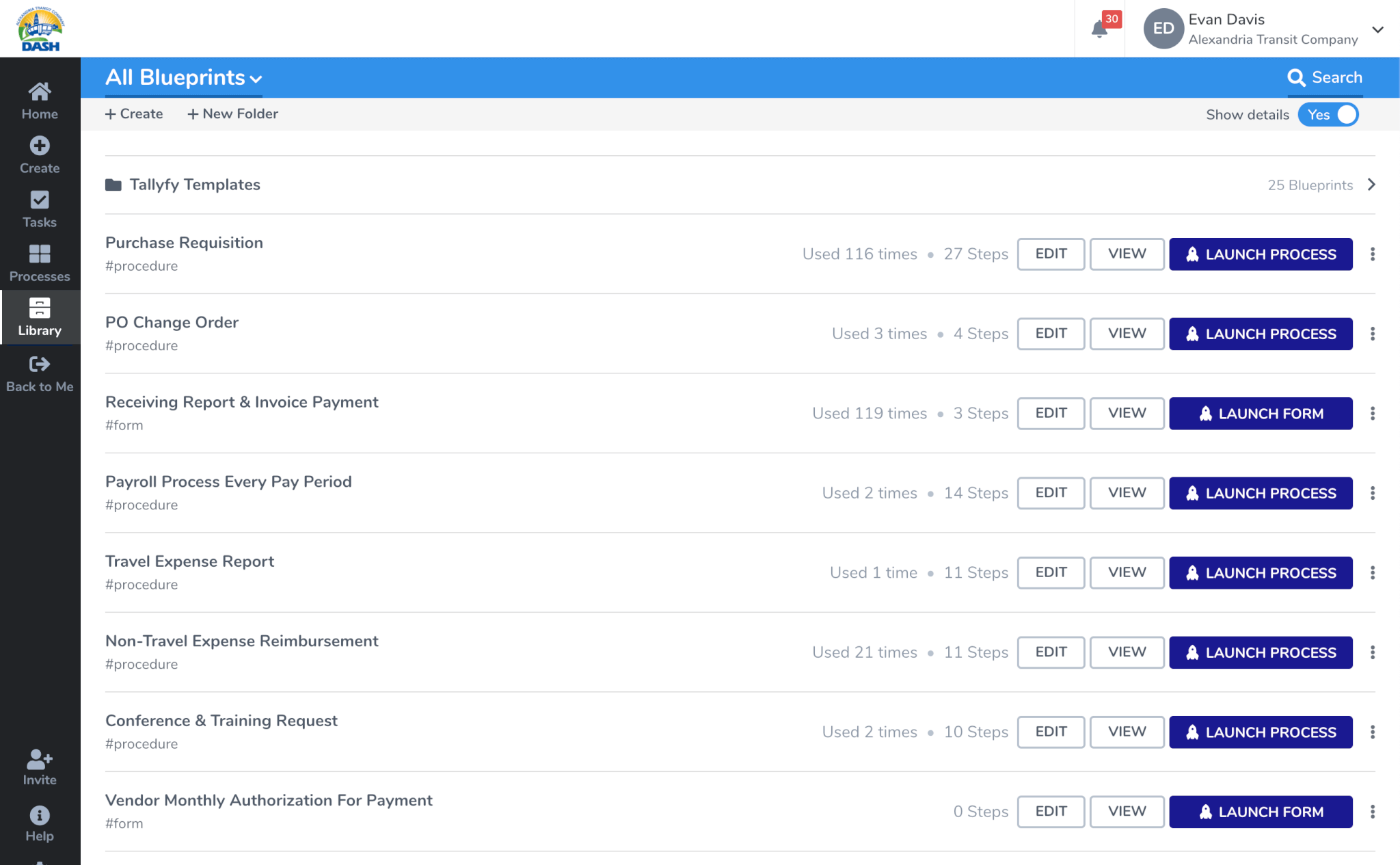 Read more about it here.
If you're looking for the right tool to help document your processes, you might want to give Tallyfy a try. In addition to simply laying out the processes, it can help keep track & manage them, ensuring the efficiency of your team.
Start automating workflows now with your free 14-day trial of Tallyfy