What is Asana?
"Productivity enthusiasts love Asana – and for good reason. However, it doesn't run repeatable processes very well. "
Asana is an online team collaboration tool that specializes in workflow management.
It's a flexible and elegant tool that you can bend to your will for tasks and workflow management.
Asana project management new timeline view feature makes it easier to manage dependencies.
What is Asana?
Asana is a cloud-based task management solution that allows businesses to manage, collaborate, communicate, and organize their tasks and projects. It is specialized for handling multiple projects at one time and it is suitable for companies of any size.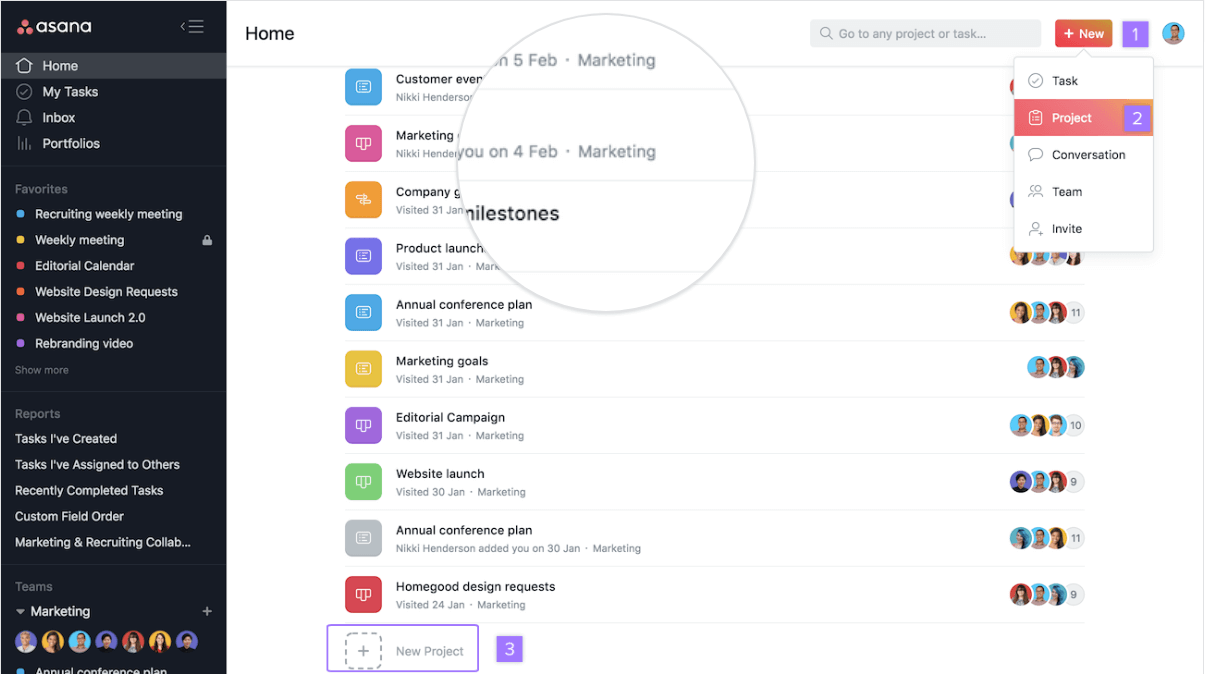 How does it work?
The complete working of Asana is divided into five key categories:
1: Project management
Projects:
A bit about Tallyfy
Are you looking to automate tasks between co-workers or clients? You've found the right app for that! With Tallyfy - you can automate tasks and business processes - within minutes.
Let's resume the rest of this article!
Asana allows you to organize and share all your projects as lists or boards to keep records of all your initiatives, meetings, and programs.
Tasks:
Asana allows you to break all your work as small tasks and additional steps to complete overall tasks, you can manage all your tasks as follows:
Subtasks – break all your tasks into smaller parts or steps needed to complete the task assigned.
Task assignees – Assign tasks to different individuals so that you can assign roles and responsibilities accordingly. Moreover, with Tallyfy you'll be able to assign tasks to guest users in addition to member employees within the organization. Guest users within Tallyfy are users outside your organization like clients and it's free to assign to as many as you wish! See how you can assign tasks to guests or members in the GIF below For more information on the difference between members and guests, see here.
Create Sections and Columns – Allows you to group tasks into different sections or columns on board to keep all your tasks organized and maintain your workflow strategy.
Custom fields – It allows you to create drop-down, number, or text custom fields for your projects/portfolios to manage, sort, or filter information. You can create notifications for all your custom fields.
Forms – Capture details from your customers for any project brief requests, and more. The forms can be connected directly to your projects, and you can track your project submissions as well.
Due time & dates – Assigning due-dates to every task allows you to get it done under a specific time limit, you can also view all the tasks on the Asana work calendar. Also, it allows you to specify the due time, so that you don't miss a deadline, and everyone will know when the due-time is for this irrespective of the time zone.
Goals – You can set, track, and manage your goals with your work to achieve your milestones for leads, executives, and individuals.
Milestones – keep your team motivated and make your goals clear by setting small tasks as the key markers of progress i.e. milestone.
Timeline – You can create a Gantt-style view of task and project deadlines that will help in making a better plan, schedules, and achieve all milestones.
Attachments – Add files from your computer, Google Drive, OneDrive, Dropbox, etc.
Likes– Everyone can acknowledge the tasks or comments and give their feedback or vote for tasks using likes.
Assign tasks in multiple projects – You can assign the same tasks in multiple projects, and create a workflow in different contexts.
Rules – Asana allows you to create rules to automate manual processes such as assigning tasks, updating asana required fields, etc. However, what's different with Tallyfy is that you will be able to automate decisions using three main types of rules. These rules are trigger on task completion rule, trigger on form field response rule and trigger on approve/reject response rule. Learn more about how to automate decisions using rules here.
Approvals– You can request and approve work in the Asana system.
2: Communication
Teams do better work when there's effective communication. With Asana's team communication tool, you will be able to manage your team's work to communicate the right information at the right time.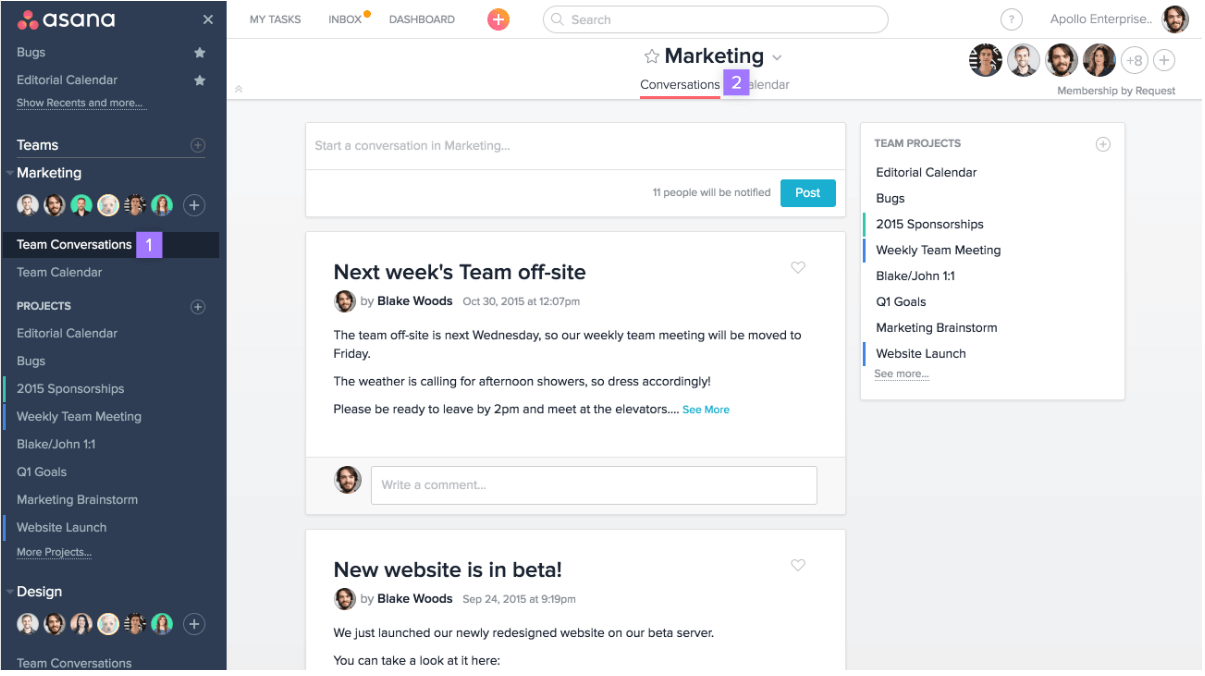 Here's how you'll be able to do so:
Proofing – Give clear feedback by using task comments directly on images or PDF that will turn into tasks for easy tracking and assigning.
Project conversations – Discuss a project's progress to keep track of everything.
Team pages – Put all your team's projects in one place and have a team conversation, announcement, and put a description of your team.
Status updates – Share the status updates of the project with the stakeholders and build portfolios with this information.
Languages – Team members can communicate in multiple languages such as English, French, German, Spanish, and Japanese.
Rich Text – Use rich text in larger text fields to make your message clear and organize your thoughts with numbered and bulleted lists.
3: Views
If you want to sort and filter your list of tasks, Asana project Views will enable you do so. You will find viewing options for 'Projects', 'My Tasks' and 'Search views' as your list of tasks.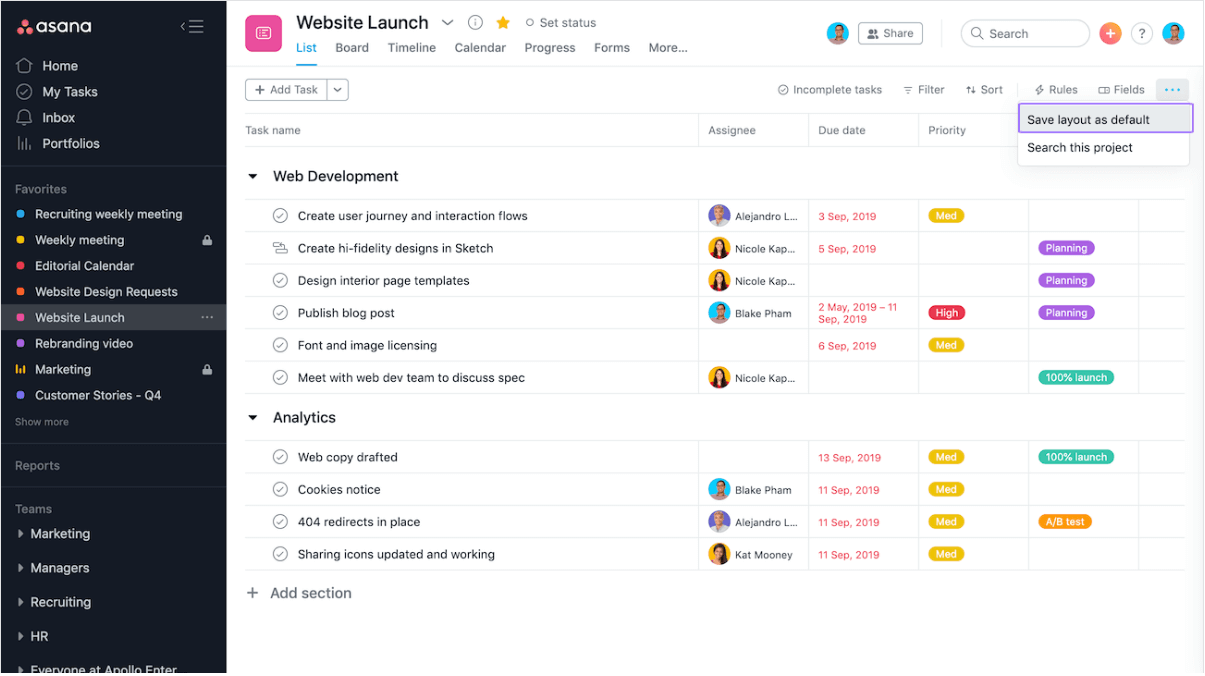 The following are examples of views you'll get:
My Tasks– Plan all your activities using a prioritized to-do list.
Inbox – Receive and filter notifications for all your projects, conversations, and the tasks for following-up.
List – This grid-like structure makes it easy to create, filter, and format all the tasks and actively collaborate with your team.
Search – Search and find the information you need to keep up with all tasks required to achieve your goals.
Advanced Search reports – create advanced search reports to get a clear picture of the progress of leads, prospects, and team members.
Portfolios – Organize all your strategic initiatives and monitor the status of everything in one place.
Workload – The resource management feature that allows you to see a single view of team bandwidth. It helps you make staffing decisions and manage workloads when needed.
Calendars – View all your tasks on a calendar to get a clear view of your work.
Files view – Find all the project files that you want in a gallery view with all the project attachments.
Colorblind friendly-mode – View everything in full Asana color palette using the colorblind-friendly mode.
4: Team management
Asana project management tool helps you plan, organize, and manage your team's work, from A to Z. You'll be able to coordinate team tasks so everyone knows who's doing what, share feedback, files, and status updates.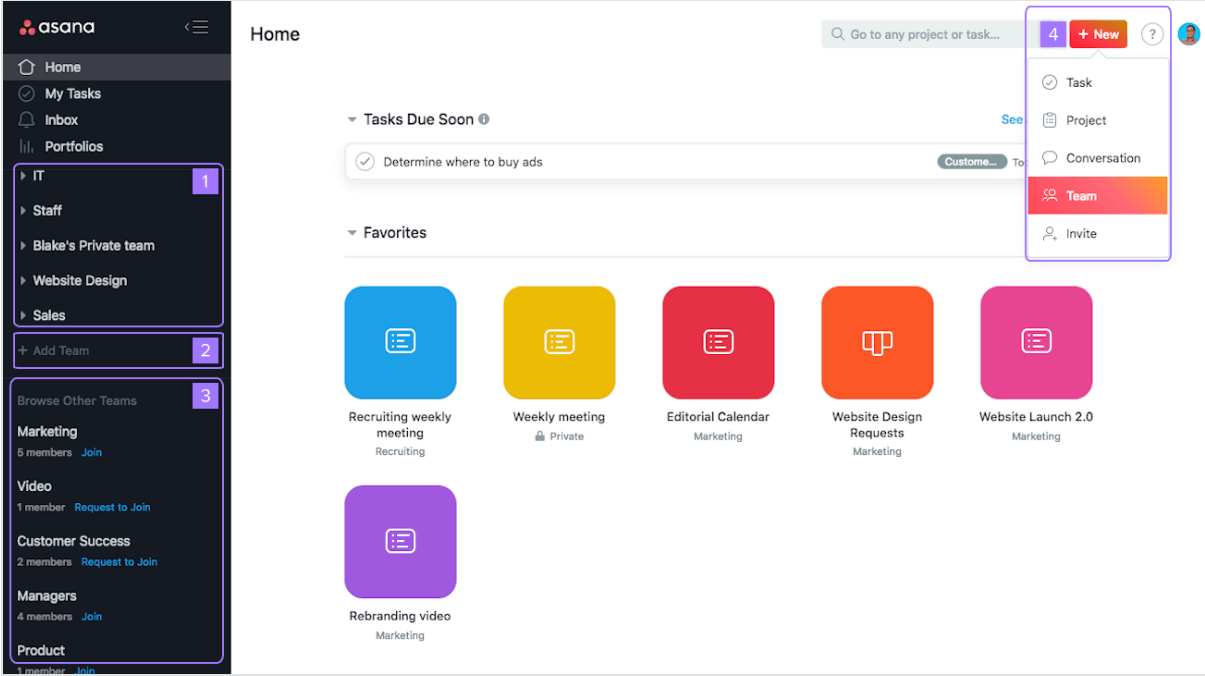 Here's how you'll be able to manage your team:
Teams – Create teams to organize your projects and connect all the teammates using a shared calendar and conversations.
Followers – Add all your teammates as followers so that they can also catch up with the work using tasks and receive relevant notifications with task updates.
Guests – Collaborate with vendors, contractors, and partners in Asana.
Permissions – Using permissions to limit access to any project, create hidden teams for confidential work and public teams for projects that are required to be accessed by the entire organization.
Admin Controls – Designate and assign control to other people who can add, remove, and manage members along with their data and passwords.
5. Integration
Another plus for using Asana is that you won't have to worry about leaving the tools you are already using behind. Asana can be integrated with these tools to make tracking your work and getting results even easier.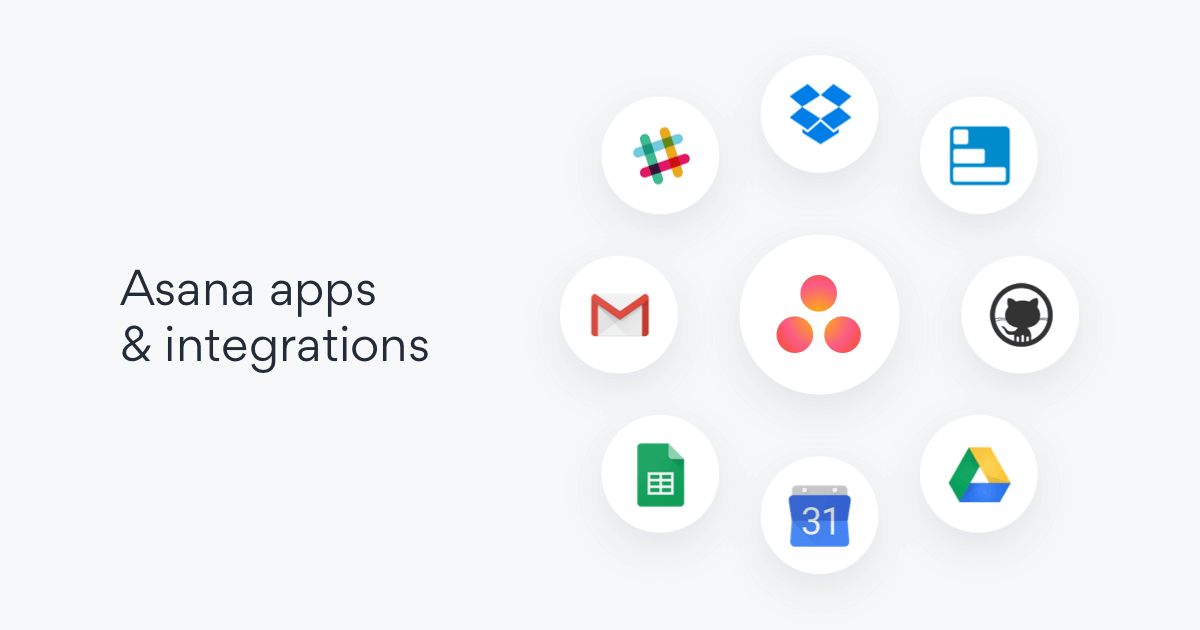 Asana has a lot of integration built-in options for file sharing through G drive and Dropbox and Box.
It supports integrates well with the Adobe CC (creative cloud) and this allows you to assign new tasks, access designs and get feedback from all the people in your team.
Other options for integrations include Microsoft Teams, office 365, Outlook, OneDrive, Jira cloud, Litmus and Salesforce, etc.
So how much does Asana cost?
The Asana pricing plans are as follows:
1. Basic(free)
2. Premium($13.49 per person/month).
3. Business($30.49 per person/month).
4. Enterprise (Contact Asana for a quotation).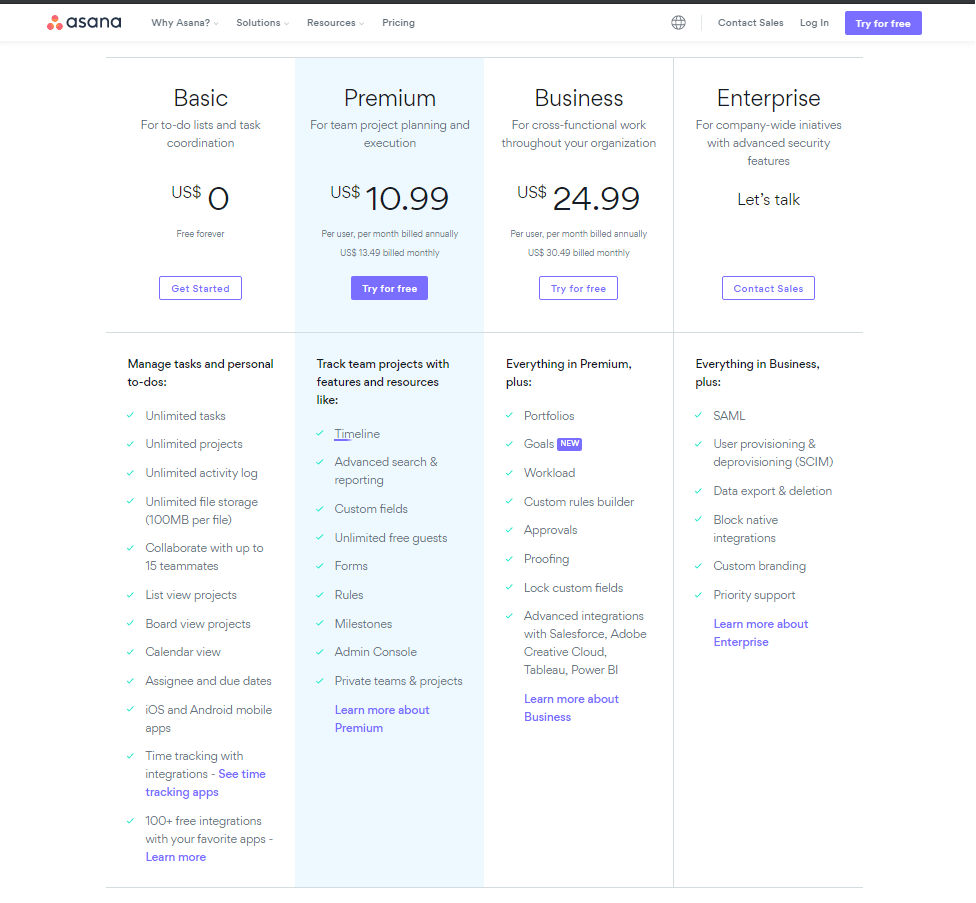 The basic free account has some restrictions. One of them being no access to Asana timeline (Gantt chart) view. The free-plan also restricts you to use features like start dates, portfolios, reporting, custom process reviews, etc.
However, the free account comes with all the essential task management features such as task creation, task assigning, due dates, write comments, and attach files. Also, there is no limit to the number of tasks or projects that you can create. You can use the free account for a few weeks with a small test group before upgrading to a paid plan.
Asana Premium costs $13.49 /per person to be paid monthly, and you can save more if you pay $131.88 per person paid annually. The premium account features administrative controls, priority support, and the ability to create private teams and projects. This plan also has some privacy features, where private projects are accessible to all the invited members, whereas public projects are accessible to everyone on the team.
Asana Business plan costs $30.49 per person paid monthly or, you can opt for $299.88 per person paid annually. This plan is suitable for big businesses that work for multiple projects at the same time. This plan includes all features of the premium plan. This plan also features the option of custom rules and the option to integrate with the Adobe creative cloud. The customer rules builder allows you to automate everything. For example, whenever you change a due-date, it automatically adds the team leader marked as a follower for the assigned task.
The Final verdict – Pros and Cons
Asana is an all-in-one and go-to project management tool. This works great for remote teams; it has the mobile app as well that supports both the android and IOS operating systems.
Here are some Pros and Cons that I noticed:
Pros:
1. The free plan is great for startups.
2. Integration options work well!
3. Paid plans also provide great value for money.
Cons:
1. Projects can get complex while using privacy features.
2. Asana can be difficult to implement for new users.
If we managed to help you understand what Asana is and how it works , perfect! On the other hand, Tallyfy is an awesome workflow management software that's simple and easy to use for existing and new users. We offer a free 14 day trial plan where you'll be able to decide whether it's the best tool to automate your decisions and tasks. Give it a try!