It's a scary scenario: your business' information systems get hacked, and credit or debit card information is stolen. It has happened to some of the biggest companies, and you can bet it sent their customers into a frenzy of worry when the information was finally made public. But passing a PCI compliance audit shows that you handle information securely. Knowing and addressing risks could save you from a nightmare scenario, and give your customers confidence when they use their cards to shop with you.
The first time you have to pass a PCI Compliance audit, you may find the very thought somewhat daunting. However, preparing for a PCI Compliance audit is a process, and once you've got it right, it will become a matter of routine. Let's take a closer look at the whys and wherefores – and help you with your recipe for PCI Compliance success.
What is a PCI Compliance Audit?
No matter how large or how small your business is, you should undergo PCI compliance auditing to show that you are taking good care of your customers' credit card security. Thus, your transactions must be safe, and any data that you store must also be safeguarded.
Important note
You're probably wondering who we are. Tallyfy is a product that simplifies and automates your business processes. It's the secret to running smooth operations. Instead of creating process diagrams (which nobody looks at), documentation (which you can only read and never action), emails, chats and chaos - you can create and run any process in your company within seconds.
Settling for basic and cheap project or task management tools is the biggest mistake you can ever make. You get what you pay for. If you try to save a cent - you will lose a dollar. Wasted time (at $40/hour) is far more expensive than the cost of software. There's a huge difference between process management and project or task management. Processes relieve stress, make things predictable - and help you grow and become efficient. Projects and tasks are just ad-hoc, unpredictable chaos.
It's important to understand that context before you carry on reading. Successful people are smart enough to fundamentally change the way they work "right now" and amaze themselves and everyone else with new ideas. You can stop fighting uphill battles every day immediately - and drive more personal success in your career by introducing the modern way of creating, tracking and even enjoying tasks with your coworkers.
Anyway ... sorry for the interruption! Let's resume the rest of the article.
PCI stands for Payment Card Industry, and the audit is among the measures set out in its Data Security Standards. It uses a classification system to rate your business based on the number of card transactions you process annually. For example, a level one business processes over six million card transactions per year while a level four business handles fewer than one million.
Are you looking to document and run your processes?
Don't use MS Word or Google Docs, and don't use flowcharts.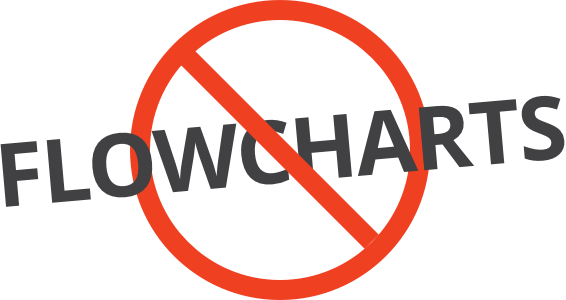 Documenting your processes using flowcharts might look pretty and nice – but you can't run them. Even worse – nobody looks at flowcharts.
SEE WHY HERE
What does the PCI Compliance Auditor Look At?
To determine how safely your customers can use their cards to pay you, the auditor approaches his task with three distinct aims in mind:
Firstly, he or she will examine your entire payment system
In the process, the auditor will seek out vulnerabilities that may put your clients at risk
Finally, the auditor examines how you store data and whether it is safe from hackers
Follow the Step-by-Step Process
As you can see, PCI compliance is not only important for your customers' security; it's also vital to your business' reputation. Approach your audit with a positive mindset. It is a golden opportunity to enhance your business' payment system security.
Step 1: Appoint a qualified security assessor. This person will be formally trained in conducting PCI compliance audits and will have credentials from the PCI SSC or Payment Card Security Standards Council.
Step 2: Inform all the relevant staff about the process and ask them to cooperate fully. Your security assessor will need to dig into all the networks and systems you use as well as your internal payment-related policies and procedures. Your staff should be ready to help with all the necessary information.
Side note
Are you interested in truly useful analysis of the latest trends in business tech and ops? Talking from the Trenches is published once every 2 weeks by Tallyfy and it's unmissable. You'll be smarter and better informed automatically. So - don't leave this page without subscribing to it.
Anyway ... we'll continue from where we left off above.
Step 3: Act on the risk assessment information. Once the assessor has all the relevant information, he or she will use it to produce a PCI risk assessment. This is a valuable document because it will help you to get your data security up to scratch. Any vulnerable areas will be ranked in order of their severity, helping you to prioritize the most serious weak spots in your data security system. We've spoken about the value of risk assessments before – and this area is one where you can't afford to compromise.
If your business is being assessed for the first time, you might find yourself with a lot of changes to make. Managing the workflows that will address risks can be complex, and some businesses prefer to retain the security assessor as a consultant who helps to drive the process forward.
Cutting Costs and Getting It Done Faster
Smaller vendors aren't actually required to undergo PCI compliance auditing, but voluntarily undertaking one isn't a bad idea. However, consultants don't come cheap, so the less of their time you need, the lower the cost will be.
Prepare yourself for your audit by using the PCI Self-Assessment Questionnaire (SAQ) that applies to your business. You can find all this info on the PCI Security Standards Council website, or you can ask your bank to help you find the information you need.
After completing your SAQ, you will know which areas to attend to before the audit begins. The actual audit will merely confirm whether or not you have achieved the level of security you were aiming for.
Don't get so tied up in technicalities that you forget the potential impacts of human error. Getting all your employees on board before your assessment is important. They need to understand what process they should follow to ensure that client information is kept safe.
This is dramatically illustrated by the 2017 Equifax hack. A company dealing with very sensitive, confidential data, it had all the wherewithal to protect it. But according to news reports, the data that was stolen, triggering multiple lawsuits against the company, was not encrypted. The lesson? Don't neglect staff training. Your technical systems will help you, but ultimately, it's your people who must implement the measures.
A Job Worth Doing is Worth Doing Well
Your parents probably told you that a job worth doing is worth doing well, and nowhere is this truer than when you are protecting your clients' financial security. The Entrepreneur reports that over 70 percent of people feel nervous about sharing their financial data online. This, despite the fact that some of the most high-profile hacks have occurred at regular chain stores.
Whether your business deals with people in person or online, being able to give third-party assurances that you've done everything you can to keep their financial information safe will build consumer confidence in your business.
It's therefore well worth putting a little extra effort into your audit preparations, and as always, you'll be relying on a team to get things done. So, be sure that every step has been followed and every box ticked.
---
What your experience with the PCI compliance audit? Let us know down in the comments!