Online Physio is a pioneering service that provides online physiotherapy consultation to patients who have trouble accessing 'in-person' physiotherapy services. Their distributed team uses Tallyfy to establish a reliable and smooth implementation of their patient workflows. They also use Tallyfy to streamline and automate their digital marketing processes.

---
Karen Finnin
Director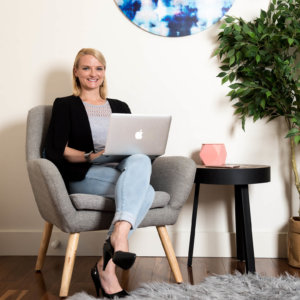 What was the core problem you wanted to solve?
It is critical for us to follow a defined patient workflow. This process involves multiple team members from different departments; so, it is imperative that tasks are completed in a timely manner. We wanted to make sure that there were no bottlenecks in this process and that every team member involved can efficiently complete their tasks within assigned deadlines.
Can you list the names of processes you run on Tallyfy?
We started using Tallyfy with the aim to automate our social media content management. Once we were confident with the abilities of the application, we were able to successfully automate one of our core processes – patient care workflow. We consult with our patients online; our primary focus is to make sure we are thoroughly engaged with our patients and have them go through a smooth transition from one step to another in the consultation process. Also, Tallyfy offers a secure platform, so our concerns of safe-record keeping are addressed with great confidence.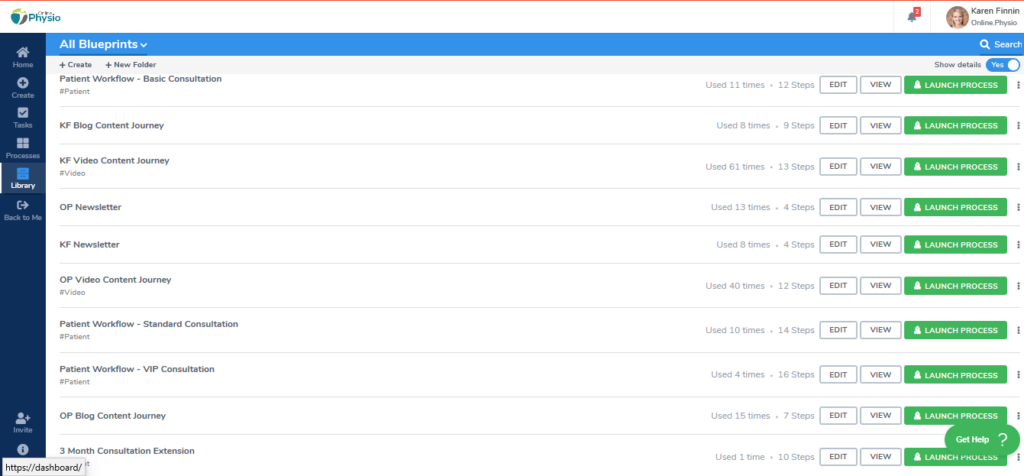 How was your company doing these tasks and processes before?
We had tried different project management tools which lacked the ability to ensure tasks triggered at the right time. Many process management tools were also very expensive for what they offered.
What other software did you evaluate before you chose Tallyfy? Why did you select Tallyfy?
We wanted a tool that was intuitive, was easy to use to assign and track not just tasks but also recurring workflows. We tried apps like Trello, Things app and Process St. Tallyfy had all the security and flexible features we were looking for in a patient workflow management tool and once we started using it there was no looking back!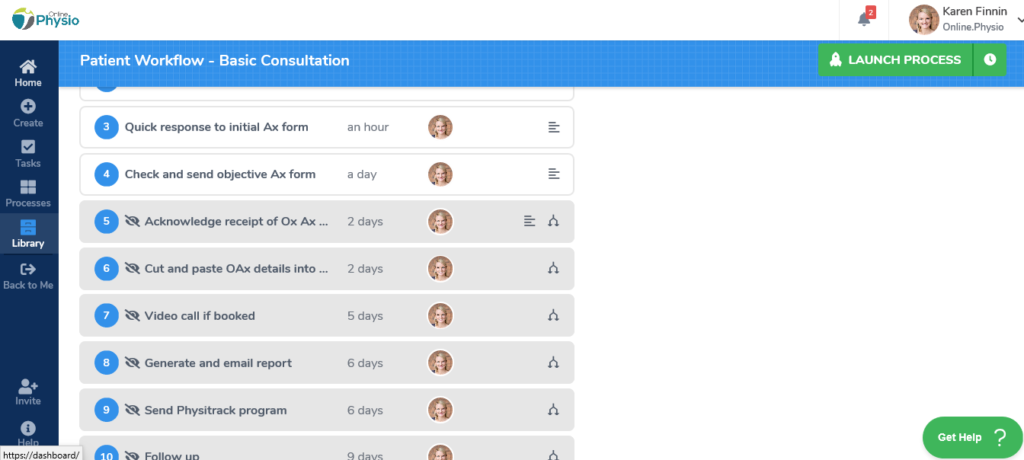 We aim to equip our staff with clear and streamlined workflows to increase collaboration and productivity. Tallyfy helps us eliminate any guess-work or micro-managing tracking of pending tasks. With our blueprints, every team member is aware of their tasks and deadlines even before a process is launched.
Editing blueprints to keep up with the changes in processes is very convenient. We can instantly implement changes in workflows without any confusion. It's like the entire team is on the same page!
All this helps us add more value to our business – less training required for the staff and more focus given to efficiently completing deliverables at hand.
How has Tallyfy impacted your business – what do your clients or employees think?
Our client project setup process was really painful, we used to have a series of forms, a white board and about 10 post-it notes stuck on it. Now, in just a few months, Tallyfy has significantly streamlined our web project management to just one app.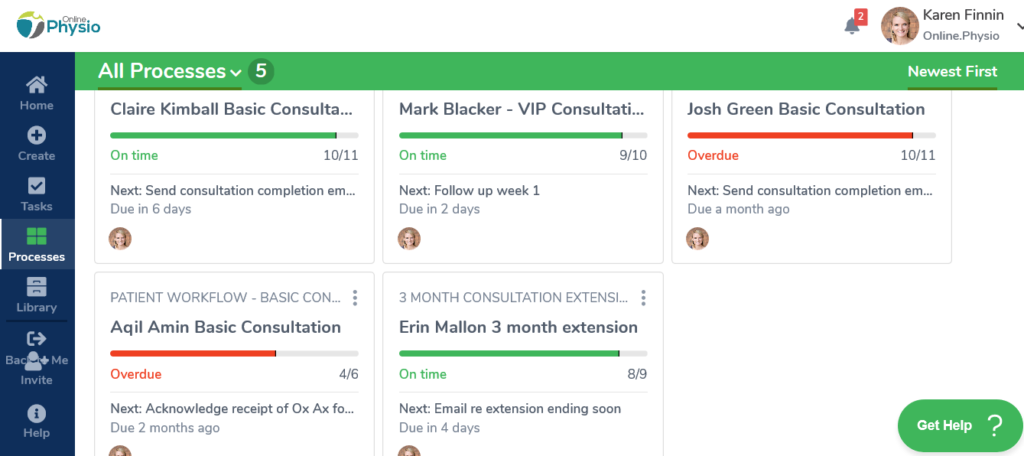 Tallyfy has made everyone more accountable. Each person can see exactly what needs to be done, and how long it has been sitting there.
As soon a we mark a task as complete, there opens up another task to that remind us to follow-up with our clients, so we never have to worry that it has been too long since we have spoken to a client, this certainly keeps our clients happy and loyal!
At the end of the day, everything in a business revolves around customer satisfaction and time, the quicker we deliver a great project, the quicker we get take on the next project. Tallyfy helps us excel at both!
What specific features did you like most about Tallyfy? Why?
The ability to integrate (with Zapier) is the foremost feature that really helps us go a long way in automating our workflows. Our patient workflows are triggered by the patient submitting a webform, this is automation is a game changer for us!
Blueprint features such as different types of form fields, due dates, assigning tasks to different team members or even guests, rules implementation such as sequential setup are some features that sets this tool apart and helps map our processes without hesitation or second-guessing.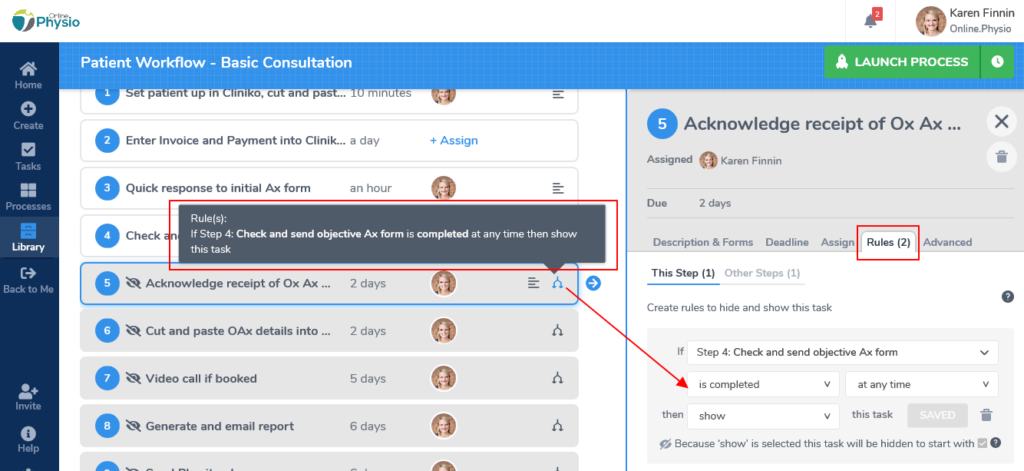 In up to 3 sentences, how would you describe Tallyfy to others?
Tallyfy is great for automating repeatable workflows, particularly patient workflows in a clinical environment. It is perfect for people wanting to implement and closely track routine but critical processes of their business.
Would you recommend Tallyfy to others? If so, to who and why?
I would definitely recommend Tallyfy to any business owner or manager who would like to track core processes like patient workflows very closely. Tallyfy allows you to delegate with confidence – it is a reliable platform that is intuitive – no matter how complex your workflow is.
Anything else you would like to add?
Tallyfy exactly understands and manages the need to automate predictable, repeatable workflows so beautifully and conveniently.