A workflow application is a spin-off of the age-old business process management software. The main difference is that workflow apps are easier to use, cloud-based, and don't cost an arm and a leg.
In this guide, we're going to teach you…
What's a workflow application?
How workflow apps benefit your business
How to use a workflow app
3 practical use-cases for a workflow app
What's a Workflow Application?
A workflow application is a tool that allows you to automate business processes. By automate, we don't mean the entire process, though.
While that would be pretty cool (imagine a product manufacturing itself!), it's pretty much impossible.
Rather, the workflow app automates the guidance of the process. Without software, the employees have to communicate in between themselves.
A bit about Tallyfy
Are you looking to automate tasks between co-workers or clients? You've found the right app for that! With Tallyfy - you can automate tasks and business processes - within minutes.
Let's resume the rest of this article!
So let's say the employee in charge of task #1 finishes their work. They need to manually reach out to the employee charged with task #2 and tell them it's their turn to work on the process. They might also give them some sort of information or data needed for employee #2 to complete the task.
With a workflow application, this is completely automated. The software makes sure that every employee that's part of the process receives their tasks, deadlines, data, and so on. This makes the process significantly smoother & more efficient.
In addition to process automation, workflow applications have several other benefits. You can, for example, track relevant metrics…
How much time does the workflow take?
How much time do individual tasks take?
How often are the deadlines missed?
Are there any frequent bottlenecks within the workflow?
How to Use a Workflow Application
As with most other software, your journey starts with a registration. We might be a bit biased, but Tallyfy might be as good of a start as any. Unlike most BPM or workflow software, it's free to start!
Once you're on the platform, you can…
Create Processes From Scratch – Our unique drag-and-drop workflow builder makes process creation easy. Zero coding knowledge required!
Use a Workflow Template – Tallyfy's platform offers 10+ different workflow templates, such as employee onboarding, client onboarding, approvals, and so on.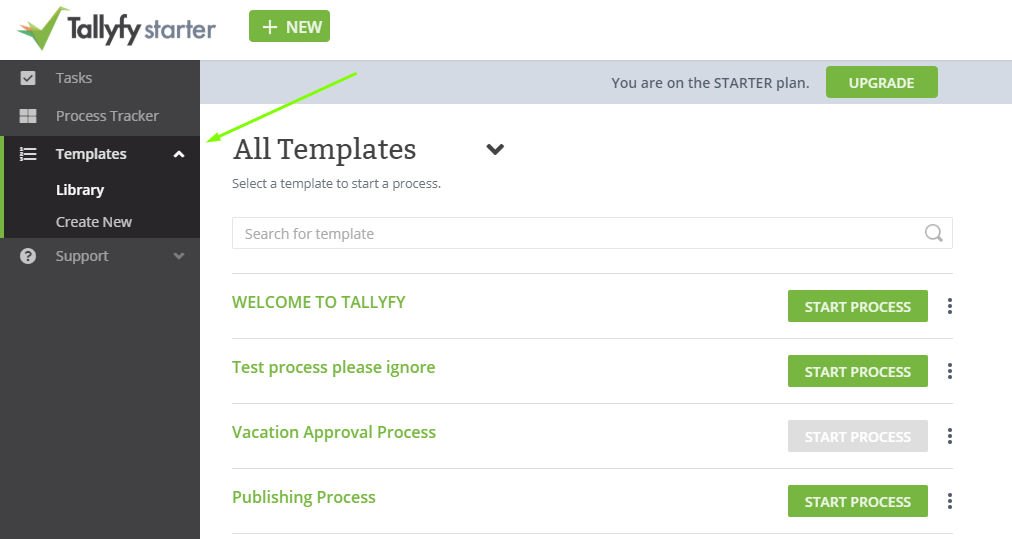 Customize Templates – Every company has its own unique spin on processes. Take some of our public processes & personalize them for your needs.
Once you've picked the processes you'll be automating, you need to get all the relevant employee on board the platform.
Whenever you start working with a process template, you can send out invites through the "new" button…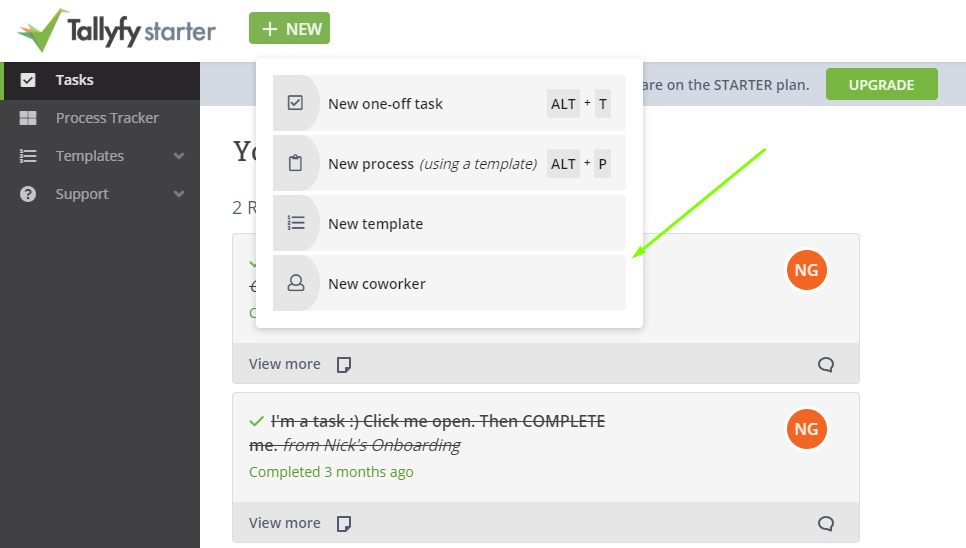 Then, kick-start processes whenever they're needed. Go to templates è library and click "start processes" for whichever workflow you're working on…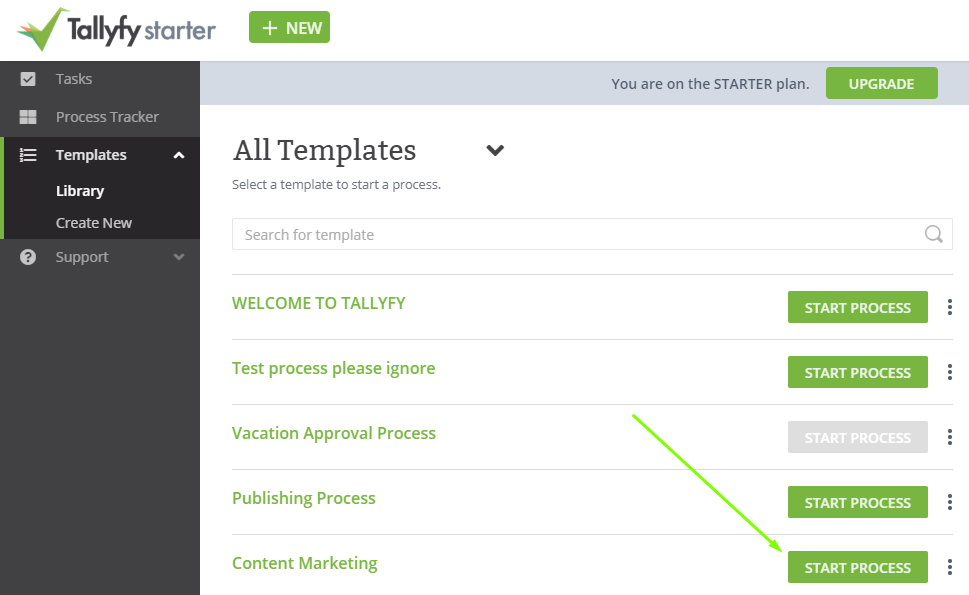 Then, assign the right employee to each process step…
And of course, hit start!
You'll get an option to view 2 different dashboards. In "process tracker," you can view the processes you're personally involved in, archived processes, all processes, etc.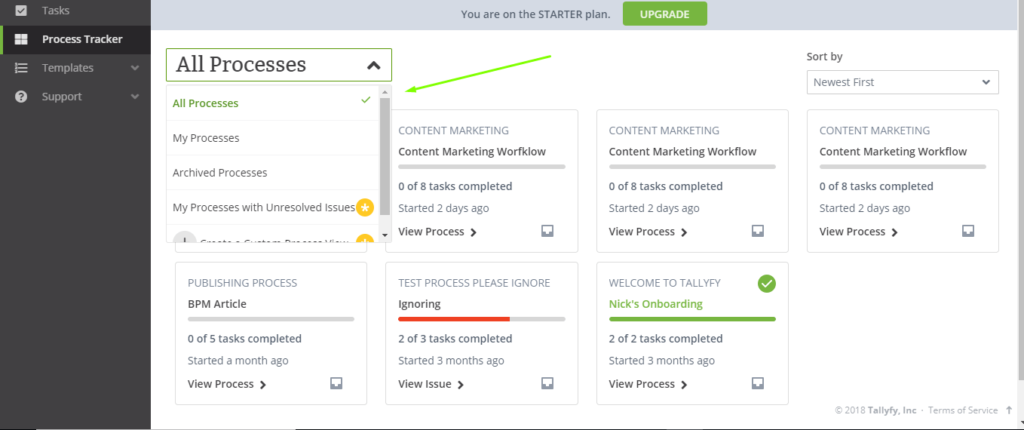 And on the other hand, you can also have the "task-view." Since task and process management can intertwine, you can use Tallyfy for both!
The task tab shows all the tasks you're responsible for sorted by urgency…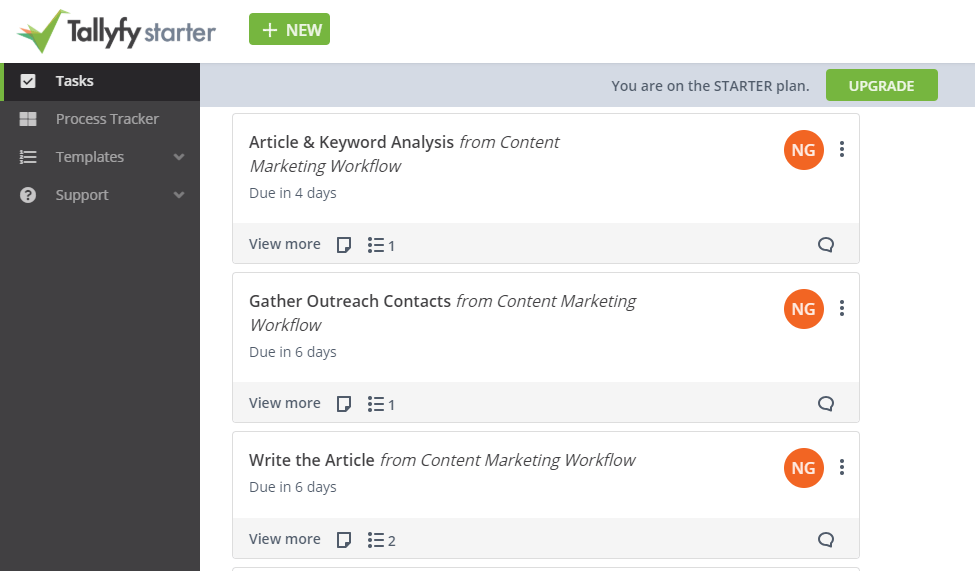 If you'd like to learn more about the practical applications of workflow software, read on for some of the use-cases!
3 Practical Workflow Application Use-Cases
Workflow applications are, for the most part, used for procedures. Onboarding is a good example – whenever you hire a new employee, land a new client or supplier, and so on, you have the exact same steps you need to go to.
In this guide, we're going to cover employee onboarding, approvals and content marketing, specifically.
Employee Onboarding
Your employees are the key to company success.
If you keep them happy and satisfied with their job, they'll do their very best to help the organization succeed. If you fail, though, replacing them will be expensive.
How expensive? As a given, it depends on the level of their experience. On average, it's going to be…
Entry-Level – 30-50% of annual salary
Mid-Level – 150% of annual salary
Specialized – up to 400% of annual salary
While there's no real way to make all of your employees stick, you can significantly improve your retention rates and lower turnover.
In fact, by employing a structured onboarding process, you can increase employee retention by up to 25%.
Approvals
If you've ever worked with approvals, you probably know that it's a lengthy & boring process.
You're sitting at your desk with hundreds of different invoices laying around your desk – and you're supposed to stamp all of them.
Even if you're using email for approval, you'll still end up sending hundreds of emails, overloading your co-worker's inboxes.
Instead of dealing with all this, you can use Tallyfy's workflow application as a centralized hub for all your approval processes.
And to make this even better, you can automate multi-step approval processes. Once you've approved a document, the system automatically sends it over to the next person that has to approve it, right until the process is complete.
Content Marketing
Content marketing can be extremely hectic – trust us, we know. We've been doing that for a while.
The process is usually very straightforward…
The writer creates a draft of the article
The writer submits instructions to the designer about what the article should look like
The editor polishes up the article until it's gold
The designer creates the relevant graphics
The marketer creates a list of channels for outreach
The SEO specialist optimizes the article for search and publishes it
The marketer does outreach
In theory, this doesn't sound too complicated. In practice, though, it can be very hectic.
The designer gets piled up in product work and forgets about the deadlines for the graphic, the marketer is late with the outreach list, etc.
With a structured process, though, this whole thing becomes much, much easier.
Getting Started With Workflow Applications
Until recently, getting into process management was extremely hard.
Most BPM software can cost up to 6-figures to even get started. Workflow applications, however, make this affordable for businesses of just about any size.
Give Tallyfy a go. If you see significant improvements to your processes, good! If not, you're not losing anything.