Tallyfy Talks is a series of personal interviews with leaders in operations.
Sam Todd is executive director of school operations at Peak to Peak Charter School in Lafayette, Colorado. Peak to Peak Charter School is a K-12 public school with 1,450 students. Peak to Peak has been nationally recognized, being ranked in the 'Top 100 Public High Schools' for the past ten years by US News and World Report.
Sam serves on several boards and is a frequent presenter on school operations. He earned a BS in economics from Purdue University, a MS in industrial relations from Michigan State University, and a MS in business from Eastern University. His previous position in school operations was CFO for Western Boone Schools in Indiana.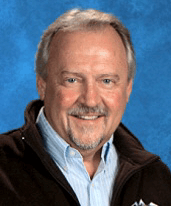 Tell us about yourself, your role in school operations, and your institution/organization in general?
My name is Sam Todd, and I'm the executive director of school operations for Peak to Peak Charter School. Peak to Peak is a k-12 public charter school here in Colorado with about 1,450 students. We're authorized through the Boulder Valley School District.
Peak to Peak is a high performing college prep school. We've been ranked in the top 100 schools in the nation by US News and World Report for the last ten years, and most of that time we were recognized as the top school in Colorado. We have a 100% graduation rate and 100% college acceptance rate for our graduating seniors. Peak to Peak maintains high standards for school operations. We hold a BBB+ credit rating by Standard & Poor's, which is one of only a couple charters in the country with that high of a credit rating.
As executive director of school operations, I oversee all of the non-academic functions of the school. My direct reports include a facilities director, HR director, two food service managers, two fundraisers, and three finance staff.
I previously spent about 11 years in school operations as a public school district CFO, and now I've been in the charter school world at Peak to Peak for the past 11 years. I also serve as the chair of the board for the Colorado League of Charter Schools, which is our state charter association and on the board of Colorado Educational and Cultural Facilities Authority, which is the financing conduit for most charter school financings in Colorado.
What does running school operations actually mean to you on a day-to-day basis?
At Peak to Peak, we operate under a shared leadership model. I am the executive director of school operations, and I have a counterpart who is the executive director of education, and the two of us oversee the daily operations of the school and report directly to the board of directors. Early on, the Peak to Peak board decided that the financial function would report directly to them.
My role is to manage the school operations with excellence so that all of our academic leaders and staff can stay focused on educating kids. This has led to a lot of our success- keeping our educators focused on teaching and separating them from the school operations.
What does excellence in school operations mean to you? Is it measured through KPIs?
Yes, our school has, for many years, operated under a set of key performance indicators – many are academic-focused and some are operations-focused.
I also have additional financial performance indicators that our finance committee reviews on an ongoing basis to ensure that we are operating optimally on the financial front. Our school operations team chose these KPIs as part of our strategic planning process. They're evaluated on an ongoing basis to ensure that our school is on track.
Are there factors outside of your control that affect some of your KPIs?
No, we have selected KPIs for our school operations that we can control. I'll give you some examples.
We look at compensation, which is measured by average teacher salary, to remain competitive so we can also attract quality candidates and retain them. The school operations financial team works to make sure that our average teacher salary increases year-to-year by at least 2%.
Budget performance is another KPI, to ensure that revenues top 100% and expenses are below 100% of budget We also look at our financial reserves, fundraising results and energy costs.
What is your typical day working in school operations?
I meet with all of my direct reports on a biweekly basis. On alternate weeks, I meet with the school operations teams – the food services team, the fundraising team and the finance team. The purpose is to stay totally in tune with what's happening in all of the functional areas that I manage and being aware of any challenges and any issues that they're facing. It's good to check-in with their goals to make sure that we're on track for the year.
Our school also has what we call our executive leadership team, which includes our principals, our directors, and the two executive directors – there are 13 of us in total and we meet once or twice a month.
We have school board meetings twice a month. I also have the board meetings for the League of Charter Schools as well as for the Colorado Educational and Cultural Facilities Authority once a month. There are also meetings with other schools who are looking for input on school operations, and I meet with vendors where I'm either signing or negotiating contracts.
I also work on the budget every week. There's an ongoing need to work on the budget and review our financial situation.
As you go through the day, what do you worry about every now and again?
I always worry about a major facility breakdown or a natural disaster which could take out power or render our buildings uninhabitable.
Another thing I worry about is something happening to one of my key employees or if they were to quit. We're thinly staffed, and each person is critical for our school operations. Fortunately, I have quite an experienced staff, but if someone leaves, a lot of institutional knowledge is lost.
So your key team members are crucial to supporting the school operations as well as conducting the school itself?
Absolutely.
How do your direct/indirect reports improve school operations? Besides KPIs, is there any other dimension to improvement or continuous improvement?
I'm committed to continuous improvement in our school operations. I never want our school to get to the point we're resting on our laurels or thinking we've arrived, because we simply haven't. We live in a very dynamic age, so we stay on top of change by staying abreast of best practices and technology advances.
In the charter movement and in school operations in general, the trends, challenges and issues shape how we set goals at every level. I know that we're always working towards something better and higher – improving our efficiencies, taking on new capital projects, ensuring that we're using our software effectively, and getting reports out on time.
Do you have any software tools or technology systems that you use to run school operations?
Yes, fortunately we are able to piggyback on our authorizer's IT network, which is quite robust, so we don't worry about internet connectivity issues. We're on their fiber optic network and they handle all of the hardware and software updates, so that's a huge burden off of our school operations team.
We also utilize excellent software to keep track of our school operations. Blackbaud Financial Edge is our accounting software, which is quite versatile. It allows us to use detailed transaction codes, so we can track all of our revenues and expenses to a very small level. With that level of sophistication in our software, our school operations team is able to provide detailed information to our board members, budget managers, and donors.
We also have a strong fundraising software package, which is really critical. The school raises in excess of a half million dollars each year. To maintain accountability to our donors, we need to have good record keeping and provide specifics about the fundraising to donors and board members. We're using Blackbaud Raiser's Edge for that.
In addition, we use Horizon software for our food services program. It allows us to meet all reporting requirements and to be able to track money, quantities of served food, menus, and other related things.
Peak to Peak uses the Google platform across all the functions of the school. There's a fair amount of use of Google Docs, so that we can share and collaborate on documents, which is very efficient. However, a lot of the things that I do within school operations are more confidential in nature, so I'm limited in how much I can use that platform.
Our students are largely using Chromebooks in the classroom, so we're on the same platform across the board with Google Chrome and the apps.
What do you think are the pros and cons of Google Suite as you use it for school operations?
I love the capabilities of sharing and collaborating – which is very critical for school operations. We are a very collaborative school community, so that component is important for us when we're working on any document or project.
What frustrates me, being in the school operations financial realm, is that Google docs does not have full functionality for Microsoft Word or Excel. But I can simply work around it by using Excel and sharing spreadsheets by email when necessary.
Who your hero or heroine on personal level and professional level?
Early in my career I had this amazing manager at Eastern University. It was early in my career and this manager was the Provost of the college. He had hired me to be the program director for their new accelerated curriculum degree program.
The manager saw great promise and potential in me, and he basically became my mentor. With his strong belief about my capability, coupled with the way he helped clear any roadblocks, we built this 15-month degree completion program that grew to be the largest program of its kind in Pennsylvania.
That was the most thrilling experience, and I learned a valuable lesson that I apply even today in school operations – to dream big, don't settle for boundaries that have been established by others, and don't be afraid to forge a new trail.
Is there any famous person that you also subscribe to, read, or learn from?
No one in particular. I read a lot, and I try to pick up bits and pieces here and there. I can't say I subscribe to any one philosophy or way of doing things.
Again, I think we live in a very dynamic age, and we at Peak to Peak have always forged our own way and want to continue to do that. In our leadership meetings we often do book studies together with books we agree suits our culture. We'll pick out the concepts in a particular book, and then we synthesize that into our culture. Again, our school utilizes a shared leadership/collaborative model, so traditional things don't always fit well here.
The concept getting the most traction right now for me is emotional fluency or emotional resilience. We've done a fair amount of work as a leadership team on this concept, and I've actually done some coaching with a professional in this area, that has really yielded some amazing results. We've also done some work with emotional fluency with our school operations team, and that seems to be resonating quite well.
Interesting. It's not something that is traditionally in the mindset of the operational side for many educational institutions.
I work with a variety of personalities including board members, authorizers, and many other connections. I've found that my ability to navigate that in an emotionally effective manner really determines my success. It's not all about KPIs and meeting numerical targets, but it's also about relationships and how well I am able to navigate them, even in school operations.
Do you have anything else that you want to cover?
Well, I think a question that you didn't ask is what do I see as the biggest problems or challenges facing charter school operations.
Certainly, school funding is a big issue, not just in Colorado, but across the country as states try to figure out how to better fund our public schools.
And along with funding comes the issue of being able to competitively pay our employees and retain them. We work very hard at Peak to Peak to maintain a very high employee retention rate, but it is still an ongoing concern because we live in a competitive world.
The third area that has been a concern is authorizer relations. For many years we maintained a wonderful relationship with our authorizer, but all it takes is a couple of board seats to change, and all of a sudden it's no longer a charter-friendly board. Maintaining good authorizer relations is critical to a charter school's success.
And then lastly, what's on the horizon for us at Peak to Peak? Because we've had great success, there is great pressure to sustain it. Our school is asking colleges for their input on what they want to see in their incoming students. As a result, we're focusing on how to nourish problem solving and develop an innovative thinking mindset in our kids.