You have a project to complete- or ten. After putting a team together for each project you begin working on all the tasks and documents required to complete the project. Documents get emailed back and forth between team members, with everyone having a different version of the document on their computer.
Some team members may not even have the necessary documents because they were made on someone else's computer. Discussion about tasks gets lost in a pile of emails, and walking from department to department to chat with a team member gets tiring.
Sounds like you need software designed to help a team achieve a common goal in a more efficient manner. Collaboration software offers just that, if not more.
Important note
You're probably wondering who we are. Tallyfy is a product that simplifies and automates your business processes. It's the secret to running smooth operations. Instead of creating process diagrams (which nobody looks at), documentation (which you can only read and never action), emails, chats and chaos - you can create and run any process in your company within seconds.
Settling for basic and cheap project or task management tools is the biggest mistake you can ever make. You get what you pay for. If you try to save a cent - you will lose a dollar. Wasted time (at $40/hour) is far more expensive than the cost of software. There's a huge difference between process management and project or task management. Processes relieve stress, make things predictable - and help you grow and become efficient. Projects and tasks are just ad-hoc, unpredictable chaos.
It's important to understand that context before you carry on reading. Successful people are smart enough to fundamentally change the way they work "right now" and amaze themselves and everyone else with new ideas. You can stop fighting uphill battles every day immediately - and drive more personal success in your career by introducing the modern way of creating, tracking and even enjoying tasks with your coworkers.
Anyway ... sorry for the interruption! Let's resume the rest of the article.
Confluence vs Sharepoint are both great options when it comes to choosing the best collaboration software.
In this article, I will examine the advantages and disadvantages of Confluence vs Sharepoint in the hopes of helping you make a decision.
---
Both Confluence vs Sharepoint are powerful collaboration software that allows you work on wikis/sites with a group and effectively manage documents.
You can access both software from the web, which makes it easy for you to work on your projects from any computer. Additionally, Confluence is solely cloud-based, and Sharepoint offers a cloud-based option, which means that all of your team members can work on the most updated version of your documents from their own computers. Goodbye email attachments.
Goodbye email attachments!
Some other features that both software offers include:
Good customer support (

phone, online, knowledge base, video tutorials)

Free trials, although you have to create an account on Microsoft in order to access Sharepoint's free trial
Discussion boards that allow you to share comments and ideas with your team in reference to your work
Email integration
Real-time editing
iPhone applications
API
Team Calendar
Project management functions
Training- meaning, the companies will provide resources to help you onboard the software
---
Atlassian Confluence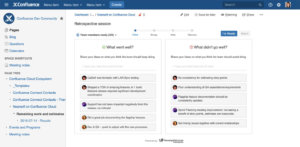 Side note
Are you interested in truly useful analysis of the latest trends in business tech and ops? Talking from the Trenches is published once every 2 weeks by Tallyfy and it's unmissable. You'll be smarter and better informed automatically. So - don't leave this page without subscribing to it.
Anyway ... we'll continue from where we left off above.



Confluence's Pros



Pre-made templates for your use

Access to revision history

Integrates closely with Atlassian's JIRA, HipChat, etc.






Confluence's Cons



Giant price gaps between different plans

Less features than Sharepoint

Cloud-based, dependant on access to the internet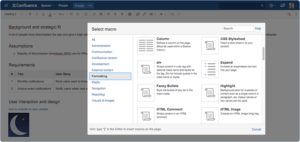 Confluence Feature Review
Although both software is pretty easy to learn, Confluence stands out as the most intuitive. Its pleasant user interface makes it easy to start using right away, without much guidance.
It's nicely organized, making it easy to add and keep track of documents. You can create a space for every team, department, or project you are a part of and then create pages and subpages within each space for a nice hierarchy of files.
You also have access to templates such as meeting notes, project plans, product requirements and more, taking away the fuss of formatting.
Confluence's focus on document management among a team makes it easy to share PDFs, Office docs, and images. They make collaboration easy by allowing you to provide feedback with inline commenting and @mentions, skipping the hassle of messy emails.
A standout feature of Confluence is its version control. It automatically saves any changes you and your team make to pages and files and allows you to return to any version you would like.
Confluence integrates with Jira and HipChat, and you choose from about 700 add-ons like Gliffy and Balsamiq in order to add to your user experience.
However, Confluence's pricing gets tricky considering they use thresholds to direct pricing rather than adjusting the price with each individual. For example, if you are a fast-growing startup, you may be paying $10 a month for your 10-14 person team, but as soon as a 15th person joins, your price will go up to $50 per month. This can be unexpected at times, and a bit frustrating.
For example, if you are a fast-growing startup, you may be paying $10 a month for your 10-14 person team, but as soon as a 15th person joins, your price will go up to $50 per month. This can be unexpected at times, and a bit frustrating.
Confluence's Pricing



Monthly Price



$10

$50

$100

$200

$300

$500

$1,000



Who is Confluence for?
Atlassian's Confluence will work for just about anyone- freelancer, SMBs, or enterprises. Its stronger collaboration functionality makes it a great option for growing teams that emphasize transparency and partnership with different departments. It is also easier to use and cheaper than Sharepoint, which makes it a good choice for startups with lower budgets and limited time to spend on adjusting to the software.
---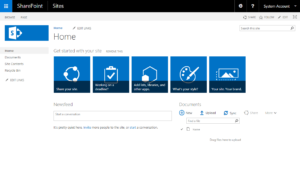 Sharepoint's Pros



Can be used for public-facing sites

Integrates with Microsoft Office

Built in chat- no need for integrations






Sharepoint's Cons



"Jack of all trades, master of none"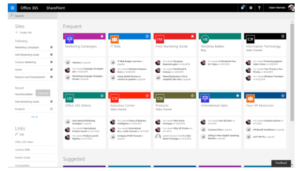 What makes Sharepoint stand out are its advanced customization options. You can customize any of your sites to your company to the point that you may even share them with the public, as many organizations do.
If you have the cloud version, many team members can work on documents at the same time, which makes your work a lot more efficient.
Sharepoint has a powerful data warehouse, which makes everything on your account searchable and easy to find.
If you have any other Microsoft programs, they will integrate nicely with Sharepoint, making your life a bit easier. In addition, Sharepoint offers about 1000 add-ons, which is more than Confluence.
However, because Sharepoint has attempted to cover more than Confluence, it has some bugs and issues, which is why I write, "Jack of all trades, master of none." For example, as more people join your team on Sharepoint, the software will become harder and messier to work with.
Sharepoint has two types you can purchase. This first screenshot encapsulates the pricing plans for the desktop version.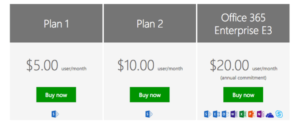 Meanwhile, this next screenshot contains the pricing options for the cloud-based version of Sharepoint. As you can see, this online version is a bit more expensive.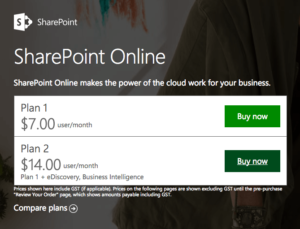 Due to its higher prices and difficulty, Sharepoint is better for SMBs and enterprises rather than individuals and small startups. It is geared toward document management so it is a good choice for teams who need to work with files and documents in a variety of formats. If you already have Microsoft Office Suite, you may already be paying for Sharepoint, so this could be the best option. In addition, if you are using other Microsoft programs, they will integrate nicely with Sharepoint.
If you already have Microsoft Office Suite, you may already be paying for Sharepoint, so this could be the best option. In addition, if you are using other Microsoft programs, you can take advantage of their integration capabilities with Sharepoint.
---
When picking between Confluence vs Sharepoint, there is no single collaboration software that outperforms the other in every way. When choosing software, it is important to consider the context you will be using it in.



Why Pick Atlassian Confluence



Because Confluence is so easy to use from the get-go, I would recommend it to anyone who doesn't have the time or money to onboard serious software. Once you get started, you'll have a quick and convenient way of creating product requirements, file lists, project plans, or meeting notes.

It's cheaper, with the prices being manageable for smaller companies and freelancers on a budget

Confluence is most commonly used in IT and computer software departments which may be worth considering if you are a part of these departments.

Although Confluence does not have the advanced customization options that Sharepoint does, it excels at its key goal- collaboration on documents. It inspires discussion among your team with options for feedback, comments, likes, and mentions. So if you're looking for teamwork and transparency, Confluence may be your winner.






Why Pick Microsoft Sharepoint



Microsoft Sharepoint tends to be a better option for larger businesses who can spend a bit more money on software. It may also take more effort to learn how to use Sharepoint than Confluence, due to the complex features.

In fact, Sharepoint is used by the majority of Fortune 500 companies, most likely due to its close integration with other Microsoft products.

The option to purchase the desktop version of Sharepoint also may be of consideration, considering you don't need wifi to access it.

Sharepoint's customization features allow you to create more professional looking documents, which may be important if you are looking to create documents that will be seen by the public.



Again, both Confluence vs Sharepoint are great at what they do, at the end of the day, the decision rests on your company's specific needs alone!
Good luck on your search for the best collaboration software!