Finding the best way to get groups of staff to work well together has been a goal in business since long before we all started working in highly structured organisations. It has been an ongoing challenge for teams and their managers and the advances in modern technology and collaboration software have increased the options out there, but this can make it even more difficult to work out which is the one that will revolutionise your business.
Even for the most tech-savvy of people, it can be overwhelming look at the various options out there and understanding what they can bring for your organisation. Our collaboration software guide has been written to help you learn more about this area, what the best products out there are and which one will be right for you.
What is Collaboration Software?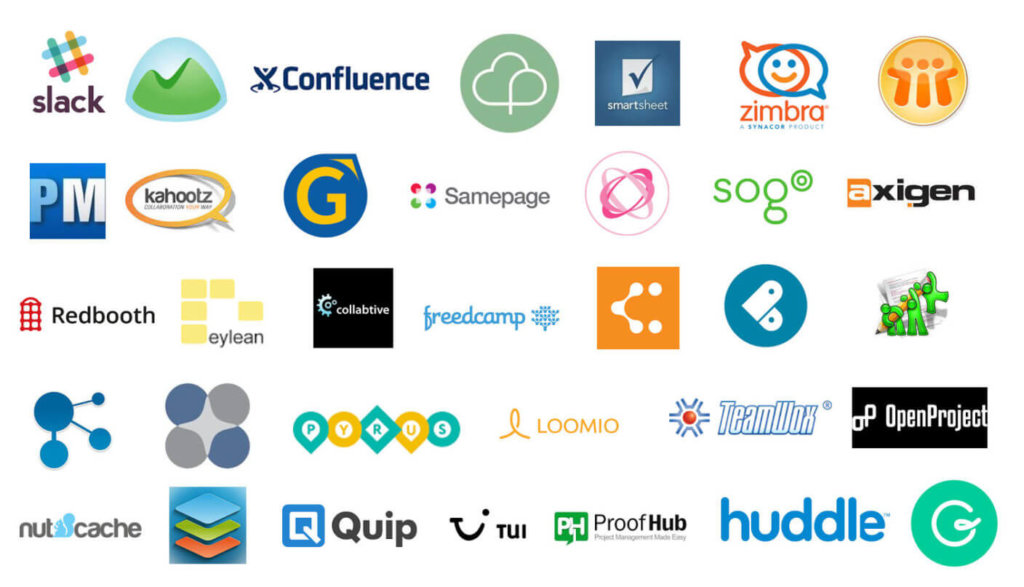 Collaboration software is a digital product that enables the sharing, processing and management of files, documents and other data types among several users and/or systems. It's most commonly used to help teams of staff who are based in different locations work as closely and collaboratively as if they were sharing an office.
Its history dates way back to the 1960s and the work of Douglas Engelbart, famous for his Mother Of All Demos presentation of a computer hardware and software system that inspired the PCs and Macs we still use today. Engelbart's computer lab made up part of ARPANET, the proto-internet founded in 1969, which allowed some basic collaborative messaging between four groups of computer scientists.
During the 70s and 80s, these systems grew slowly in complexity and what they were used for (often for collaborative gaming a world away from what modern teens can do with their games consoles), and the next big step was the US Navy's COMPASS system in the 90s, which allowed for collaborative working between six users, albeit only on a temporary basis (the work would only be stored for as long as there was still at least one active user online.
As the internet became more and more a part of our daily working lives, new tools like emails and instant messaging services quickly turned into essential methods of communication within and between teams. But while these were useful tools that made a huge difference the way businesses worked (and still work), they weren't designed to fulfill the kind of collaborative or project management tasks that businesses needed.
And so, collaboration software was born, and we'll run through some of the leading players in the market in this guide. The rise in the functionality and popularity of this software has led to whole industries (mostly in the tech world) populated by companies whose staff operate in countries scattered all around the globe, working either at home or in shared office spaces. In the past, this simply wouldn't have been possible.
What are the benefits of collaboration software?
There are many benefits to using this kind of software and our collaboration software guide will run through some of the individual benefits, but here are some of the general ways that your business processes will improve:
Facilitates communication – The primary usage is to offer a central platform for communication and teamwork on a project-by-project basis.
Tracking changes – As a project management tool, the ability to track and record changes helps let everyone know where things are up to.
Connecting remote employees – This allows more flexible working arrangements, connecting teams that don't work in the same city, country or even time zone.
Savings on costs – Using collaboration software will eliminate much of the paper and printing costs you may currently have, helping you move towards being a paper-free business, because everything can be done and stored online.
Client management – As well as internal communications and project management, you can include clients in the process, helping keep them up to date without the need for constant calls and face-to-face meetings.
Central storage – Storing files locally can mean that they aren't accessible to remote workers, and sharing them via email leads to different versions of those files existing, which can in turn lead to confusion.
The Best Collaboration Software
Slack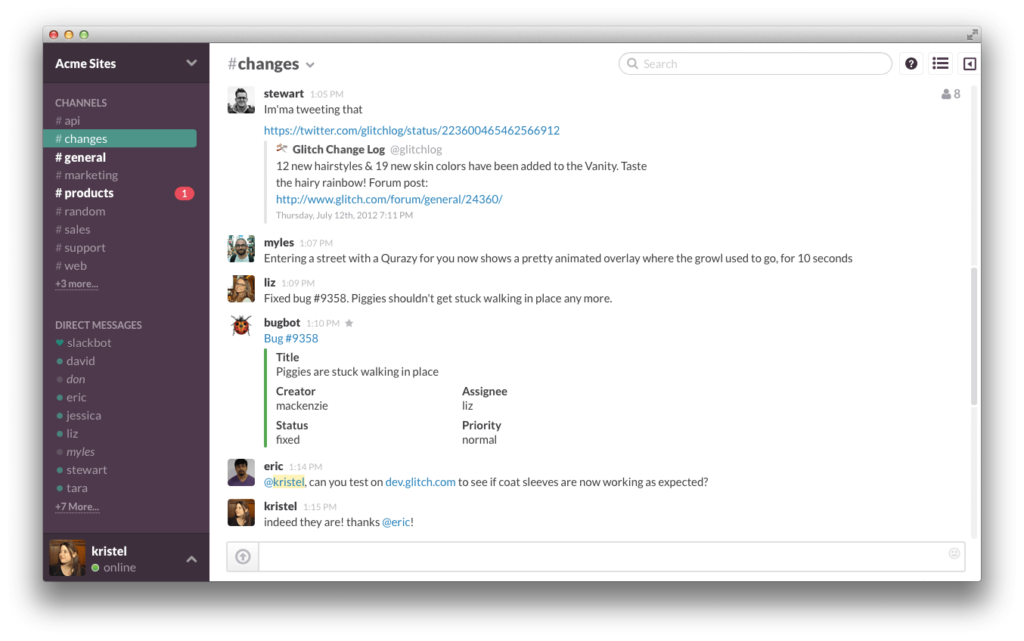 Image Source: theverge.com
A favorite with tech and marketing agencies, Slack has been around for just over three years and has already become a market leader and also a rare type of business software that has moved into common usage as a social tool too. There probably aren't many of its over 4 million users who are aware that its name is an acronym for Searchable Log of All Conversation and Knowledge.
Slack actually started out as a collaborative tool created by a team developing an online video game called Glitch. As it happened, that game only lasted just over a year, while Slack has changed the business world. However, its popularity doesn't necessarily mean that it's the right tool for everyone, or even the best tool for collaborative working, as it does still have its limitations, especially as it falls near the higher end of the pricing range for what it does.
Where it works well is as a communications tool, particularly given how slick it is on both desktop and mobile devices, with each user able to sign in to their team and given hashtag-led 'channels' for discussions. These allow teams to have separate conversations active for projects, offices and even for non-work-related topics, if your culture allows for such frivolities. There's also the ability for direct messaging between users or private channels for only invited colleagues.
Slack is a very collaborative piece of software itself, in that it allows for integration with a myriad of other applications to fill in the gaps that it leaves in functionality like Google Calendar, Salesforce, etc. This works well if Slack's assets outweigh its downsides for your team, but it could be argued that you would be better off finding a package that does everything you need all in one cohesive solution.
Where it does fall down is in terms of project management. Files can be shared and projects can have their own channel, but Slack is not a tool for serious project managers to use on its own. There are a whole host of project management apps for it, but as mentioned above, if you are looking for a collaborative tool for this specifically, there are far better ones out there.
The best things about Slack are:
Slick operation across apps
Channels offer diversity of conversations
Integrates well with other tools
Asana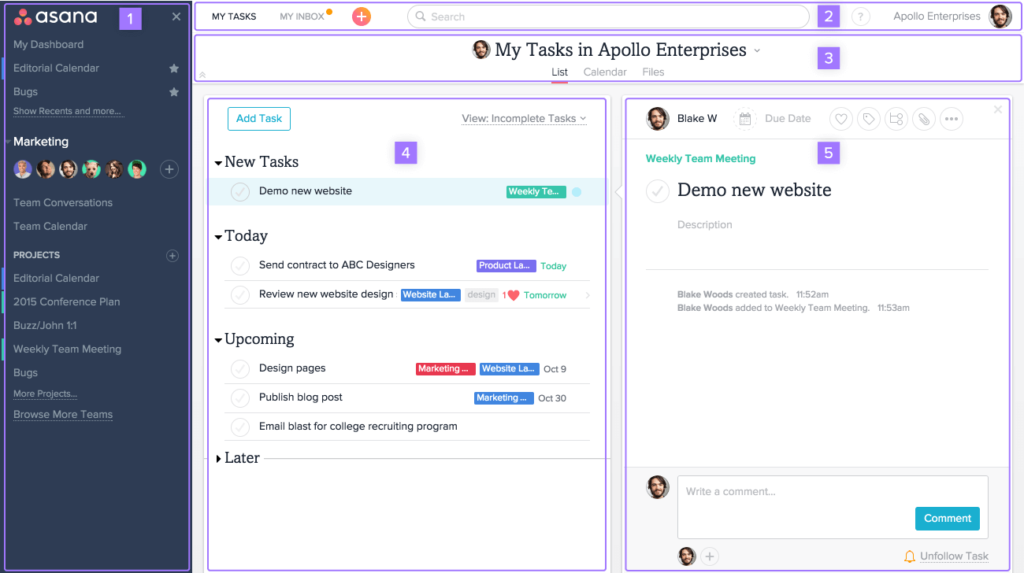 Image Source: asana.com
One of the leading project management and collaboration software tools out there, Asana was named after a yoga pose and presumably aims to bring some zen into your projects. Launched in 2011 by Facebook co-founder Dustin Moskovitz and ex-engineer Justin Rosenstein, it came with all the expertise and experience that had gone into employee productivity at the social media giant and has been a huge success.
Amongst the organisations who are users of Asana there are: Harvard University, NASA, General Electric, Samsung, Airbnb, Dropbox, Disqus, Pinterest, Tesla Motors and Uber. That's an impressive client list for any software and is certainly an indication that Asana's creators knew what they were doing, and it's arguably the best collaborative tool out there for workflow management.
It's not quite as pick-up-and-play as Slack, so Asana will work most effectively for your business if you have taken the care to plan how it will be implemented before rolling it out to your staff. That isn't to say that it's difficult to use, because it's been designed to offer great style and usability, with a few added quirks thrown in (just ask anyone you know who uses it about the unicorns) for fun.
When it comes to communications, Asana has adapted to the impact that Slack has made on the marketplace by improving the way users can communicate, giving options similar to its 'channels' that means you only need to see those conversations that you really need to see. Where it really excels, though, is the day-to-day jobs of setting tasks, tracking them and receiving notifications when they have been completed.
It does these workflow management functions as well as or better than any of its competitors, and much like Slack it offers integration with other tools to fill in the gaps in what it can do. For Asana it's storage, where it allows you to integrate with the likes of Dropbox and Google Drive, which may or may not be an issue for your business, but does in theory set it a little behind some other tools out there.
The best things about Asana are:
Well-designed for looks and usability
An industry leader for collaborative workflow management
Best tool for tracking and staying on top of tasks
Podio
Image Source: podio.com
Another excellent all-round piece of collaboration software is Podio, from Citrix. It started life as a Danish product called Hoist, with founder Tommy Ahlers describing their ambitions for it to be 'more than an online place to talk about work but a platform customers trust to actually help them work as teams to get work done – 24/7'. It had its full public launch as Podio in 2011 and was acquired by Citrix a year later after a hugely successful debut.
What it offers in particular is the ability to customize the experience more fully than you'll find in any of the other major players in this field. You can set up your workspace with a simple drag and drop functionality to curate what aspects and tools will be useful for you and which ones aren't necessary. The interface is user-friendly and deliberately familiar layout and colours for anyone who has used social media channels like Facebook and Twitter.
That social aspect is something Podio excels at, allowing you to use a chat app and direct messaging if you choose to, while its Apps Marketplace is full of tools that are self-explanatory for anyone with any kind of experience of using modern software. For those who are rather more advanced with coding, it's also possible to create your own apps within Podio, adding to that customizable experience.
Its workflow management tools are effective and simple to use, allowing the usual functions like task assignments, updates and a calendar of deadlines. Communicating with people is done via hashtags, again harking back to Podio's desire to make itself feel like social media for people who want to get stuff done. It's also possible to integrate with Go-To-Meeting to use that functionality for holding virtual meetings.
There are downsides to Podio, in that it can be a bit TOO customizable at times for those who would prefer a more rigid and structured approach to collaboration software and team working. Another major issue is the lack of an archiving functionality for old projects, which is a clunky oversight that means they have to either be deleted (and lost for future reference) or clutter up active projects. It also lacks a solid time tracking application, which may be off-putting for companies who need that kind of visibility. However, with clients like Sony, the NFL and Volvo, it's clear that Podio is a popular product.
The best things about Podio are:
Customizability and ability to curate your own workspaces
User-friendly interface and familiar social media-style look and feel
Strong collection of apps in the Marketplace
Basecamp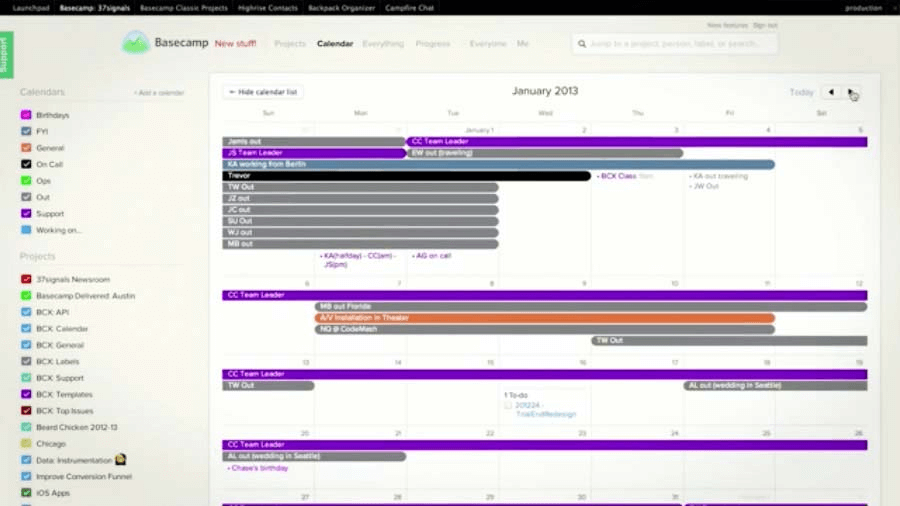 Image Source: basecamp.com
The grandaddy of online collaboration software, Basecamp has been around since 2004 (it was the 'birthplace' of Ruby-on Rails) and almost everyone who has worked in project management in any way since then has used or seen a version of it. But has it been overtaken by the younger models we've mentioned above, or has it still got a lot to offer?
One instant comparison to make is with Podio, a piece of software that almost seems to present itself as the anti-Basecamp, with all of its freedom and flexibility very much the opposite of what you get here. Basecamp has evolved in its 13 years of life, but still feels its age, lacking the social media influences of its rivals. That's hardly surprising, given that it's older than Facebook or Twitter, but it might be off-putting for younger organisations looking for something more fresh.
It's also lacking the real-time chat aspects that are more common than ever in 2017's collaboration software, while it struggles in some task management areas like time tracking, GANTT charts, etc. Some of these can be added in using third party solutions, but these usually add to the cost and can lead to a project management solution that is lacking cohesion and also flexibility.
Having said all this, Basecamp isn't still being used by people all over the globe out of pure nostalgia. The digital world isn't that sentimental. Basecamp does what it has always done well, it's an excellent tool for visual work projects, it's a very intuitive piece of software that can be picked up and used by anyone fairly quickly. It offers a lot of file storage and has everything in the place you'd expect to find it. But whether that is enough to make it stand out anymore remains to be seen.
The best things about Basecamp are:
Easy to learn how to use it
Very strong structured approach
Lots of file storage
Conclusion: Which collaboration software is right for you?
As our collaboration software guide has hopefully demonstrated, there are many options out there for you. Some big players that do aspects of collaboration software include Trello, Samepage, Smartsheet, Igloo, HipChat, LeanKit and Workfront, and so on. We've focused on some of the biggest and best tools out there to give you a range of possibilities and help you identify which aspects are important to you.
The key thing is to do your research both into what the leading collaboration software tools are but also into your business and its specific needs. Products like Podio offer flexibility and customization, but the benefits of these will be limited if they still don't meet your requirements because you haven't decided what they are first. Collaboration software can and will change the way your staff work for the better, but only if you use it wisely.