Change is a familiar concept for most businesses today. To keep up with the pace of innovation, organizations should be able to change their direction (strategy, operations, processes, etc.) fast.
If you've already tried making a change in your company, though, you've probably noticed it's not that easy. In fact, over 70% of all change initiatives end up backfiring.
To successfully make a change in your organization, you need to get everyone on board with your changes, apply them, and make them stick.
If you try to do this without any guidance or know-how, you might just be setting yourself up for failure. Following a tried-and-tested framework, such as Lewin's Change Management Model, will significantly boost your chances.
Important note
You're probably wondering who we are. Tallyfy is a product that simplifies and automates your business processes. It's the secret to running smooth operations. Instead of creating process diagrams (which nobody looks at), documentation (which you can only read and never action), emails, chats and chaos - you can create and run any process in your company within seconds.
Settling for basic and cheap project or task management tools is the biggest mistake you can ever make. You get what you pay for. If you try to save a cent - you will lose a dollar. Wasted time (at $40/hour) is far more expensive than the cost of software. There's a huge difference between process management and project or task management. Processes relieve stress, make things predictable - and help you grow and become efficient. Projects and tasks are just ad-hoc, unpredictable chaos.
It's important to understand that context before you carry on reading. Successful people are smart enough to fundamentally change the way they work "right now" and amaze themselves and everyone else with new ideas. You can stop fighting uphill battles every day immediately - and drive more personal success in your career by introducing the modern way of creating, tracking and even enjoying tasks with your coworkers.
Anyway ... sorry for the interruption! Let's resume the rest of the article.
  To get the best out of Lewin's change management model, you can use it in combination with several other
change management models
. Check out our complete guide to learn more!
What's Lewin's Change Management Model
Lewin's change management model is a framework for helping with organizational change.
The methodology is divided into three steps…
This means that before you make a change, you first "unfreeze" the status quo. You need to, after all, break down the status quo before you can change it. This stage involves communicating the need for change and getting your employees on board the initiative.
Then, you make the "change." You make all the necessary changes and improvements. Finally, you transform the new processes into the status quo in the "Refreeze" phase.
Are you looking to document and run your processes?
Don't use MS Word or Google Docs, and don't use flowcharts.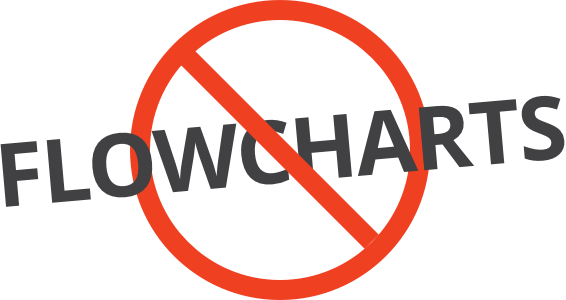 Documenting your processes using flowcharts might look pretty and nice – but you can't run them. Even worse – nobody looks at flowcharts.
SEE WHY HERE
Now, let's dive into each step in more detail…
Side note
Are you interested in truly useful analysis of the latest trends in business tech and ops? Talking from the Trenches is published once every 2 weeks by Tallyfy and it's unmissable. You'll be smarter and better informed automatically. So - don't leave this page without subscribing to it.
Anyway ... we'll continue from where we left off above.
Stage #1: Unfreeze
Your employees love the status quo. Change is, after all, uncertain. You can't know what it will lead to – maybe it's going to harm the company? Or, maybe it's going to lead to layoffs?
Even the management team might, at first, be very skeptical about the initiative. The company is working fine as-is, why take any unneeded risk?
Unless you have everyone on board with the changes you're about to make, you're not going to go too far. So, the first step according to Lewin's change management model is to unfreeze the company. The goal here is to make everyone understand that the change is necessary.
For most organizations, the best way to do this is through empirical proof, such as…
Declining sales
Poor finances
Customers dissatisfied with company products or services
Sometimes, though, even if the need for change is evident, you'll still see some resistance. In such cases, you have to address anyone's concerns, whether they're a shop floor employee or C-suite management, as to why the change is necessary.
More often than not, you'll hear concerns like…
What will this mean for my job?
How, exactly, will this change fix the problem at hand?
What are the risks of the change? Maybe the change will make things worse?
Won't the problem fix itself in time?
Once you've addressed the majority of potential issues, you can move on to the "change" phase.
The Unfreeze Process
There are a lot of different means of communicating the change (as we've mentioned above). Here's one of our favorite approaches, though…
| | |
| --- | --- |
| Step 1 | Survey company management and employees to understand the status quo |
| Step 2 | Determine why the change has to happen |
| Step 3 | Convince key stakeholders in top management that the change is necessary |
| Step 4 | Create a message for your employees about why the change is needed |
| Step 5 | Communicate the need for change company-wide |
| Step 6 | Address any concerns or complaints that the employees might have |
Stage #2: Change
According to Lewin's change management model, this is the stage for experimentation. Your employees are on board with the initiative. Now, all you need to do is lead the way.
Experiment with different types of improvements and see what works. Do this at a small scale, though. Your experimentation shouldn't put the entire company at risk.
As a given, you should also ask your employees for feedback and help. Sometimes, the best ideas come from shop floor employees, not company executives.
Once you've figured out what changes have a positive impact on the company, it's time to move on to the next stage.
The Change Process
| | |
| --- | --- |
| Step 1 | Come up with process or company improvements |
| Step 2 | Communicate to any stakeholder why the changes benefit the company |
| Step 3 | Ask stakeholders for feedback |
| Step 4 | Analyse and (potentially) implement suggestions or feedback |
| Step 5 | Apply improvements on a small scale and measure results |
| Step 6 | Make adjustments until the change delivers positive results |
Stage #3: Refreeze
The final stage of Lewin's change management model is "refreeze." At this point, all you need to do is transform the improvements you've made into the new status quo.
First off, you can start scaling the changes you've made company-wide.
To ensure that all the employees are sticking with the new methodologies, you should incentivize them. Depending on your approach, you can either reward or punish certain employees.
Alternatively, you can use Business Process Management Software (BPMS) to help both enforce and scale your new processes. Using the software, you can create digital versions of your new processes, and the software will automatically enforce them. If you're interested in giving BPMS a try, check out our article on BPM solutions to learn more about the software.
Once the changes are implemented company-wide, you can pat yourself on the back and call the change initiative a success (until there's a need for further changes, of course).
Other Change Management Models
Lewin's change management model is just one way to manage change. There are a ton of other methodologies that have a completely different approach.
The ADKAR model, for example,  helps manage the people-aspect of change management. i.e. how do you get your employees motivated to help with the change? Alternatively, if you're looking for something more step-by-step than Lewin's change management model, you can check out Kotter's 8-step change management model.