Every company has grunt work. It's the type of tasks that just about anyone can handle; it just requires the time and effort.
And well, no one really likes doing that. Your highly-skilled employees aren't too happy about having to do menial work – and as it's widely known, the happier your employees, the more productive they'll be.
Grunt work could be, for example, taking all of the leads captured through MailChimp and transferring them to your CRM platform.
Or, you might be copy-pasting a new hire's personal information from their application to your internal HRM platform.
Important note
You're probably wondering who we are. Tallyfy is a product that simplifies and automates your business processes. It's the secret to running smooth operations. Instead of creating process diagrams (which nobody looks at), documentation (which you can only read and never action), emails, chats and chaos - you can create and run any process in your company within seconds.
Settling for basic and cheap project or task management tools is the biggest mistake you can ever make. You get what you pay for. If you try to save a cent - you will lose a dollar. Wasted time (at $40/hour) is far more expensive than the cost of software. There's a huge difference between process management and project or task management. Processes relieve stress, make things predictable - and help you grow and become efficient. Projects and tasks are just ad-hoc, unpredictable chaos.
It's important to understand that context before you carry on reading. Successful people are smart enough to fundamentally change the way they work "right now" and amaze themselves and everyone else with new ideas. You can stop fighting uphill battles every day immediately - and drive more personal success in your career by introducing the modern way of creating, tracking and even enjoying tasks with your coworkers.
Anyway ... sorry for the interruption! Let's resume the rest of the article.
If you're doing this manually, this can be very time-consuming, especially if you're thinking long-term. Doing this a couple of hours a week adds up, ultimately wasting a lot of your team's time.
Are you looking to document and run your processes?
Don't use MS Word or Google Docs, and don't use flowcharts.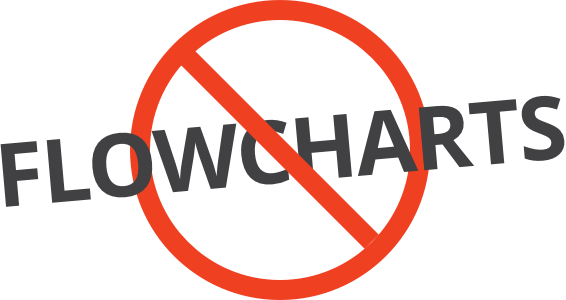 Documenting your processes using flowcharts might look pretty and nice – but you can't run them. Even worse – nobody looks at flowcharts.
SEE WHY HERE
Today, those, you really don't have to be doing a big chunk of menial work.
There are a lot of task automation tools that do your job for you by making your different systems communicate with each other. And you know what the best part is? You won't even need to write a single line of code for this – all you have to do is pick the right tool
3 Must-Have Task Automation Tools
These task automation tools play the middle-man between all of your different software.
Side note
Are you interested in truly useful analysis of the latest trends in business tech and ops? Talking from the Trenches is published once every 2 weeks by Tallyfy and it's unmissable. You'll be smarter and better informed automatically. So - don't leave this page without subscribing to it.
Anyway ... we'll continue from where we left off above.
While most of them offer the same general functionality, there are certain features that put them apart from each other.
Are you thinking of using Microsoft Flow to try and run approval workflows?
Think again
– you will need something a lot easier for business users .
Zapier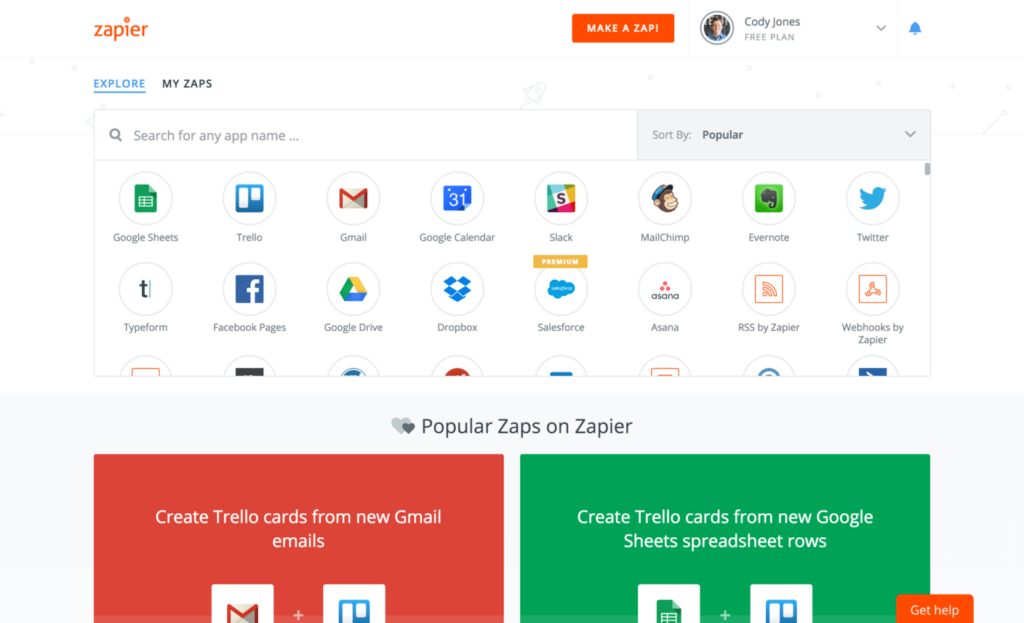 Chances are, you've probably already heard of Zapier. It's only one of the most popular task automation tools out there.
It allows you to "zap" together different software, carrying over data from one tool to another.
Zapier's main advantage is that the tool offers integrations with most of the apps you'll find online. To learn about all the potential combinations, you can check out this guide here.
Flow

Flow is Microsoft's very own task automation tool.
While it doesn't offer nearly as many software integrations as Zapier, its main benefit is that it works in combination with Office 365.
So, if your organization works mostly with Microsoft products, Flow would be your go-to.
Tallyfy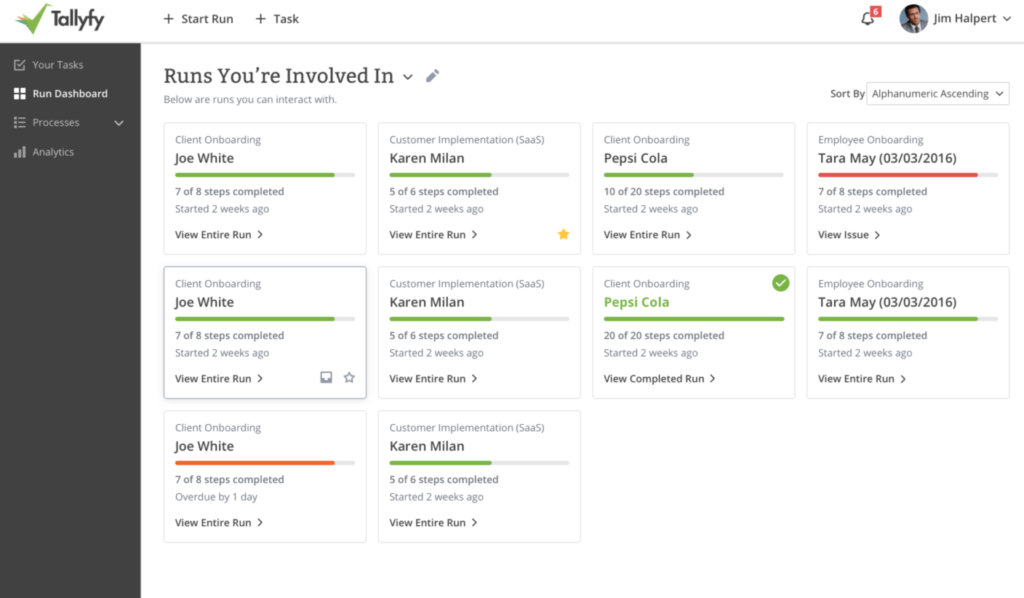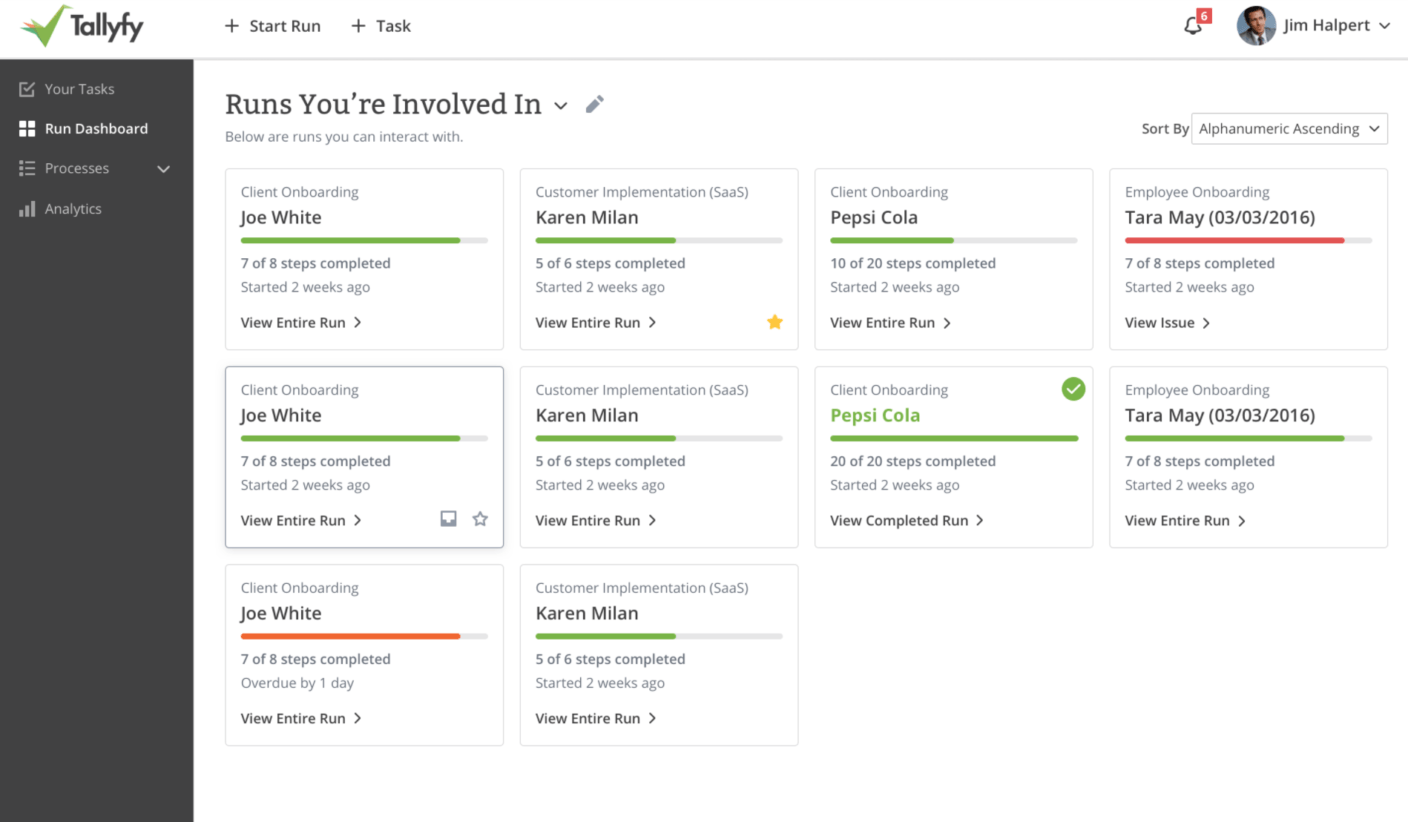 Let's say you have a set of different tasks that need to be completed. Once each task is done (either manually or automated), you need to communicate to the next task owner that they have new work to do.
Tallyfy helps with just that – setting up communication between different tasks.
While it doesn't exactly automate the task, it removes the managerial overhead needed to make sure everything gets done.
And as a given, it can be integrated with all the other tools we've mentioned here.
Task Automation Tools: 2 Practical Examples
Depending on what your company does, the tasks you'd automate would be very specific to your own niche.
To get you started, though, we're going to cover 2 examples of automation in business functions that are present in just about every organization.
Customer Support
It's pretty common knowledge that your customers are the core of your business.
So, it's important to make sure that their concerns are taken care of ASAP. Unless you have a dedicated support team, though, customer support turns more into an after-thought.
In a lot of cases, you're focusing on other tasks, and only occasionally checking your email or customer support tool.
To make sure you're getting back to your customers in time, you can use a combination between Zapier, Intercom (if you're using customer support software) / Gmail (if it's email-based) and Slack.
So now, whenever you get a customer ticket on either Intercom or Gmail, you can set up a direct message to be sent to you on Slack, letting you know that there's someone waiting for a reply ASAP.
Client Onboarding
Taking on a new client can be a very long process.
You'd need to gather all the right information (company information + their needs), carry out the onboarding process, and finally kick-start your work with them.
All this is done through different platforms.
The interaction starts on the website, where the lead leaves their email.
The salesman has to get in touch with them and get their data through Typeform.
Based on the information from the Typeform, you start the onboarding process using Tallyfy.
Once the process is complete, you copy + paste information from Typeform into your favorite project management software and start working with the client.
Yep, you guessed it. That's a lot of different steps that need manual intervention.
Instead, you can use Zapier to tie all the different apps together. Once someone signs up on the website, they automatically receive the Typeform email. Then, the data is automatically transferred through all the different software tools.
Starting off with Task Automation
Now that you know how task automation works, you can start coming up with your own uses for it.
While the example we provided work for a lot of organizations, they're not the only task automation uses.
The sky's the limit! Dive into the different tools & find out yourself how much of your work can be automated.