A service level agreement is a formal or informal contract between internal or external and the end user of the service. It specifies what the client will receive and clarifies what is expected of the service provider.
As an example, Internet service providers and telcos will commonly include service level agreements within the terms of their contracts with customers to define the level(s) of service being sold in plain language terms.Wikipedia
Although the service level agreement is thought to have originated from network service providers, the use of these agreements has permeated the IT world and is now reaching beyond that and into the performance of any outsourced service.
Components of a Service Level Agreement
Although the details of service level agreements (SLAs) are as varied as the services that could be covered by them, a comprehensive SLA will ordinarily include the following elements:
Important note
You're probably wondering who we are. Tallyfy is a product that simplifies and automates your business processes. It's the secret to running smooth operations. Instead of creating process diagrams (which nobody looks at), documentation (which you can only read and never action), emails, chats and chaos - you can create and run any process in your company within seconds.
Settling for basic and cheap project or task management tools is the biggest mistake you can ever make. You get what you pay for. If you try to save a cent - you will lose a dollar. Wasted time (at $40/hour) is far more expensive than the cost of software. There's a huge difference between process management and project or task management. Processes relieve stress, make things predictable - and help you grow and become efficient. Projects and tasks are just ad-hoc, unpredictable chaos.
It's important to understand that context before you carry on reading. Successful people are smart enough to fundamentally change the way they work "right now" and amaze themselves and everyone else with new ideas. You can stop fighting uphill battles every day immediately - and drive more personal success in your career by introducing the modern way of creating, tracking and even enjoying tasks with your coworkers.
Anyway ... sorry for the interruption! Let's resume the rest of the article.
Service description: What does the service provider do?
Reliability: When should the service be available?
Responsiveness: How quickly should services be delivered?
Reporting procedure: How and to whom should problems be reported? What reporting process is used in routine tasks (if any)?
Performance monitoring: How will performance be monitored, who will monitor it, and how will it be measured?
Penalties for failure to meet obligations: What penalties will be implemented if the service provider fails to perform as stipulated?
Constraints: Under what circumstances will the terms of the service level agreement be waived?
Service level agreements benefit both parties by providing absolute clarity as to what can be expected from the business relationship. The key to a service level agreement's success lies in the metrics that are applied to determine whether the service provider is keeping their end of the bargain. It's worth remembering the old saw "You get what you measure."
Thus, measurability is important. Quantifiable measurements are clear and specific and can be divided into targets representing preferred performance and minimums indicating acceptable performance. Incentives and penalties can be built in along with a clause indicating when the client or service provider is entitled to terminate the agreement.
Are you looking to document and run your processes?
Don't use MS Word or Google Docs, and don't use flowcharts.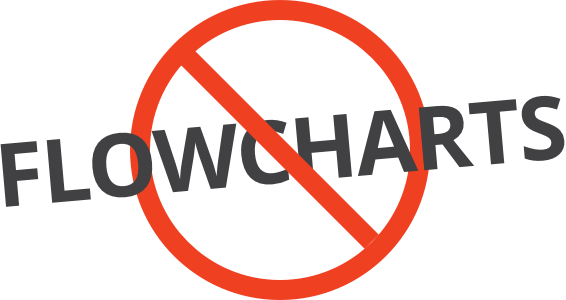 Documenting your processes using flowcharts might look pretty and nice – but you can't run them. Even worse – nobody looks at flowcharts.
SEE WHY HERE
Who uses SLAs?
SLAs are very common in the IT world since companies often rely on external services such as cloud computing, hosting, and so on. However, almost any business relationship can be governed by a service level agreement.
For example, internal departments in a business will perform interlinked tasks in which one department becomes the "client" of another because it depends on that department for support. If your company employs an IT helpdesk, its performance affects that of the departments that make use of it. The best way to monitor its performance is through the service level agreement.
Nowadays, businesses are able to outsource a wide range of services that contribute to their activities. Whenever activities are outsourced, the SLA helps to define the relationship between client and service provider. This can cover everything from logistics providers to accounting services, consultants, and freelancers. As soon as a business function is delegated to an external service provider, the service level agreement can contribute to a beneficial and untroubled relationship.
Side note
Are you interested in truly useful analysis of the latest trends in business tech and ops? Talking from the Trenches is published once every 2 weeks by Tallyfy and it's unmissable. You'll be smarter and better informed automatically. So - don't leave this page without subscribing to it.
Anyway ... we'll continue from where we left off above.
Service Level Agreement Types
Because service level agreements have many applications, they have been divided into categories. Thus, we have:
Customer-based service level agreements: The service provider and customer formulate an SLA based on the services that will be provided. For instance, an IT service provider may help your business with its payroll system or billing system. The SLA defines that relationship in detail.
Service-based service level agreements: All customers working with a service provider receive similar terms. If you have a mobile service provider (and who hasn't?), it will indicate what services it routinely offers and what additional services are available to its clients as part of the package.
Multi-level service level agreements: A single SLA can be divided into levels that specify a series of customers using a single service.
The SLA is a negotiated agreement
How does an SLA differ from a contract? The key difference is that contracts can be finalized without indicating service levels at all. Whereas it's unlikely that most businesses would meet regularly with service providers to report on performance under a standard contract, the service level agreement implies a negotiated agreement, regular assessment, strong communication, and the option of adaptation.
This having been said, a service level agreement can take the form of a legal or informal contract or become part of one. Thus, a service level agreement can be included in a contract, but a contract isn't necessarily a service level agreement. Many businesses prefer to have SLAs that are not part of the contract itself since this allows for easier revision.
Outsourcing and Service Level Agreements
When outsourcing work to contractors, the service level agreement should be an indispensable part of the agreement. Should the contractor fail to abide by the terms of the SLA, penalties can be levied. The SLA will also indicate under what circumstances termination will be considered, allowing the client freedom to pull out of the contract if the contractor fails to deliver to the specifications outlined in the SLA. Thus, service level agreements enable companies to outsource with confidence, knowing that they will not be locked into a contract that fails to be mutually beneficial.
Outsourcing is an Important Trend: Multiple SLA's can apply
Many businesses are finding outsourcing non-core tasks to be the most profitable way to do business. Outsourcing allows businesses to focus on their core activities, secure in the knowledge that supporting activities are being undertaken.
However, this can lead to a great deal of complexity because multiple external service providers may be involved in completing a workflow. Service Level Agreements for each of these players ensure that the company can run its workflows smoothly while the service providers know exactly what will be required of them.
A Simple Way to Manage Service Level Agreements
Simply having service level agreements isn't a guarantee that they will be observed. If an agreement is negotiated with management and then buried in a file somewhere, the person who actually does the work might not be aware of the expectations under which he or she is working. Thus, keeping the basic standards and metrics that apply to the task firmly in view will help to ensure compliance.
Tallyfy offers a simple way to keep the SLA front and center every time work is allocated. As a workflow management software system, it does much more than that, but the ability to specify standards within the workflows as they take place in real time is a decided advantage.
Tallyfy also performs analytics on workflows, helping businesses to see whether processes run smoothly. These analytics will help with service level agreement related performance monitoring, gathering the data needed to evaluate service delivery.
If you'd like to find out more about how Tallyfy can help your business with tracking and monitoring internal and external service delivery, Tallyfy will prepare a customized demonstration for you. It's absolutely free, so there's every reason to take a closer look.