Roughly 50 million startups are born each year with the intention of eventually becoming profitable businesses. Many entrepreneurs dream of beginning their startup with next to nothing in the bank and growing their business to a million dollar company. But the truth is, you may not be ready to scale your startup in this way.
Startup Genome surveyed over 3200 startups and found that 74 percent of them fail due to premature scaling.  If you don't start out with the right business model or with the right systems in place, then it is almost impossible to effectively scale.
So how can you effectively scale your startup? How does a startup continue to grow and take on more work without compromising the quality of their products or services? This article will explain what it means to scale and will outline five steps for how you can scale your startup.
Are you looking to document and run your processes?
Don't use MS Word or Google Docs, and don't use flowcharts.
Important note
You're probably wondering who we are. Tallyfy is a product that simplifies and automates your business processes. It's the secret to running smooth operations. Instead of creating process diagrams (which nobody looks at), documentation (which you can only read and never action), emails, chats and chaos - you can create and run any process in your company within seconds.
Settling for basic and cheap project or task management tools is the biggest mistake you can ever make. You get what you pay for. If you try to save a cent - you will lose a dollar. Wasted time (at $40/hour) is far more expensive than the cost of software. There's a huge difference between process management and project or task management. Processes relieve stress, make things predictable - and help you grow and become efficient. Projects and tasks are just ad-hoc, unpredictable chaos.
It's important to understand that context before you carry on reading. Successful people are smart enough to fundamentally change the way they work "right now" and amaze themselves and everyone else with new ideas. You can stop fighting uphill battles every day immediately - and drive more personal success in your career by introducing the modern way of creating, tracking and even enjoying tasks with your coworkers.
Anyway ... sorry for the interruption! Let's resume the rest of the article.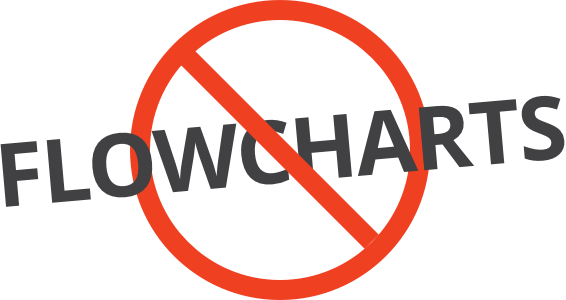 Documenting your processes using flowcharts might look pretty and nice – but you can't run them. Even worse – nobody looks at flowcharts.
SEE WHY HERE
What Does it Mean to Scale Your Startup?
You've probably heard the term "scale" being thrown around a lot – be it by other entrepreneurs, VCs, or, well, anyone involved in the startup ecosystem.
Everyone wants a startup that can scale. Traditional businesses with minor payouts are not in fashion anymore.
So, what exactly does it mean to scale your startup? Once you have a product out, "scaling" is the process of growing exponentially: being able to go from handling 5 clients to 500. If your product isn't scalable, you're going to get stuck somewhere along the way, being unable to handle all that load.
Clients are good, but it's a common misconception that the more clients you have, the better. Let's say you're VP sales. You work like hell, and in 2 months, you exceed the company goals by a huge margin.
If your startup is scalable, the engineering team will figure out how to handle the extra load. If not, well, you're going to be hearing a lot of emergencies in the office soon.
That is what it means to be able to scale your business; you have the capacity to serve a rapidly growing number of customers efficiently.
Side note
Are you interested in truly useful analysis of the latest trends in business tech and ops? Talking from the Trenches is published once every 2 weeks by Tallyfy and it's unmissable. You'll be smarter and better informed automatically. So - don't leave this page without subscribing to it.
Anyway ... we'll continue from where we left off above.
5 Steps to Effectively Scale Your Startup
A lot of planning and thought goes into scaling your startup. You need to make sure you have built a business that is strong enough to support the massive growth of your company. To do this, you will need to have the fundamentals, systems, technology, and people in place to make this possible.
Listed below are five steps to effectively scaling your startup:
Get the Fundamentals Down
We live in a society that likes to celebrate seemingly "overnight" success stories. Slow and steady growth may not seem as exciting, but by trying to scale too quickly, you risk failing altogether.
Make sure you understand who your ideal customer is and what problem you are solving for them. Make sure that you are confident about the quality of your core product or service.
You should also be confident that you have the resources available when it is time to scale.
Outsource Wherever Possible
As a startup, your funds will be very limited in the beginning. So you have to think long and hard about how you will spend the revenue you do have coming in.
Obviously, you will need people for your business to grow but do you need to hire a graphic designer, lawyer, AND a CPA? You should think carefully about what type of employees you will need in your startup.
To scale your startup, you will need to make tough choices and allocate your resources wisely – and one of the easiest ways to do this is by using freelancers or remote employees. If you can find the right individuals, they might come by 2 or 3 times cheaper than hiring locally.
For more on hiring and working with freelancers/remotes, check out our guide to onboarding remote employees.
Use the Right Software
As a startup, you're going to have very limited time. So, you might want to automate as many business processes as possible. While it might seem very technical or hard at the beginning, it can be crucial for long-term growth.
Thankfully, though, there are countless business process automation tools ready for you to use. Zapier, for example, can "zap" together all of your office tools, and automate all sorts of minor processes that chip away at your time minute by minute. Or, you can use Tallyfy to give structure to your growth efforts. The tool allows you to map out your processes, and automate them using forms or approvals.
Employ the Right People
When you are beginning a startup, resources will most likely be limited. So it is important to employ the right people with the necessary skill sets to help the business grow.
The best way to do that is by employing generalists. Take marketing, for example. You might need someone who can do PPC, SEO, and Content at the same time. Instead of hiring three different people with expertise in each field, you can hire a jack-of-all-trades instead.
While this may seem like a loss in quality, it's going to help you long-term. A generalist can set up the framework for company operations, and lead the rest of the team when you end up hiring or individual roles.
Or, if you're looking for co-founders rather than employees, you might want to pick one of these three archetypes.
Don't be a One-Man Army
Ideally, your business should operate like a vending machine. You invest a certain amount into the business and you continue to reap the profits even when you aren't physically present.
It is impossible to scale a startup that is entirely dependent on you. That is one of the many reasons why it is important to employ the right people.
When you have the fundamentals, systems, and people in place, then your business can function just fine without you. At that point, you may truly be ready to scale your startup.
Conclusion
As a business owner, it is important to be always evaluating your company and looking for new ways to improve. Companies like Blockbuster and Sears prove that an inability to adapt to new trends and demands in the marketplace could be fatal.
It is important to create an environment that embraces continuous improvement and constantly looks for ways to grow.  Poorly run and inefficient processes are one of the biggest things that hold most startups back from scaling.
---
Do you have experience with scaling a startup? Have anything to add to our suggested steps? Personal Experiences? Let us know in the comments!