Choosing the right CRM software can be a pretty rough task. There are more than 100 vendors that offer all sorts of different types of sales management platforms. Two of the most prominent CRM software are Prosperworks and Pipedrive. Prosperworks is known as the "#1 CRM software for Google" and Pipedrive was awarded the 2017 Sales Tech award for sales pipeline management. Both platforms serve similar purposes but differ in various characteristics like offered features, pricing, and existing software integration.
To provide a better understanding of those characteristics I will compare side by side two of the most distinguished CRM software: vs Pipedrive.
Prosperworks vs Pipedrive: Common Features & Stats
Like most CRM software do, Prosperworks and Pipedrive share a range of common features. After all, they are both platforms that serve similar purposes. Some of these features have been summarized below:
Provide a free 14-day trial
Offer a RESTful API
Sales forecasting
Contact Management
Statistic and Reporting Tools
Email Integration (different providers, however)
Role-based permissions
Drag & Drop Interface
Cross CRM data import and export
Deciding on the most suitable CRM software for your business requires a deep understanding of the features that distinguish one platform from the other. To help you make a more educated decision, I will provide you with the pros and cons of both Prosperworks and Pipedrive.
A bit about Tallyfy
Are you looking to automate tasks between co-workers or clients? You've found the right app for that! With Tallyfy - you can automate tasks and business processes - within minutes.
Let's resume the rest of this article!
You will also find an extensive explanation of their most advanced features and how they can be beneficial for your business. Most importantly we will compare their pricing strategies and distinguish what kind of businesses can benefit most out of either one of them.
Prosperworks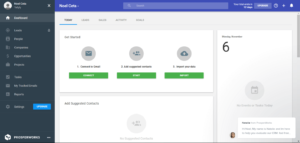 Pipedrive's Pros



Seamless integration with Google Suite (Google Sheets, Docs, Slides, Calendar, Gmail, etc..)

Offers predictive analytics

Provides Google Chrome extension for Gmail and Inbox

Integration with accounting software (QuickBooks and Xero)

Uses Google's material design – no training required






Prosperworks' Cons



Significantly more expensive than Pipedrive

Unlocking most features requires Professional or Business tier (25-85 euros more expensive per user/month)

Offers integration with very few apps that are not part of the G Suite

Sending emails in bulk requires MailChimp integration

Does not offer integration with Outlook or other email providers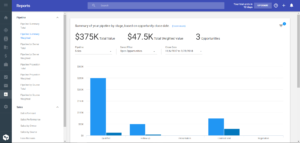 Prosperwork Feature Review
General Design
One of the main selling points for Prosperworks is, in fact, its design. According to the creators, when they were designing the platform, they had in mind Google's material design principles. If you've ever used any application from the Google Suite then you will find it very easy to use Prosperworks. Google Suite includes applications such as Google Docs, Sheets, Gmail, Drive, Calendar, etc…
Most people have used Gmail at least once in their lifetime. If you are lucky enough to have employees that have used Gmail throughout most of their career then you will probably not need to train them in order for them to use the platform. At most, you will need to let them experiment with it for a couple of days so they can discover all the features and possibilities that it has to offer.
If we have to compare Prosperworks and Pipedrive in terms of design, neither one of them is too difficult to get acquainted with. Pipedrive provides a simple and easy to learn design as opposed to more complex CRM software like Salesforce. If complex is what you're looking for, check out our comparison of Pipedrive and Salesforce.
The dashboard is your main tool when using the platform. Leads, sales, activities, goals, and notifications are all well organized within the dashboard. Asides from being able to easily add new contacts directly from your dashboard, you are also provided with summarized information regarding your pipelines and a mini report on sales forecasting. You can easily customize the dashboard by dragging and dropping the components that compose it.
Communication
With Prosperworks you are given a centralized communication system. One of its strongest points is the fact that everything is synced. Additionally, they provide a Google Chrome Extension for Gmail and Inbox. In this way, your CRM is integrated directly into your Inbox and technically you would not need to quit your inbox in order to schedule a new meeting or add a new contact.
An advantage can also turn into a disadvantage sometimes. If Google Suite and specifically Gmail is not part of your daily work, many of Prosperworks' cornerstone features become almost worthless or inutile.
Unfortunately, they fail to provide integration for other email providers such as Microsoft Outlook or Yahoo Mail. The only integration they provide outside of the G Suite is MailChimp, which is a great email marketing service but does not replace your basic email provider.
Just like Pipedrive, Prosperworks offers email templates to facilitate repetitive work. This feature can help in decreasing response time to leads and improve your ability to track and measure responses directly from the platform.
Contacts
An amazing feature in terms of Communication and Contacts is that when sending emails, you can select to automatically add to Prosperworks all CC'd contacts. This is extremely easy if you sync your Inbox directly to Gmail. If however, it is not, all you have to do is include the Prosperworks mailbox in the BBC line when sending the email.
In general, it is very easy to add contacts. The platform scrapes contact information from emails or previously executed activities, thus allowing you to add contacts with one mouse click. Additionally, Prosperworks syncs with Gmail contacts and gives contact suggestions by analyzing previous communications.
Reporting Services
In terms of reporting services, Prosperworks has a long way to go compared to Pipedrive. Their reports are a lot more simple and provide less filtering options. Once again, here as well, their main selling point is the seamless integration with Google Sheets. If you are not using Google Sheets than this is probably not even a considerable feature for your company.
Advanced Features
Notifications should generally be included in the Communication section, however, the notifications system in Prosperworks is so useful that I found it necessary to include it here. With Prosperworks you can be certain to track engagement in real time by receiving alerts and notifications. In a nutshell, you can set up the platform so that you can receive notifications in three ways:
Email
In-app notifications
Mobile
Alerts and notifications can be received for things as general as someone mentioning you somewhere to assignments, reminders or even different system updates.
Making, receiving and logging calls can sometimes be a very bothersome part of managing leads. Traditionally, after making a phone call, you would write down some notes on a calendar or an agenda to keep track of previously made and future phone calls. You can easily lose notes, you might forget that you already called a contact or forget that you had to call a contact. Prosperworks provides a VoIP calling service, which pretty much allows you to make, receive and log calls directly from your CRM. Except for making communication with contacts and leads more efficient, it also improves this business process by making it more transparent.
Prosperwork's Pricing
Who is Prosperwork for?
"In terms of business size, Prosperworks is made for small or medium-sized businesses. Big enterprises would be better off using a more complex CRM software like Salesforce for the mere fact that it provides a lot more features.
To be more specific, businesses who mainly use Google applications for their other activities can really make the most out of Prosperworks. Otherwise, most of its advantages would turn into drawbacks.
Pipedrive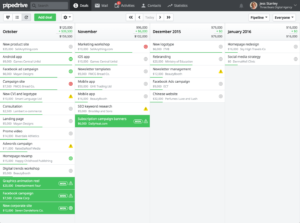 Pipedrive's Pros



Cheaper than Prosperworks (up to 25-85 euros cheaper per user/month)

Ability to customize sales stages

20+ available integrations (including Google Apps)

Provides email tracking and integration with many providers, not just Gmail

Summarized statistics and mixed reports

Allows syncing with Microsoft Outlook






Pipedrive's Cons



Does not provide multi-factor authentication options

Adding and managing contacts takes more time and effort than with Prosperworks

Doesn't provide integration with SAP, Oracle and Microsoft Dynamics

Does not provide real-time notifications and alerts.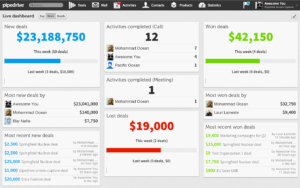 Pipedrive Feature Review
General Design
Pipedrive has a very simple but unique design. It doesn't resemble any other well-known application's material design. Nonetheless, this does not make Pipedrive any harder to use than other CRM software like Prosperworks. Onboarding new sales representatives on using the platform takes very little time and effort. This implies that it requires little resources to train employees, thus making it a perfect choice for small businesses.
Sales and leads are managed through the pipeline, which is also the first thing you see when you log-in for the first time. The pipeline can be easily customized by adding, removing or reordering stages in order to represent a specific workflow. You can create a unique pipeline for each different workflow you have in terms of sales and lead management.
Customization of the pipeline is at the core of Pipedrive's design. Events and deals constitute the core components of the pipeline. These events can be further customized by scheduling different activities. For example, if you are in a negotiation stage with company X, you will probably need to schedule a meeting at some point. To this meeting, you can assign a time and date, a presumed duration and additional notes which might be relevant for future reference.
Communication
Communication is quite straightforward within the platform. You can use the Pipedrive email for contacting prospective clients or existing contacts. This email is provided to every specific company that uses the platform. Identically to Prosperworks, by adding that email to the BCC field, all emails will show up on Pipedrive. The only difference is that Pipedrive will try to link those emails automatically to the respective deals or activities when possible.
Even though Pipedrive does not offer a seamless integration to Gmail, it still allows you to easily integrate the platform with most email providing services such as Microsoft Outlook, Outlook and Gmail itself.
Email templates are also provided in order to increase productivity, lower response time and improve the process of sending repetitive emails.
Contacts
In terms of storing contact information, Pipedrive offers many customizable fields. Contacts are directly related to respective companies and deals within the platform. Thus making those customizable fields a strong tool to filter and analyze different events and activities.
A small drawback is that adding contacts can take time. Manually adding information into the different fields for a contact can be a cumbersome process. Fortunately, Pipedrive provides you with ways to import contacts from .csv, .xls file types or directly from another supported CRM software.
Reporting services
Statistics and report in Pipedrive are made of advanced querying features and can provide reports based on three main factors:
Activities effort – activities added, activities completed, emails sent, emails received
Pipeline performance – deals started, progress, velocity and conversion
Sales performance – deals won and deals lost
All the above can then be filtered by stages, by users, by stages over time and users over time.
The good thing about Pipedrive is that it tries to eliminate the need for spreadsheets and tries to keep the whole reporting process on the platform itself.
Integration
Pipedrive probably takes the lead in terms of integrating other various applications. Except for providing direct integration from within the app for Slack and Asana, it also provides integration for Google Suite and apps like Trello, Mailchimp, and Zapier. Additionally, it provides integration for more than 100 hundred other applications, making it a top choice for companies that use products other than the Google Suite in their daily work.
Like most other CRM software, Pipedrive also provides a RESTful API which can be used to integrate applications that are not directly supported.
Advanced features
Some of the advanced features that Pipedrive provides are summarized below:
Web forms can be used to create public forms for lead gathering
Importing data is easy and can be done in 2 different ways. Either through a list of 20+ CRM software that's directly supported or through a backup file in .csv or .xls format
Webhooks is used to receive asynchronous information about changes in your data from Pipedrive as they happen. Whenever a specific event is triggered, Pipedrive can send a notification to any specified endpoint. With Prosperworks however, you would not need this since they offer an advanced notification and alert system.
Pipedrive's Pricing

Who is Pipedrive for?
Pipedrive is suited for both small and medium-sized teams. Apart from teams, it can also serve freelancers due to its simple design, and extensive possibilities to customize the pipeline.
Another feature that makes Pipedrive a desirable choice for small businesses and freelancers is its competitive pricing and the fact that it requires little to no resources for onboarding employees.
Prosperworks vs Pipedrive: The Final Verdict
Prosperworks' selling point is its seamless integration with the G Suite. On the other hand, Pipedrive provides integration for more than 130 various applications, some of which are also part of the G Suite.



Why Pick Prosperworks



Prosperworks makes it as easy as two clicks to integrate all applications that make up the G-Suite into your CRM.






Why Pick Pipedrive



Pipedrive offers a simple, easy-to-learn & use design while maintaining a lower price than most competitors like Prosperworks or Salesforce.



So overall, unless all your main operations are based on the G Suite, Pipedrive is probably a safer and more optimal option. You could regard Prosperworks as a pair of scissors whereas Pipedrive would be a swiss-army knife. If all you do all day is cut people's hair, then you are better off buying a pair of professional scissors rather than using the small scissors on the swiss-army knife. If not, then you might as well go for the "more features the merrier" approach.
Feature-wise, both platforms have distinct advantages which need to be considered on a case-by-case basis. One business might prioritize having a fast notification and alert system, whereas another business might require advanced reporting services.
As for the pricing, Pipedrive takes the lead by providing cheaper options on all three tiers: Silver, Gold, and Platinum. Depending on the three tiers, Prosperworks is around 5, 25 or 85 euros more expensive than Pipedrive.
Hopefully, we've managed to help you pick the best CRM software for your business. If you think we might have missed something or have some questions about either software, let us know in the comments below!