In this age of rapidly growing technology, businesses have to grow just as fast as the technology surrounding them. Whether you are a small, medium-sized business or an enterprise, you probably need a CRM software to improve sales lead management, sales management, reporting, and other similar operations. According to a research done by Salesforce, CRM software can increase sales productivity by up to 34%.
When deciding on the right CRM software, businesses face many questions. What features does this software offer? Will we need all of these features? Is it worth spending this much money on these extra features or can we go for something cheaper?
In order to answer most of these questions, I will compare side-by-side two of the most important CRM software available in the market at the moment: Pipedrive and Salesforce.
Pipedrive vs Salesforce: Common Features & Stats
Both Pipedrive and Salesforce share some features which make them two of the most prominent CRM software available in the market. Some of these common features are summarized below:
Sales automation
Bi-directional CRM syncing
Cloud Hosted
Lead scoring and segmentation
Contact Management
Statistic and Reporting Tools
Email Integration
The above functionalities are obviously not enough for a business to decide which CRM software is best suited for their needs. Businesses nowadays look for very specific features that can better integrate with their existing software or with applications that they might be using on a daily basis. Throughout this post, I will cover in depth the pros and cons of both Pipedrive and Salesforce, their advanced features and pricing.
Pipedrive



Pipedrive's Pros



Simplicity of use – steep learning curve
Easy to onboard team
Interactive UI design
Ability to customize sales stages
20+ available integrations (i.e: Google Apps)
Cross CRM data import and export
Provides email tracking and integration
24/7 support
Summarized statistics and mixed reports
Syncing activities with Google Calendar






Pipedrive's Cons



Lacks a desktop application
Lacks some advanced features needed for when the business grows
Doesn't provide integration with SAP, Oracle, and Microsoft Dynamics



Pipedrive Feature Review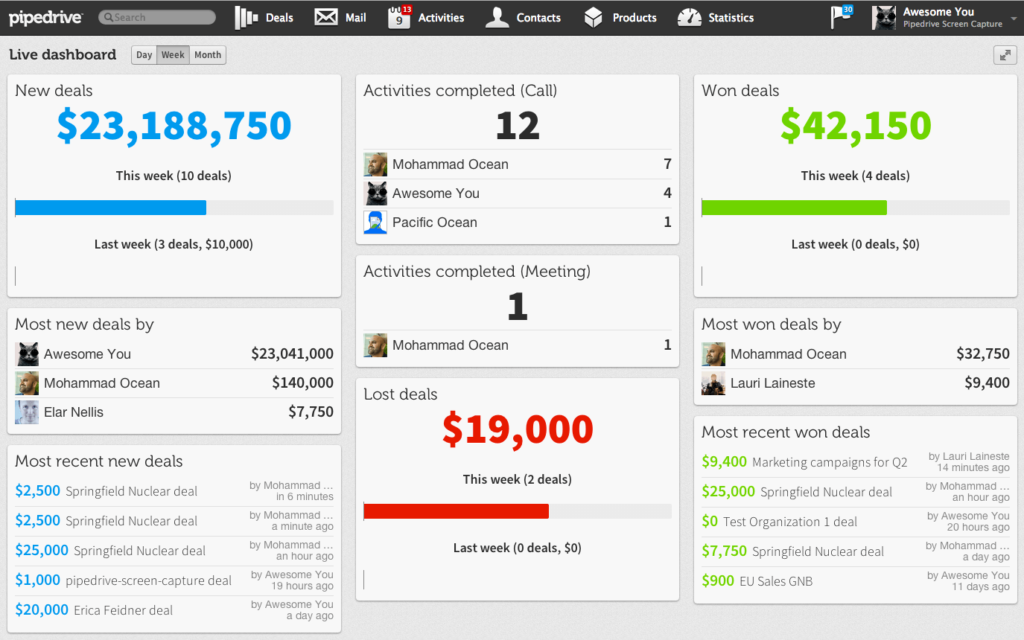 General Design
One of the most striking features of Pipedrive is its simplicity. It has a very simple design which makes it easy to use and easy to learn. This makes Pipedrive a very good candidate for small businesses that are just starting to get serious down their sales pipeline and can't afford to spend resources on training and onboarding employees.
Everything in Pipedrive is based on the pipeline, which is also the first thing you see when you log-in for the first time. You can create different pipelines based on the different workflows that your business implements. In itself, the pipeline provides 5 basic sales stages at first but can easily be customized. You can add, remove or reorder the stages as you go.
Additionally, Pipedrive allows you to add events or deals to the pipeline. For each created deal you can then schedule an activity such as a call, meeting, task, deadline, email or even lunch. The activities can be further customized by adding a date/time, duration, details, and notes.
It is also very easy to search among different deals in the pipelines by using the advanced search bar at the top of the page.
Communication
A very cool feature that Pipedrive offers is Pipedrive mail. Your company gets its own email. For example, tallyfy@pipedrivemail.com, which can be added to the BCC field when emailing a customer or for forwarding emails directly to his address. All received emails show up on Pipedrive and are linked to the respective deals or contracts automatically. Additionally, its email integration provides email templates depending on different events or activities to help you save time.
Contacts
An important feature that many businesses are looking for in a CRM system is an efficient way to store contacts and the businesses they represent. Contacts view can be customized in order to reveal or hide additional details and allows you to query them based on such details. Some such details are email, completed and required activities, lost and won deals, update time, etc…
It goes without saying that the same details mentioned above are customizable for the businesses as well.
Reporting services
Like every other CRM software, Pipedrive offers statistics and reports. Apart from the simplified summarized statistics, Pipedrive has implemented a new sales-reporting service which offers more advanced querying features and can provide reports based on three main factors:
Activities effort – activities added, activities completed, emails sent, emails received
Pipeline performance – deals started, progress, velocity and conversion
Sales performance – deals won and deals lost
All the above can then be filtered by stages, by users, by stages over time and users over time.
Integration
In terms of integration, Pipedrive provides direct Slack and Asana integration from within the web application. Additionally, it provides integration with apps like Google Apps, Google Maps, Zapier, Trello, MailChimp and many more. If however your favorite software is not directly supported, the Pipedrive API can be used to easily connect to Pipedrive or to create additional custom features.
Advanced features
Web forms feature can be used for creating public forms for lead gathering. This allows scheduling for setting up a meeting without back and forth email.
Pipedrive allows you to easily import data from a list of 20+ CRM software available in the market, Salesforce included. Alternatively, you can import data from a backed-up file stored in your secured local or cloud storage.
Exporting data on deals, organizations, contacts, activities, and notes is also very simple. Data can be exported in either .csv or .xls (excel) file format.
Another great advanced feature is Webhooks. It is used for receiving programmatical information about changes in your data from Pipedrive as they happen. Whenever a specific event is triggered, Pipedrive can send a notification to any specified endpoint.
Pipedrive also provides a quick help section with suggested articles, a support center, many video and textual tutorials. Overall, it takes less than a day to learn basic functionalities even for a person who has never used a CRM software before.
Pipedrive's Pricing

Who is Pipedrive for?
As you can probably tell from the features explained above, Pipedrive is best suited for small to medium-sized teams. Its simple design loaded with a lot of features is perfect for teams that are starting to get overwhelmed by the increasing amount of sales. Additionally, Pipedrive provides very competitive prices compared to other CRM systems, making it a preferred choice for growing businesses.
Salesforce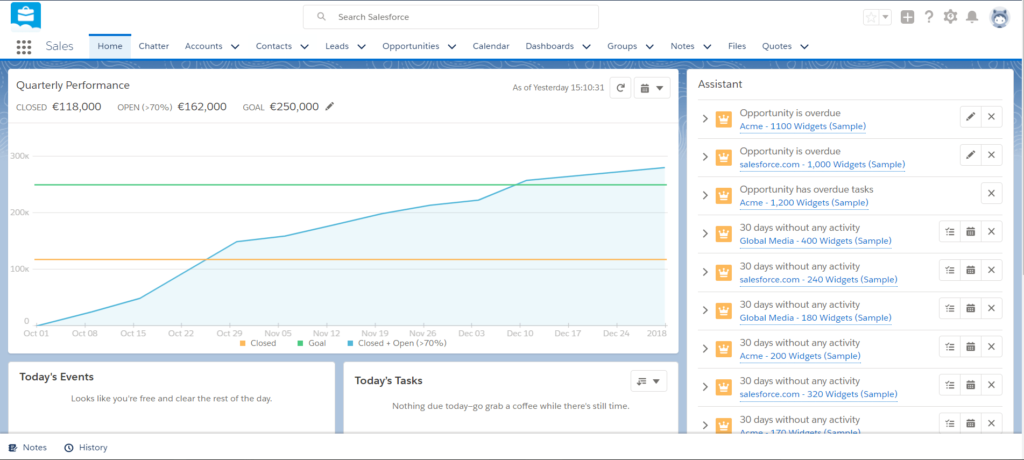 Salesforce's Pros



Provides more features than Pipedrive
Advanced reporting services
Offers predictive analytics
20+ available integrations
SAP, Oracle, and Microsoft Dynamics Integration
Forecasting through machine learning algorithms
Einstein AI
Syncing activities with Google Calendar and Outlook






Salesforce's Cons



Flat learning curve
Requires training to onboard employees
Unlocking full features can turn out €100 – €250 more expensive per user than Pipedrive
Restrictive pricing packages
No explicit dashboard – must integrate apps to add one



Salesforce Feature Review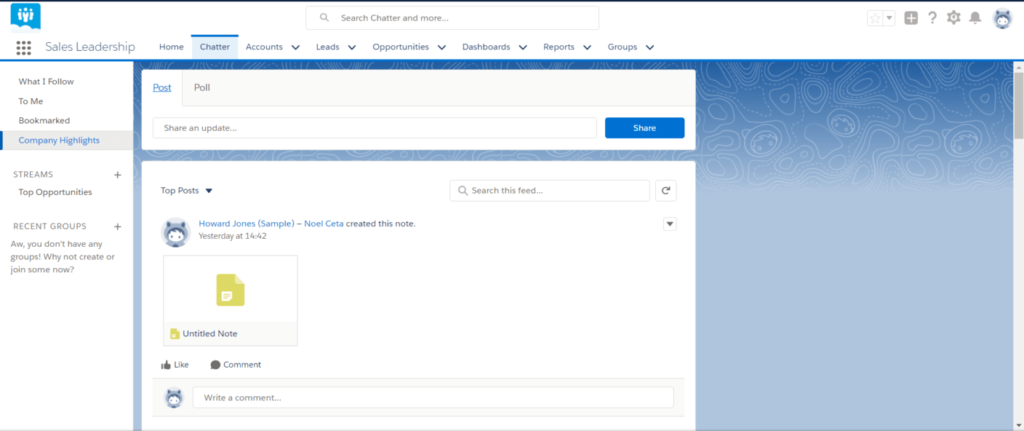 General Design
When you first log in to Salesforce the design seems a bit overwhelming. The welcoming page is filled with information and sample data. However, they also provide some on-screen tutorials to give you a feel of how things work and where you can find different features.
In terms of design, the software itself is made up of different smaller application to help you manage different things at once. The different apps are:
Sales is the general view used to manage sales
Sales Console allows sales representatives to work with multiple records on one screen
Relationship manager helps in building stronger customer relationships, managing renewals and staying organized
Lead Generator is used to generate leads, qualify and nurture prospects
Sales Operations allows you to customize and automate the sale process and helps in analyzing the data in order to make informed business decisions
Sales Leadership serves for monitoring sales activity and guiding your team in order to meet sales goals and objectives
At this point, you can probably already notice how Salesforce can be more complicated than Pipedrive in terms of design and the features it has to offer. If for example in Pipedrive you would find all features under the same application, in Salesforce there are sub-applications that offer specific features to help you out carry different tasks.
Communication
Salesforce makes it quite easy to integrate with your Outlook or Gmail mailbox. They offer Lightning for Outlook and Lightning for Gmail which allows you to take different actions that most email integrators wouldn't allow. For example, you can view relevant CRM records on every email and sync calendar events and contacts. Additionally, you can update pipeline data directly from your inbox and log every communication directly to Salesforce.
Communication between team members, sales representatives and supervisors is made easy through Chatter. Chatter resembles a mini social network found within the CRM software itself. It is very easy to use and can prove to be very beneficial for discussing things that require immediate attention.
Contacts
Account and Contacts let you manage all contacts and their information from any device. Differently from Pipedrive, when adding a contact you are prompted to add a lot more information to that contact. Asides from the contact's personal information, it allows you to specify who the contact reports to and which department he is in. Salesforce also allows you import contacts directly from your phonebook or from a .csv file from a local file, Outlook, ACT! or Gmail.
The best thing about Salesforce is that you can see your contact's interactions on social networks such as Twitter, Facebook or LinkedIn and easily interact with them directly from Salesforce.
Reporting Services
In terms of reporting, Salesforce offers a myriad of filters and options from which to choose. You can literally prepare a report on any possible action you can imagine within a business. Starting from reports on Accounts & Contacts, Opportunities, Customer Support Reports, going all the way to Contracts & Orders, Administrative Reports, etc…
Their main selling point, in fact, is that you can create intricate reports, considering different attributes without needing help from the IT sector.
These reports are then used to create dashboards to better visualize the data you are trying to analyze. The dashboards offer different pre-made chart types or views and can be arranged using drag and drop.
Advanced Features
It would be impossible to include all of Salesforce advanced features because there are simply too many of them. The one that really struck my attention and that I think really makes Salesforce stand out from other CRM software is Sales Cloud Einstein.
Salesforce now offers a personal AI data scientist to every sales representative in order help them gain insights into opportunities and help them score leads predictively. In a nutshell, it analyzes standard and custom fields attached to any Lead object and then applies predictive models such Random Forests and Naive Bayes and automatically selects the best one based on a sample dataset. Due to its machine learning algorithms, it can predict how likely a lead is to convert based on whether you show them a demo of a product when you first approach them.
Another feature that is worth mentioning is that Salesforce provides integration for other well-known platforms such as SAP, Oracle, and Microsoft Dynamics.
Salesforce's Pricing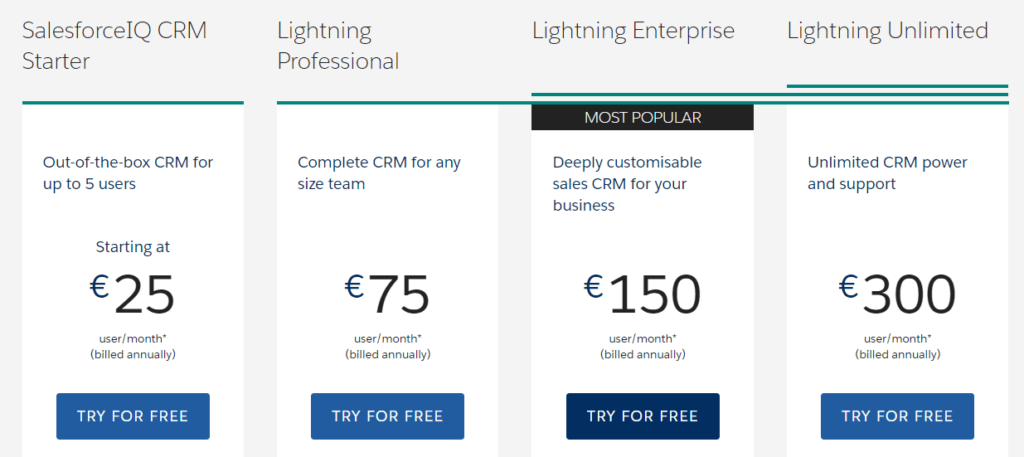 Who is Salesforce for?
Salesforce is a great CRM software that can help businesses of any size grow. Its extensive list of basic and advanced features makes it a great choice for both small teams and enterprises. However, extra features also come with a higher price. After all, price is what you pay and value is what you get. Small or medium-sized teams might find it difficult to afford Salesforce and might resort to cheaper options such as Pipedrive.
Pipedrive vs Salesforce: The Final Verdict
Pipedrive seems to provide fewer features than Salesforce, however, making it up with simplicity and design. Salesforce, on the other hand, provides a large set of features, including a machine learning data analyst to help in analyzing and predicting lead management.



Why Pick Pipedrive



Pipedrive can revolutionize the way your business manages sales while maintaining a simple, easy to learn-and-use design. Altogether providing these services at very competitive prices.





Why Pick Salesforce



Salesforce offers a lot more features than most CRM software and integrates different platforms to help your business grow into a full-scale enterprise.


When it comes to deciding the best CRM software for your business you must consider different factors such as what features it offers, which of these features you will actually need and of course pricing. You wouldn't want to pay extra for something that you are not going to be using just because it is cool to have it.
Pipedrive provides great features for small to medium-sized businesses that require that extra level of organization. Compared to Salesforce it is a much cheaper option. Full features can be unlocked for as much as €63 per user/month as opposed to €300 per user/month that Salesforce offers. Most importantly Pipedrive requires almost no training for the employees to be able to use it.
Salesforce, on the other hand, offers extra features which result in a higher price. Unlocking the full features requires spending a couple hundred euros more for each user on a monthly basis. For smaller businesses, it might sometimes not be worth the investment altogether. Additionally, using Salesforce requires extensive training to the point that enterprises hire salesmen that are Salesforce certified.
Hopefully, this gave you a better understanding of both Pipedrive and Salesforce. If you think we might have missed something or if you have any additional questions, let us know in the comments below!