On accountability in the workplace
"The average business person receives 129 emails/day" – The Radicati Group
As day-to-day operations of businesses became increasingly chaotic, people tend to forget more and more tasks.
Inboxes are jammed with spams and newsletters. 
Human memory limits the number of tasks a person can remember.
By digitizing and organizing tasks – you create accountability. Tallyfy ensures nobody forget tasks. Let's chat.
Remembering tasks is critical to any business and it helps maintain accountability in the workplace. Throughout time, there have been several different methods used to keep track of tasks. As technology evolves, there is an evident shift towards digitizing these processes. The more conventional methods of keeping track of tasks include:
Calendar journals
Stick notes
The more recent methods include:
Smartphone calendars
Reminders
Task management apps
Should a Task Exist at All?
The day-to-day operations of any business, small or large, are driven by tasks. Managing these tasks effectively is an arduous yet fundamental process. So when do you truly need tasks?
The terms tasks, processes, and projects are often amalgamated and therefore it's critical to distinguish each. Tasks are usually segments of a project that have deadlines and are goal-oriented. They are the activities generated either by the company's underlying business processes or by the users themselves as reminders to themselves or in order to delegate work to colleagues. The sooner users complete the tasks the quicker processes run, promoting accountability in the workplace.
A bit about Tallyfy
Are you looking to automate tasks between co-workers or clients? You've found the right app for that! With Tallyfy - you can automate tasks and business processes - within minutes.
Let's resume the rest of this article!
There is a strong correlation between task management and accountability in the workplace. We will be examining the importance of syncing between team members, prioritization of important tasks, and constant feedback between divisions. These are key elements of success in collaborative environments.
Maintaining Accountability in the Workplace While Working From Home
It is harder to foster accountability while working remotely. Human to human interactions is the foundation on which most successful businesses are built. However, with the rapid development of tech and the increase in the shift to remote work over time, the need for a physical office environment has plummeted.
A Common Scenario of Task Management
Let's go through an employee onboarding procedure from an HR department standpoint. The process is pretty uniform: the candidate applies to a job and receives a notification confirming their application has been received. Then, the HR group will asses the candidate's application and determine whether they will move on to the next round. After finalizing the interview logistics, HR will reach out to both the interviewer and interviewee.
Given that the first-round interview was a success:
The candidate will be notified about a second round interview
If the candidate passes the subsequent rounds:
The HR team will send them an email offering them the position
If the candidate accepts the offer
The HR team has to contact the legal team for onboarding.
…
The list is endless. This amounts to a ridiculous amount of emails that circulate during the onboarding of an employee. Therefore, in processes like these it is very common for either party to forget to respond to emails on time. The candidate might even forget they applied to the job in the first place…
Here is an example showing the setup of an employee onboarding procedure. Creating forms using blueprints is one tactic that can be used to not forget repeatable processes such as these. As could be seen from the GIF below, the assignee is notified about the details of the onboarding process, the email, SSN, Address, and other logistical credentials of the candidate.
To learn more about how to expedite repeatable processes like these, check here.
The Hierarchy of Prioritization
Remembering tasks require a methodological approach to handling them. With increased business traffic, it is inevitable that you will forget what you have in your tasks list. Having tens of tasks in your to-do's list gets everything convoluted, leading to inefficiency in your work. Another common mistake made by employees is the ineffective prioritization of tasks. When you have a few tasks on your plate to complete in the upcoming days, it is a key to be able to assess the difficulty and urgency of those tasks.
Let's investigate a hypothetical scenario: Say you are an IT person assigned 5 tasks for the upcoming week, 2 of which due on a Wednesday and the rest on Friday. Let's also assume that the tasks due on Wednesday are easier to complete as compared to those due Friday. Given that the tasks due Friday are harder, you are more pressured to get a head-start on the tasks due later. This exemplifies a typical scenario of unbalanced task distribution; prioritizing the harder tasks due later usually results in the mediocre completion of the prior ones. What can be done?
The Eisenhower Matrix, often referred to as the Urgent-Important matrix, has four quadrants illustrating the relationship between the urgency and importance of tasks. You can utilize the Eisenhower principle in the context of the hypothetical scenario we described above. In that case, we can label the tasks due on Wednesday as 'urgent' but 'not important'. These tasks often reduce your productivity and distract you from focusing on urgent tasks. Hence, you should consider delegating these tasks.
We can label the tasks due Friday as 'important' but 'not urgent', classifying them as part of the 'schedule' quadrant. The schedule quadrant corresponds to setting a date in the near future to complete the important tasks.
Why Is Accountability a Two-Way Street
One of the key components of task management, apart from the urgency-importance principle described above, is coordination with your teammates. Teamwork is one of the pillars of success in not forgetting tasks and punctually managing them. A task, unless super easy, usually requires you to distribute certain subtasks.
This could be an employee onboarding task managed by the HR person, a business analysis executed by an analyst, or a technical matter handled by an IT person. These commonplace tasks usually require back and forth feedback from team members.
You might have trouble doing this via email, but in the GIF above you can see an example of how easy this process can be. In the GIF, we can see that Jane is assigning Thomas, head of design, and Jill, head of operations, and she can track their progress without needing to remember it. That way – Jane can assign hundreds of tasks and never need to worry about tracking them.
The user selects assignees and determines whether the task is mandatory and whether it is unique to those assignees. After the user completes the logistics, the assignees will be notified via an email sent by the system. The first notification step is often forgotten in tasks that require collaboration by a large pool of people. Task management tools assist you through processes like these, ensuring you and your team members get notified automatically. For more on assigning team members and efficiently keep track of progress, check here.
Creating Rules to Expedite Tasks
Client onboarding, similar to employee onboarding, is an indispensable aspect of many businesses. A client onboarding task requires the core elements listed above such as the prioritization of important tasks and effective collaboration between teams. However, there is an additional key element to such processes. During a client onboarding task, there are several important specifications such as the size of the client company and its size-dependent factors. What are these factors?
Automating Rules To Skip Tasks

Here, we see an example of the rules method. Let's assume you own a SaaS company that offers different plans for your software services. Your prices, plans, and campaigns may fluctuate depending on factors such as the team size of your client.
Let's also assume that you have different logistical processes such as legal ones that are dependent on these factors. This makes dealing with the onboarding process more intricate, and the likelihood of forgetting certain subtasks even higher. The rules method streamlines the client onboarding process by enabling the user to create conditional rules without writing any code.
To give a more concrete example, we can go back to that SaaS example. Depending on the size of the customer, you would direct them to complete different subtasks. If your client's company size is greater than 100, they will be directed to x plan. If they are less than 100, they will be directed to y plan. Using rules, assignees are notified instantaneously and client- engagement procedures are expedited. This maintains a robust accountability in the workplace. For more on setting up and using the Rules method on Tallyfy, check here.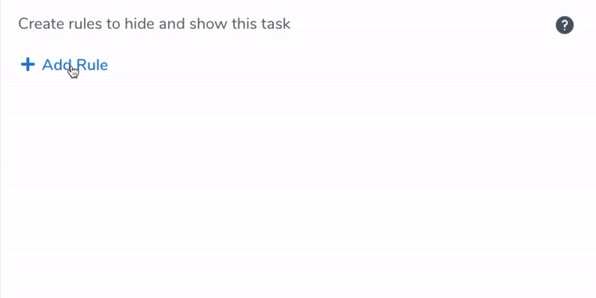 Shown above is another example of creating rules. This time, we examine an employee onboarding example. We can see that HR is setting up a rule about the Immigration Status of the employee. The legal team would get different notifications based on the Immigration status of the candidate. With a sound and legal onboarding procedure, accountability in the workplace is promoted.
Reporting Issues
Reporting issues in tasks is a key element for any business. It decreases the probability of making subsequent errors and also of forgetting tasks. While working on a task, it is inevitable to come across certain issues. In most cases, these issues can be solved relatively easily and promptly.
However, there are also instances in which you have to consult other members in your team or cross-collaborate with other teams in your company. In order to improve accountability in the workplace, you shouldn't delay handling issues and act swiftly. Because when issues start to accumulate, the likelihood that you forget that task increases substantially.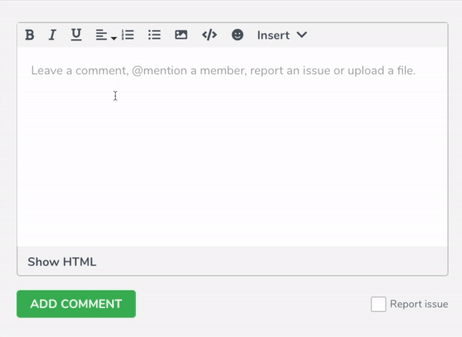 This issue reporting functionality depicted in the GIF above allows the user to describe the issue by leaving a short comment and uploading auxiliary images. This tool especially comes in handy in cases where you need to collaborate with different departments within your company. Your team members get notified instantaneously and can solve the issue. The issuer can also resolve the issue themselves in case they realize there is no need for further assistance. This systematic approach to reporting issues eases many processes and again promotes accountability in the workplace.
Tracking Task Progress
Keeping track of task progress is integral to any business. Without proper progress tracking, it's very difficult to maintain accountability in the workplace. In most cases, your progress is dependent on that of your coworkers, and vice versa. This makes accountability a two-way street.
Therefore, it is important to have strong communication between teams, and a strategic approach to keeping track of each others' progress. The rudimentary methods of keeping track of task progress typically include taking notes either physically or virtually, or setting reminder and alerts. However, there is a lot of room for error in these methods.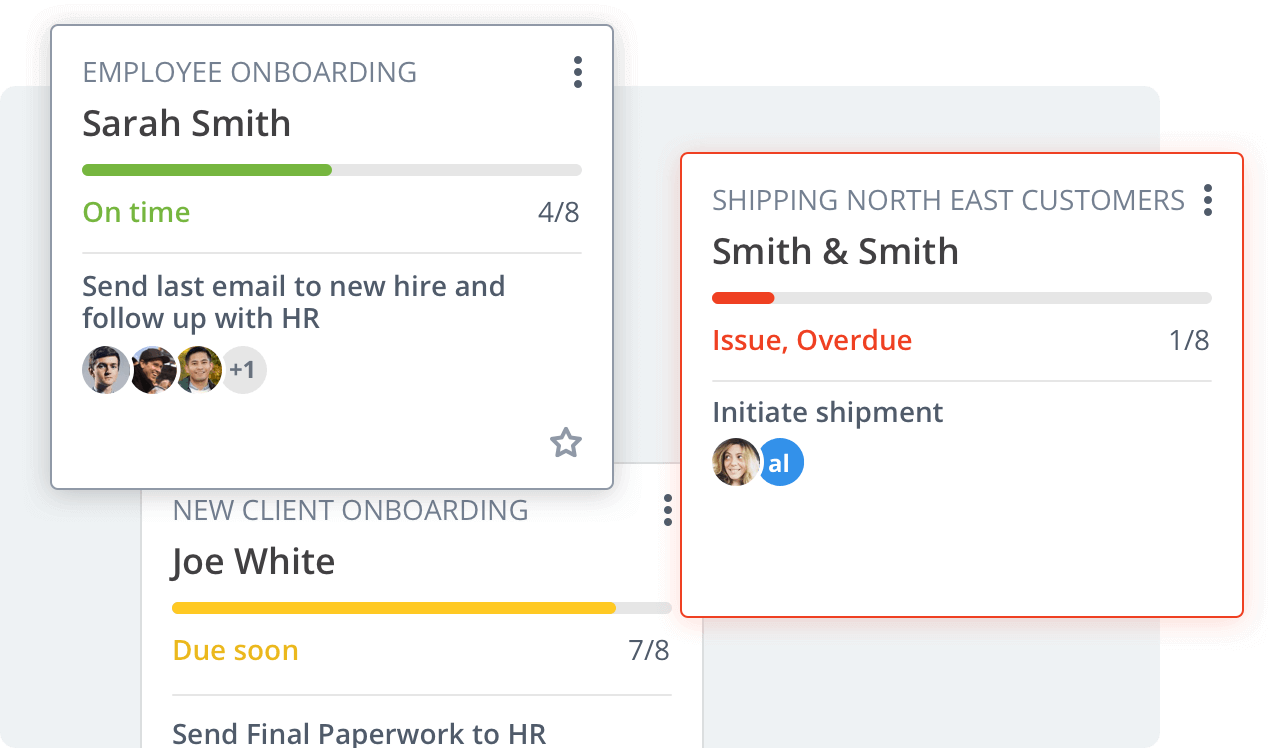 Here, we can see a process tracking interface. The UI is very effective since it provides a horizontal legend that indicates the progress in that task. Assume having three basic steps in one task: gathering info, sending client an update, and finalizing details. If two team members are assigned to complete each task, each person would contribute roughly 16% to the horizontal progress bar. Having more tasks would lead to having more assignees, and therefore smaller contributions from each member. This would make the tracking progress harder, increasing the probability of forgetting the overall task.
Conclusion
In this article, we examined the key principles of successfully managing tasks. Overall, we concluded that syncing between team members, prioritization of important tasks, and constant feedback between divisions are essential for a successful task management. We highlighted that effective task management promotes accountability in the workplace, and that businesses should adapt this as a culture.