No matter what your project, getting big things done means taking little steps towards the desired endpoint. And just as you can't begin a journey at the end, your team must complete the first steps in order to start with the next ones and ultimately complete the project. This may be the biggest reason to set milestones.
After all, a portion of a project could go on indefinitely if there isn't a date for completion, but it's by no means the only reason to set milestones when planning a project. Let's look at the "Why" and then progress to the "How."
Why Set Milestones?
Set a realistic project completion date
When we decide to get things done, we'd like to see them done yesterday. That's not possible, so how can we determine how long a project will take? Realistic milestones help us to see whether we'll be able to complete the project within the desired time-frame.
Milestones help you to see whether the project is progressing according to plan
Don't you love it when a plan comes together? However, the bigger the plan, the greater the chances of some variable throwing a spanner in the works. How will you know if things are on track?
Important note
You're probably wondering who we are. Tallyfy is a product that simplifies and automates your business processes. It's the secret to running smooth operations. Instead of creating process diagrams (which nobody looks at), documentation (which you can only read and never action), emails, chats and chaos - you can create and run any process in your company within seconds.
Settling for basic and cheap project or task management tools is the biggest mistake you can ever make. You get what you pay for. If you try to save a cent - you will lose a dollar. Wasted time (at $40/hour) is far more expensive than the cost of software. There's a huge difference between process management and project or task management. Processes relieve stress, make things predictable - and help you grow and become efficient. Projects and tasks are just ad-hoc, unpredictable chaos.
It's important to understand that context before you carry on reading. Successful people are smart enough to fundamentally change the way they work "right now" and amaze themselves and everyone else with new ideas. You can stop fighting uphill battles every day immediately - and drive more personal success in your career by introducing the modern way of creating, tracking and even enjoying tasks with your coworkers.
Anyway ... sorry for the interruption! Let's resume the rest of the article.
By looking at your milestones and by ensuring that project reports refer back to milestones, you can see whether you need to change your plans. Perhaps you'll deploy more resources, or perhaps you'll move the entire timeline forward.
Are you looking to document and run your processes?
Don't use MS Word or Google Docs, and don't use flowcharts.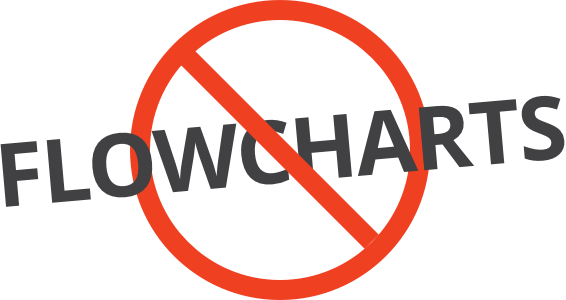 Documenting your processes using flowcharts might look pretty and nice – but you can't run them. Even worse – nobody looks at flowcharts.
SEE WHY HERE
Milestones help you to coordinate your teams' efforts
Before team B can get started with their work, team A has to be done with theirs. If you were building a house, for example, you can't start with the roofing until the walls are complete. So, when should team B be ready to begin? The answer is simple when you've set a milestone target for team A.
Teams can coordinate THEIR efforts based on the milestone
Just about every task consists of subtasks. Managers or supervisors who have milestones to meet will know how to organize their teams based on the expected completion date. They can deploy staff and resources accordingly, and they'll know when they're facing a problem and when to report it.
Milestones create a sense of urgency
Give me a job, and I'll do it sometime, maybe never. After all, I'm already pretty busy. Give me a job with a set deadline, and I know I must do everything in my power to complete the task on or before the date you've given me.
Reaching milestones keeps your team motivated
Tackling mind-bogglingly huge projects can be demoralizing. After all, we want to see results for all our hard work! Reaching milestones gives us a reason to celebrate even when there's still much to do. We see that we've made progress, and we have the satisfaction of reporting that we've delivered according to expectation.
Side note
Are you interested in truly useful analysis of the latest trends in business tech and ops? Talking from the Trenches is published once every 2 weeks by Tallyfy and it's unmissable. You'll be smarter and better informed automatically. So - don't leave this page without subscribing to it.
Anyway ... we'll continue from where we left off above.
How to Set Milestones
You have a gigantic task to complete, or you are considering taking one on. The first thing to do is to unpack all the steps that your project team has to get done to achieve the result you're shooting for. It's here that you'll call the help of the experts, team leaders, and managers who make up your project planning team.
They'll know all the even smaller steps they'll need to complete to give you the required results. They'll be able to tell you what resources they need and how long they expect their portion of the project to take. You may want them to accept a challenging timeline, but you also don't want to set an impossible one or one that will require the unprofitable deployment of resources.
Milestones are goals, and the basic rules of goal-setting apply. Thus, every milestone must be SMART. Each project milestone will be:
Specific: What are the deliverables?
Measurable: How can you measure progress and success?
Achievable: It can be done.
Realistic: It can be done without moving heaven and earth to get there.
Timely (or time-bound): there is a firm start and end date.
With SMART milestones in place, you now have confidence that you can finish your project on time without breaking your budget.
How to Use Project Milestones
Having set your milestones, you now have what looks like a workable plan. But is it working? Do you need to adjust it along the way? Set dates for the delivery of project management reports, and consider setting meetings in which you and your project team can review progress together.
Here's what you need to know:
What milestones has your team reached and have those responsible met the criteria you initially decided on? This could include technical specifications, budget, quality, and of course, time-frames.
Which milestones are currently in progress, and how far are they from completion? Quite simply, will the current work in progress be completed according to plan?
What unexpected issues or obstacles have arisen or are anticipated? External or internal factors could impact on the project. What are they?
Are any interventions required to ensure successful completion? Do you need to deploy more resources, move timelines along, or adjust your expectations?
It's really quite simple: project status reports using milestones show you whether things are progressing as smoothly as you'd like them to. If they aren't, you have an opportunity for early intervention that could potentially save the project from disaster.
How Often Should You Evaluate Project Progress Reports?
The frequency with which you need to compare progress to milestones and plans differs from project to project. Some projects require weekly reporting; others may require monthly or even quarterly reports. But the fact remains: the sooner you pick up any variances from the project plan, the sooner you can take action.
Project management software is a powerful tool you shouldn't undervalue. It can eliminate or reduce the need for time-consuming report compilation, and you can view progress in real time – as often as you like. It can even help you to pinpoint the source of problems that are just beginning to develop by giving you meaningful analytics that allow you to make actionable decisions.
No matter how you do it, though, milestones are useless unless they're followed up. So, no matter what your project, be sure to set them and monitor progress carefully.