Inventory management is at the core of each business' trading activity, a key component of supply chain management. It is a vital process of monitoring, managing, and controlling the stock items of your company.
It won't be an exaggeration if we claim that it is the center of all trading activities within a company – from buying non-capital assets to creating goods, managing the stock, to shipping the end products to clients, resellers, and distributors. In order for you to navigate and monitor this process, however, you need to understand inventory management process and how it works.
This is a comprehensive guide on inventory management process. To make navigation easier, you can follow the links below directly:
How to Use This Guide
A bit about Tallyfy
Are you looking to automate tasks between co-workers or clients? You've found the right app for that! With Tallyfy - you can automate tasks and business processes - within minutes.
Let's resume the rest of this article!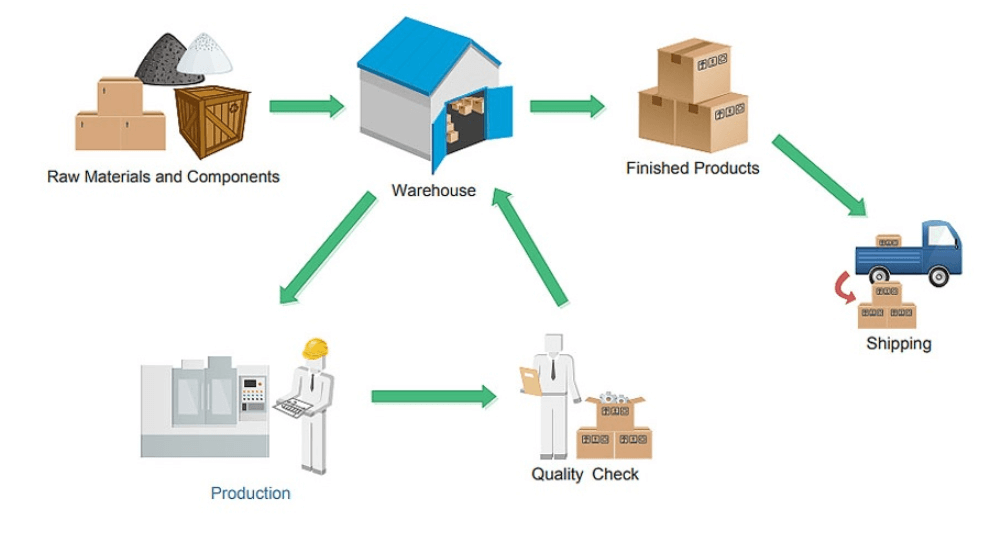 What is Inventory Process Management (IPM)
IPM is the process through which you can monitor and oversee purchases, in order to streamline your operations, maximize your return on investment (ROI), and minimize your cost. This is usually achieved by using specialized Process Management Software which aims to optimize and simplify your processes.
No matter how big your business is or how much profit you make annually, if you don't manage your stock inventory from delivery of parts to developing end products, you'll be out of the game before you can say "Yahtzee!".
What is Tallyfy?
Tallyfy helps you document and automate tasks between co-workers and clients
Click here to learn about Tallyfy
Benefits of Using Inventory Process Management
Some of the most prominent benefits of using inventory process management:
Reduced risk of overselling
Overselling will obviously have a noxious effect on your business, your brand credibility will diminish, and you might even get suspended from some marketplaces due to poor evaluation from customers.
With an IPM, however, you can easily configure and synchronize your orders and inventory across each of the online platforms you're using as marketplaces. That way you can rest assured that your stock will be automatically adjusted and updated each time someone makes a purchase.
Improved employee efficiency
With such a solution, you and your employees won't spend time on inventory updates. Consequently, you'll be able to focus on more significant tasks such as executing deals without worrying about the stock inventory.
Cut redundant costs
An effective inventory process management can help you decrease inventory holding costs and even result in lower inventory write-offs, thus, diminishing the chance of overbuying.
Having an excessive amount of extra production units can be pretty inefficient for your company because (1) they depreciate and amortize with time, and (2) the demand for your end products can be low and they may never sell. Therefore, through IPM, you can cut such costs.
Increased customer loyalty and stronger brand recognition
Well-organized IPM can increase customer loyalty towards your brand and make clients purchase more products from you. We, as customers, demand ethical and responsive actions from the brand we trust.
Thus, if an inventory is well-organized, its ordering process is not confusing, and it has the right products on hand as soon as we need them, this will most likely prevent us from switching to a competitor.
Long-term inventory planning
By keeping track of your inventory through an IPM, you make your production process management easier and are able to make long-term plans based on the number of products available.
Limitations of Using Inventory Process Management
Like anything else, IPM also has drawbacks which many have pointed out as pitfalls for users. Here are the most ubiquitous disadvantages:
Risk is diminished but not fully eliminated
Even though IPM software can be a real lifesaver, it cannot fully eliminate risk. Even with the software, if left unchecked or not managed correctly, your process can still malfunction and you can still end up with overselling/overbuying.
Additionally, since most IPM software is not AI-equipped, it cannot fully guarantee that it will adequately respond to incomplete data. Despite these drawbacks, IPM is able to minimize risks.
The complexity of such systems
An IPM system carries out a wide variety of activities making it a significantly complex solution. As a result, it is mandatory for your employees to go through training sessions, manuals, and step-by-step guides.
It is important to note that such training should be given a meticulous touch, since mistakes which might occur due to poor preparation, can lead to great financial loss. Even though IPM simplifies the inventory management process, it still remains a complex solution for many employees to master.
Inventory process management software are expensive
The main reason why IPM software can be expensive is due to their enterprise focus.
Most small to mid sized companies can't afford enterprise level prices. But there is a work-around. Several startups and growing companies have started employing business process management software to manage their inventory process. There is more on this below.
Quality control problems
Inventory process management can help you manage and control your stock inventory but cannot guarantee anything about the quality of these products. Since the focus of an IPM is based mainly on inventory and not production, you can easily ship or dispatch malfunctioning or incorrect items along with the right ones.
Although there are many tools out there being implemented to alleviate workload and help you monitor and manage inventory, such drawbacks still remain as issues to many.
How to Implement IPM for Your Business
In order to implement IPM in your business, there are a couple of steps to be considered first:
Review your budget
As mainstream and ubiquitous as it may seem, organizing your budget and meticulously reviewing it is the ABC of inventory process management, the sole pillar of this system. It is as vital due to the fact that it determines the scope of your IPM and the extent to which you can afford to invest in raw inventory.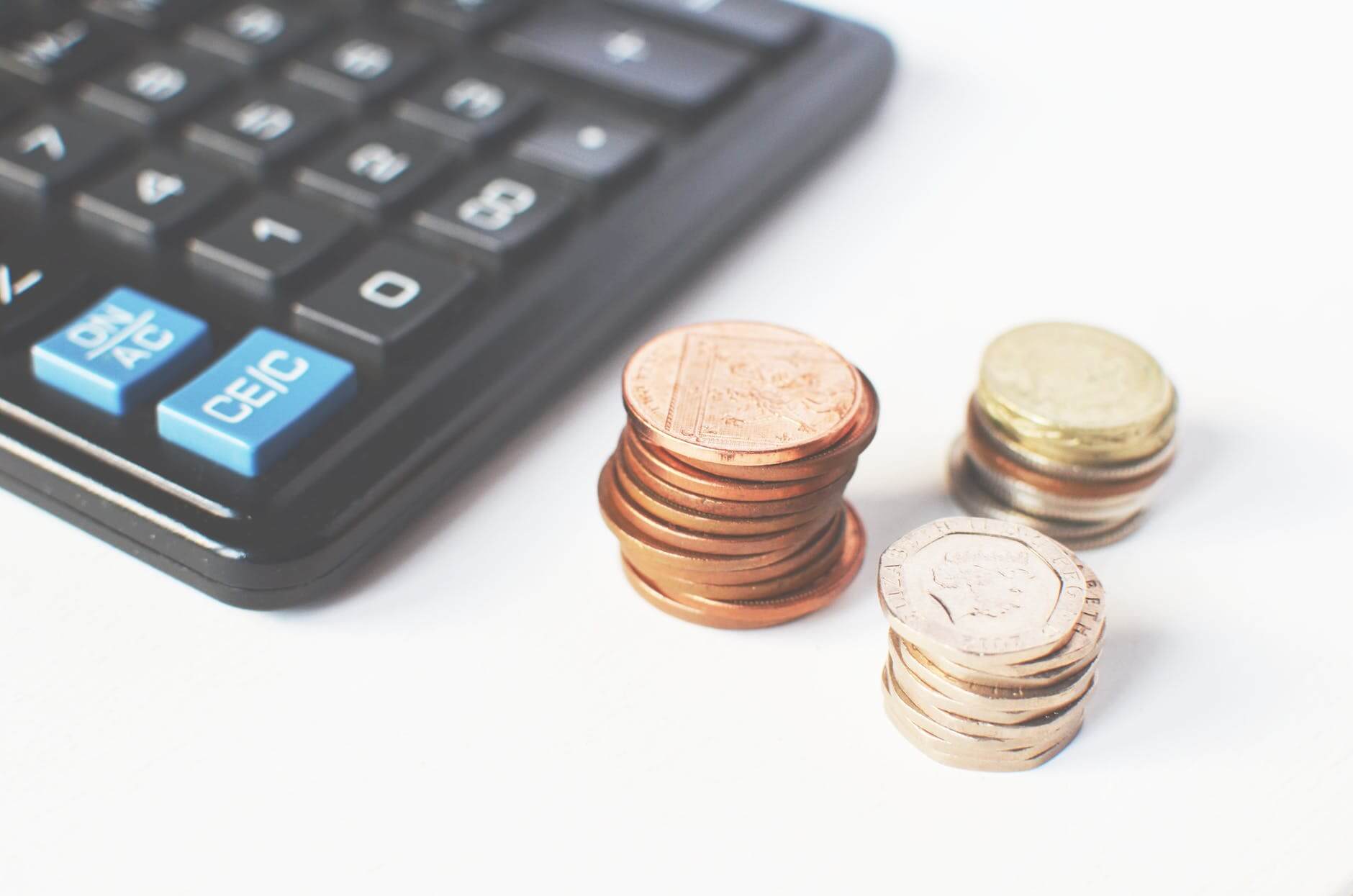 This can be done in two ways: The first is through manual budgeting and activity-based costing (ABC costing) which identifies and assigns a cost to raw materials so that you can plan accordingly in the long run. The second way is through specialized budgeting software. Through it, you can automate this process and let the program help you manage your budget in a more time-saving and effective, yet costly, manner.
If you're looking to implement the latter solution, there are many available tools on the market. One of the most preeminent ones is FreshBooks. It is highly renowned since it has a wide range of features, is cost-effective for both small and big companies, has a downloadable app for Android and iOS, and it also provides a free trial.
Plan your warehouse
The second step after reviewing your budget is planning your location. The warehouse where your products will lie and wait for their dispatchment is of vital importance, since some businesses have several facilities.
Additionally, it is important to pick the perfect storage for your products. Different industries and raw stock materials require a different kind of warehouse. As a result, considering this in advance might save you a lot of trouble.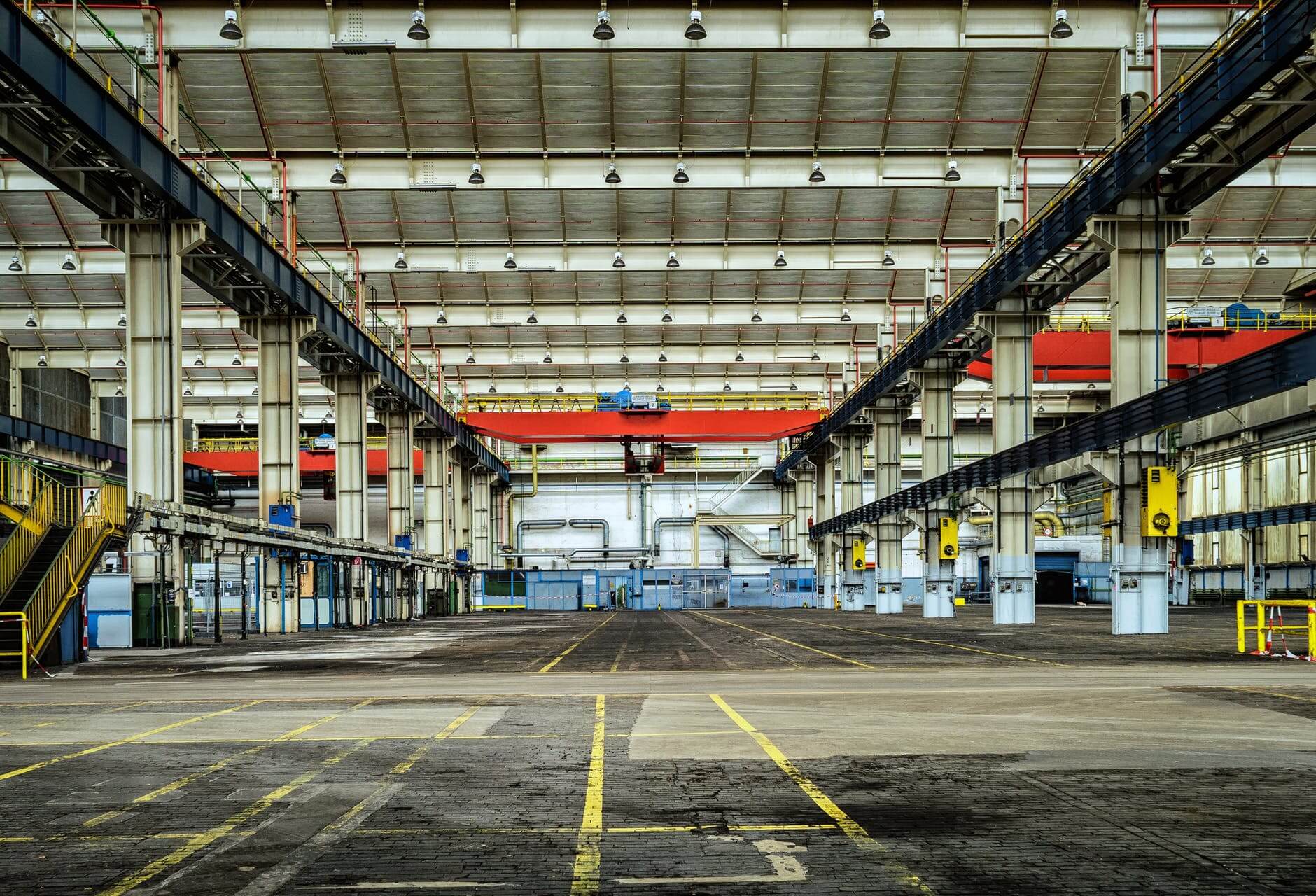 Obviously, the type of warehouse determine where your raw products with the highest demand will go, how often they will be transported and dispatched, and how much lead time you'll be able to give to your clients.
Once you decide on the facility, you'll be able to manage the logistics of products. This can be done either manually or by using an inventory process management tool. With the latter, you'll be able to automate tasks and simplify the process of transferring stock between warehouses or arranging it in specific order.
Whether you're a small, mid-sized, or a large company, choosing an IPM software for such executions would prove to be less menial and more cost-effective than tackling the task manually. With it, you'd be able to (1) automatically transfer products from one facility to the other, and (2) meticulously manage the current state (expiration rate, per se) of your products.
Make a preliminary order list to ease cycle counting
Based on the previous amount of demand for your products, you need to create a preliminary order list. This is vital as you'll be able to foresee what portion of your stock might be depleted soon and act decisively to avoid such misfortunes. Additionally, if you implement this strategy, you'll ease the creation of cycle counting.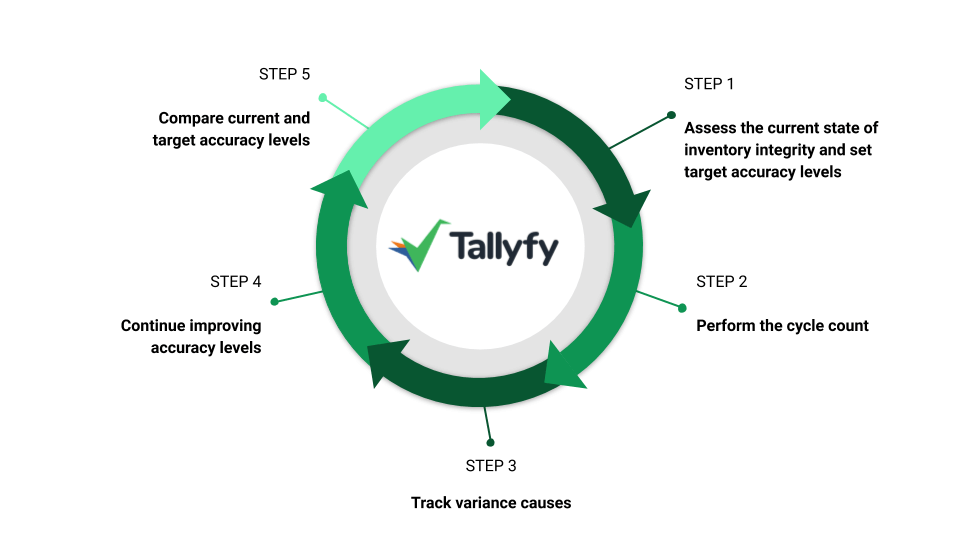 Ideally, once you figure out the budget, the location, and the most important products, you will be able to proceed to implementing the IPM software.
Choose and implement the right software
This is the step where you should put most effort, as picking the right tool for you can be a daunting task. Due to the abundance of tools on the market, it gets more and more difficult to choose IPM software with each passing day. Therefore, you should consider the following steps when picking it:
1. Select a price range
Remember what we talked about above in the budget planning section? This is where it would come in handy – there are many great options on the market but picking the perfect one for you would strongly depend on your budget constraint. Because of this, you should have a predetermined price range based on which you'll be able to narrow down your search.
2. Understand your real needs
Prior to implementing software, you need to understand what you'll be using it for. Different tools on the market can satisfy different needs and wants.
Are you going to use  it for making customized product pricing? Do you want it to make predictions based on current inventory? Or to track orders and micromanage each activity in your warehouse? You need to answer these questions prior to picking an option for integration, as the purpose might solely affect the efficiency of the implemented tool.
3. Determine how you'll track inventory
Are you going to track your stock inventory with the help of barcodes, RFID tags, or even serialization? This is a question which you will need to answer prior to looking for an inventory process management solution. Note that not all available systems have the capability to use any tracking, especially in smaller or mid-sized office markets.
So, better not force your inventory processes to fit a system which they're not compatible with by default – otherwise your IPM solution can turn out to be more inefficient and costly then if you had not employed anything in the first place. Thus, to avoid this negative effect, define your tracking method in advance and, based on it, check out other options.
4. Decide what integrations you would need
It is of vital importance to choose a system which you can integrate with your current applications and tools. Otherwise, you'll have to enter all this data manually, or else, you will suffer from data time delays and data loss, which will make the effort of getting an IPM unnecessary.
Therefore, you need to understand that various IPM software tools are applicable to different scenarios – are you using an Enterprise Resource Planning (ERP), a Customer Relationship Management (CRM) system, or another tool? Well, your decision heavily relies on these systems and on their ability to complement each other.
By following all these steps. you'll be able to evaluate your internal needs and see what you need to do before diving into the deep world of supply chain management.
However, implementing such software as stated above, can prove to be costly. Thus, even when reviewing the budget, you should note that although it is an extremely beneficial solution, it might not be for all smaller or mid-sized companies.
Keeping in mind these points, you can consider automation software as a complementary service.
Using Automation Software for Inventory Process Management
A great trick to still get the full extent of IPM's power but without worrying about repetitive tasks or high costs would be to integrate automation software into your inventory management. With its help, you'll be able to automate menial tasks and let the tool take care of their execution.
Software which you can consider is Tallyfy due to its abundance of features, easy-to-use interface, and low costs.

Tallyfy is a business process management software (BPMS) specially designed to assist its users in diminishing repetitive workflows by automating time-consuming tasks. Moreover, this automation tool can be a really useful assistant in identifying new market trends, improving employees' productivity, and meeting customers' expectations and demands.
This cloud-based workflow management software is useful for companies of all sizes and can help you scale with your business. Even though it is a paid tool, it provides a free demo for you to try out and see if this is what you were looking for. Then, if you like Tallyfy, you can easily upgrade your subscription to unleash its full potential.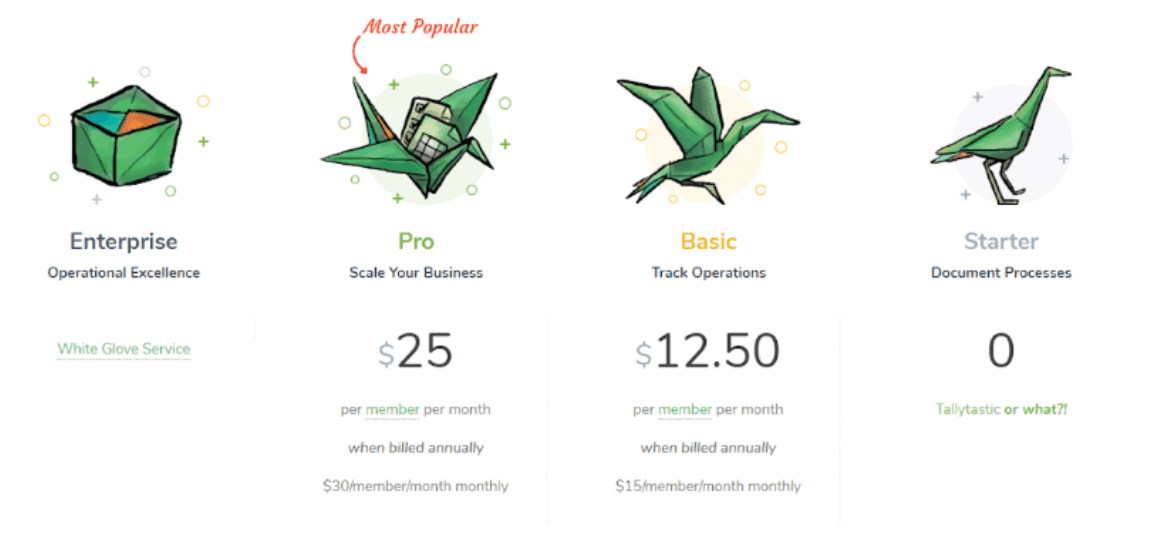 Simply put, you can use Tallyfy to automate complex workflows, such as management of your inventory processes.  Some of the best practices you can use for your IPM are:
Creation of a blueprint for repeatable work
Tallyfy's blueprint is essentially a form of a genetic template which users can utilize to create an automated flow between their applications through the help of connectors.
A connector is a tool which connects two or more external applications to one another. For example, with a connector, you can easily connect your Outlook to your Google Drive. That way, when somebody sends you an important file on your email, the flow will automatically download the data and store it in your drive. Voila!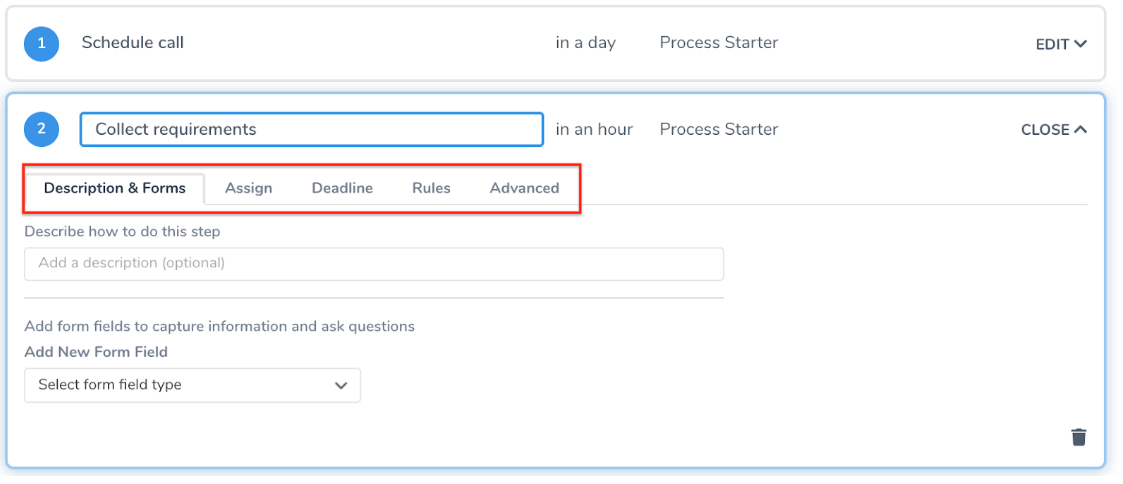 As a result, with Tallyfy, instead of creating flows from scratch, you can borrow a ready-to-use template to automate processes. Let's consider the following example:
You want to keep your inventory organized and balanced (neither overstocked, nor understocked) but you lack the time to keep track of this process manually. You can create a blueprint to automate this task for you. Therefore, you can program the BPMS to notify you each time your inventory is diminishing, and to automatically send an email to your suppliers to order more raw materials, if necessary.
That way, instead of having to deal with that menial and recurring task on a daily basis (or to hire people to take care of that), you can directly assign tasks and triggers to Tallyfy and let it take care of your inventory process management.
Even though the tool doesn't provide a lot of free templates for you to borrow and use, it's very easy to create implement and re-use new blueprints.
Creating and adding custom fields to tasks
Tallyfy's other greatly valued feature is its ability to show the status of tasks in order for employees to be able to prioritize assignments and to avoid missing something important.
As workloads can sometimes be overwhelming, employees tend to forget about deadlines or face difficulties deciding where and when to put most of their effort. With Tallyfy, however, you can set alerts and deadlines for your employees.
For example, you can set an alarm to notify you each Monday about your inventory's status. That way, you'll be able to diminish the possibility of forgetting to restock or accidentally to oversell. Similarly, you can use this feature to schedule meetings and calls with your suppliers or resellers and to keep track of the communication process.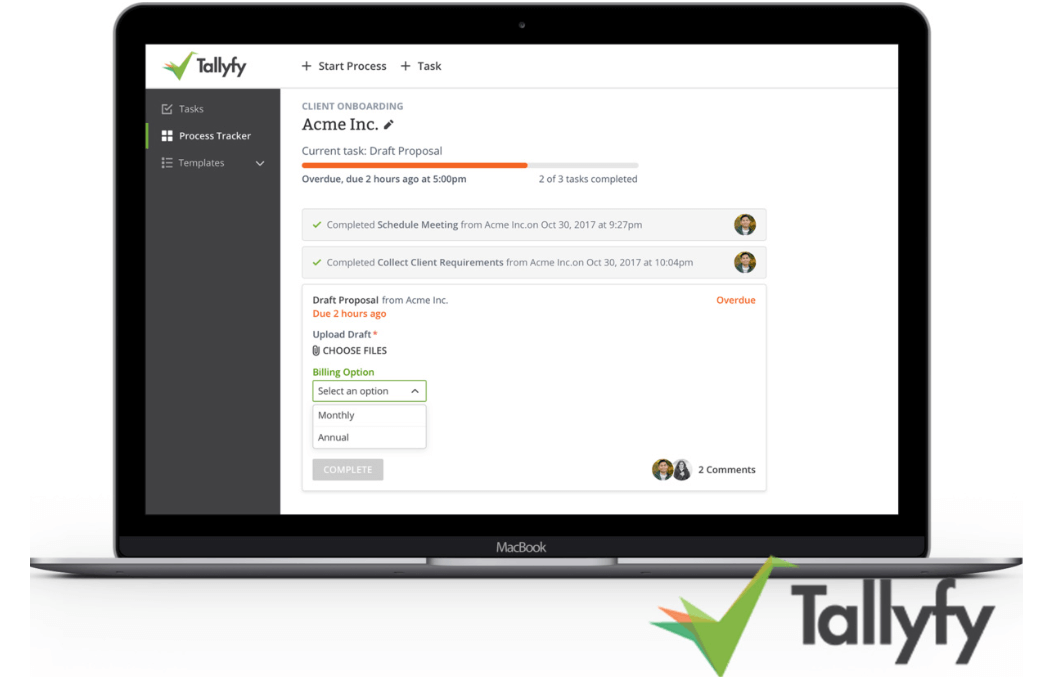 Even though Tallyfy doesn't have an Android or iOS application, making the platform less mobile, it surely is a solution worth noting, especially when it comes down to managing your inventory and improving your business processes.
Wrapping it up
To wrap it up, inventory process management is a must in the fast-phasing contemporary industrial world. No matter what your business activity is, you need to manage your inventory in order to bring value to your clients, cut extra costs, build your brand reputation, and alleviate your and your co-workers' lives. However, having a well-organized IPM system isn't that simple – it can be a very time-consuming activity when done manually, and a very expensive one when conducted with specialized software.
Save Time Using a Workflow Management Tool.
And the best way to enter the world of automation through BPMS is with Tallyfy.
Not only does this tool automate processes for inventory process management, but it is also extremely user-friendly, efficient, and provides a wide diversity of integrations to be used. Last but not least, its free trial does NOT require a credit card registration.
Ideally, Tallyfy serves as the perfect bridge between Business Process Management and Supply Chain Management through automation of tasks in Inventory Process Management.
Give it a try here and let Tallyfy help your business scale through automation while successfully managing your inventory.