Make your company playbooks, SOP's and processes far more engaging and useful by transferring them to Tallyfy
"By making ourselves write down our processes and know-how in a dedicated place – we can now ensure that steps are never missed or done out of order. There's fewer mistakes and a lot of time is saved. This is the easiest way to capture knowledge and scale operations. "
– Len Gilbert / Digital Prism
Is Tallyfy better than using Word or Google Docs?
Yes – see the details here. Don't waste time fighting with the pains of documents and flowcharts.
Ensure hard, important knowledge stays current in one place
Improve processes with feedback and comments
No need to track versions and changes manually
Measure engagement via Google Analytics
Works beautifully on tablets and phones
Stop wasting countless hours on document formatting
Automate who updates every procedure and when
Add engaging media like screencasts, videos and photos
Write procedures that convert immediately to actionable workflows
Create conditional rules between steps in a few clicks
Search processes from your other systems like email and chat
Tallyfy Docs lets you capture all your know-how, playbooks, processes and procedures in one place. This frees everyone from worrying about missing small, important details. Everybody can focus on what matters – getting things done.
Capture tribal knowledge in one place. Gather details about every playbook and procedure, without the mess of flowcharts and documents. Training and onboarding has never been this easy.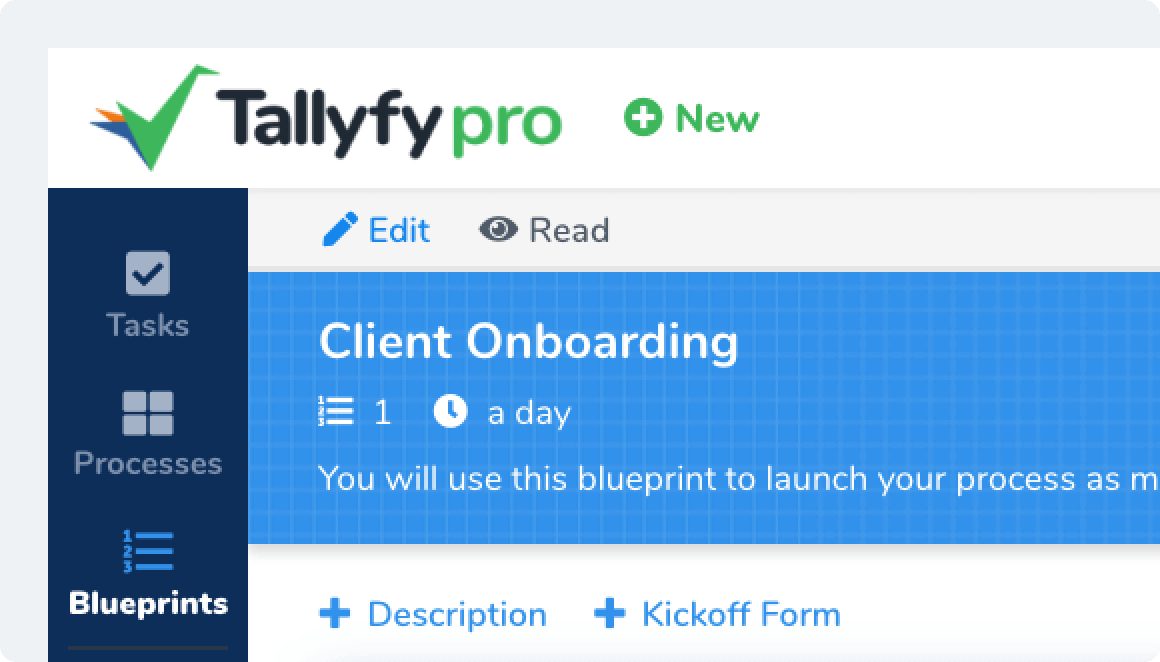 Tallyfy pays for itself – many times over
Tallyfy costs less than a cup of coffee per person, per month. People time can cost $44 per person, per hour. If you want to save a penny, you might lose a dollar.
Busywork per person
1 hour
Future-proof your operations
Not impressed yet? Get this. Tallyfy is the only platform that instantly converts a process designed just to read (the starting point) into a workflow that's actionable and trackable in real-time. That's the future of smooth operations and continuous improvement.
… and it integrates nicely 🙂

Next Steps
Start automating workflows now with your free 14-day trial of Tallyfy