Customers are the building blocks of any successful business. Without them, a business can't survive. One of the biggest challenges with maintaining these building blocks is retaining customers. A customer buying a product or service is great, but if they don't buy again you remain on this hamster wheel of constantly chasing down new customers.
We see our customers as invited guests to a party, and we are the hosts. It's our job every day to make every important aspect of the customer experience a little bit better.Jeff Bezos
This means high spending on marketing and advertising and significant time spent bringing a customer through the sales funnel. Ideally, a company wants to retain their customer base while slowly adding onto it with new customers.
The trick is reducing customer churn and increasing customer loyalty. One of the most recent methods for accomplishing this is through customer success software.
Customer success is starting to become an essential function in companies–in particular, businesses in the software world. At its core, it manages the business and technical relationships with customers. The end goals are two-fold. The first is to increase the value the customer can provide the vendor, making corporate growth and profits rise. The second is to ensure that customers are receiving the utmost value for the product or service, allowing the customer to be more productive and profitable.
Important note
You're probably wondering who we are. Tallyfy is a product that simplifies and automates your business processes. It's the secret to running smooth operations. Instead of creating process diagrams (which nobody looks at), documentation (which you can only read and never action), emails, chats and chaos - you can create and run any process in your company within seconds.
Settling for basic and cheap project or task management tools is the biggest mistake you can ever make. You get what you pay for. If you try to save a cent - you will lose a dollar. Wasted time (at $40/hour) is far more expensive than the cost of software. There's a huge difference between process management and project or task management. Processes relieve stress, make things predictable - and help you grow and become efficient. Projects and tasks are just ad-hoc, unpredictable chaos.
It's important to understand that context before you carry on reading. Successful people are smart enough to fundamentally change the way they work "right now" and amaze themselves and everyone else with new ideas. You can stop fighting uphill battles every day immediately - and drive more personal success in your career by introducing the modern way of creating, tracking and even enjoying tasks with your coworkers.
Anyway ... sorry for the interruption! Let's resume the rest of the article.
The customer success process begins immediately after the initial product or service sale and is carried out for the duration of the customer lifetime. Enter customer success software.
Are you looking to document and run your processes?
Don't use MS Word or Google Docs, and don't use flowcharts.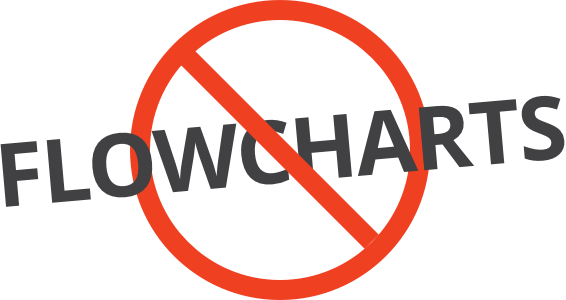 Documenting your processes using flowcharts might look pretty and nice – but you can't run them. Even worse – nobody looks at flowcharts.
SEE WHY HERE
Who Customer Success Software Helps
Yes, customer success software has been designed to provide a better experience for the customer and better information for the company, but it often provides more benefits to a wider variety of teams in a company than first meets the eye.
Executives
The executives of an organization can use the customer success data to be better at their job. When they are in a customer meeting, they'll avoid getting blindsided. Instead of walking into a meeting and not knowing where the customer is in their use of the software, customer success software enables them to understand a customer's 'health score' and the other data tied to them.
They can know how frequently the customer has been in contact with the support, what their frustrations have been when they need to renew their subscription and how engaged the customer has been with the software. Executives can also use the software to identify the top clients and regularly reach out to them to get valuable feedback so that they know where they need to concentrate their efforts.
Product Development
The product development teams can also utilize customer success. The software enables the team to see customer requests for changes and enhancements. These can then be reviewed and prioritized to allow the team to provide customers with exactly what they want and need to derive true value from the product.
In addition, the development team can pick apart features and identify which customers most heavily use which features. From this information, they can invite top users to focus groups. And often times the software will allow the development team to announce upcoming product releases, patches and add-ons to customers.
Support
The support team is likely the most obvious group that will benefit from customer success software. Like the executives, the support team can avoid being blindsided by customer problems. They can use the metrics that are built into the software to evaluate the usage, customer health, and other indicators to ensure that they are appropriately serving the customer. They can also use the software to prioritize the customer tickets that need to be addressed first.
Service
Services teams will find customer success software to be an excellent tool also. If multiple support tickets are submitted by customers in a short period of time, all relating to the same aspect of the software, this can serve as an alert for a needed training session or workshop.
The services team can also use customer success to identify which customers don't have designated administrators and therefore aren't ready for onboarding. The team will then be able to provide managed services to the client that are catered to their specific needs.
The services team has the additional benefit of being able to monitor the onboarding process. They can work with the project manager to get feedback and keep the project on track.
Finance
The finance department is able to both see where Customer Service Managers are spending their time and drive collections. Finance has the ability to see a customer's health score and when they are deriving value.
If their bill is overdue, the department knows to wait to contact them if they are having a customer health issue, or, if they are struggling to reach the customer, they can have the Customer Service Manager reach out to them.
When it comes to how CSMs spend their time, it can be difficult for finance to appropriately classify their work. Customer service software provides a clear picture of how each CSM is dividing their time, which makes finance's job much easier.
Sales
The sales team arguably benefits as much as the support team from customer success software. The first benefit is the same that the support team and the executives receive, better visibility. Sales professionals can look up how customers are doing, including their onboarding status, adoption trends and health scores. That way, when they call customers up, they know what to expect–what their needs and frustrations are, what they might be looking for, and much more.
Sales teams are also able to see when their sponsor at a customer company is changing jobs. This provides new opportunities. They can both follow that sponsor to their new company and they can reach out to the new sponsor who is taking their place. The customer success software also allows the sales team to see who they should be prospecting, who they can upsell to, and who are the most at-risk clients.
Marketing
Marketing, like sales, is another division that can take serious advantage of customer success software. It helps them to identify advocates and get referrals from them, both proactively and reactively. The software also allows the marketing department to get a clear idea of how they drove return on invests for various customers. This type of repository for customer success stories is invaluable when reaching out to prospects.
Conclusion
Having the ability to fully utilize customer success software can allow companies to have a much fuller picture of their customers. They know when to reach out, when to help, when to sell and much more. The software also allows each customer to feel that you know them and their needs on a more personal basis.
However, to really take full advantage of the software, every department needs to understand how they can adapt it to be helpful for them. An effective way of accomplishing this is through creating a unique checklist for each department and team. You can go through your customer success software, identify the areas that various departments can use and develop unique checklists.
To create the kind of checklist that will be useful and measurable, you should work with appropriate software. Tallyfy is one company that provides a SaaS app for workflow. Organizations are now able to develop advanced and thorough checklists that are interactive. The checklists can then be tracked and audited. This type of visibility allows everyone in the organization to see just how useful the customer success software is for them and how they could even better integrate it into their relationships with customers.